At one small rural school, less state money means everyone does more
At Coleman High School, the failure of legislation to raise teacher pay and fix the school finance system at the Capitol means another year of finding creative ways to attract new teachers and do more for the students.
COLEMAN — Eight days after the Legislature adjourned in mid-August, nearly 200 miles northwest of the Texas Capitol, Gary Strickland woke up for the first day of school at Coleman ISD after three hours of sleep with a case of the jitters.
A self-described "squirrel" with the inability to stick to one interest, the Coleman High School physics and computer science teacher's task for Wednesday was to convince students that solving kinematic equations and creating infinite loops in Python code is not only interesting, but actually relevant to their daily lives.
"What do you do when you don't know the answer?" he asked the five kids who sat in his 8 a.m. scientific research and design class, where they would eventually learn to build their own rockets.
"You go to Google," a student responded.
"You reach the end of the line where there's not an answer," Strickland countered. "You can't Google whether you put three or four fins on your rocket."
This rural three-school district in west-central Texas started classes ahead of most districts in the state. Its classes have continued as other parts of the state are dealing with one of the worst natural disasters Texas has ever faced. (Read about Hurricane Harvey delaying the opening of many Texas schools, as some schools become shelters.)
But before Texas was dealing with the destruction from Hurricane Harvey, the state's chronically faulty school finance system was a primary focus during the summer, as legislators concluded a special session that resulted in zero additional funding for most schools.
Gov. Greg Abbott had surprised many legislators and education advocates when he put teacher pay raises and bonuses — and fixing the state's school funding system — on his list of priorities for the special legislative session that ended this month. But many of those items ultimately failed as education associations pushed back on legislation they argued would require school districts to do much more with less state money.
Since the Legislature's drastic school funding cut in 2011 — which was only partly restored in subsequent years — most Texas school districts have learned to do more with less, knowing that petitioning legislators for more money isn't likely to work. At Coleman High School, teachers who know they could earn more money at a larger district showed up for a new school year a week ago ready to teach classes and mentor students with the resources they had.

'I've never wanted to leave this community'
Located in a small farming and ranching community an hour south of Abilene, Coleman ISD lacks the oil and mineral wealth of some of its West Texas peers, and it receives state subsidies to boost its funding per student. Daily attendance has plateaued just above 800 students over the past few years.
More than half the student body is low-income, and just under half is at risk of dropping out. Still, the district is academically and athletically decorated, with a graduation rate exceeding 90 percent and football awards packing its trophy cases.
Homeless students can get free donated clothing, shoes and bedding from a "Bluecat locker" at the high school, Principal Diana Dobbins said. School officials also raise money through donations to give out food vouchers to hungry kids.
It's not just the teachers and staff helping out. Students know when their peers need additional help, and they drop by the main office to nudge administrators, Dobbins said.
"A counselor will get them ... all the supplies they need, without calling attention to them," she said.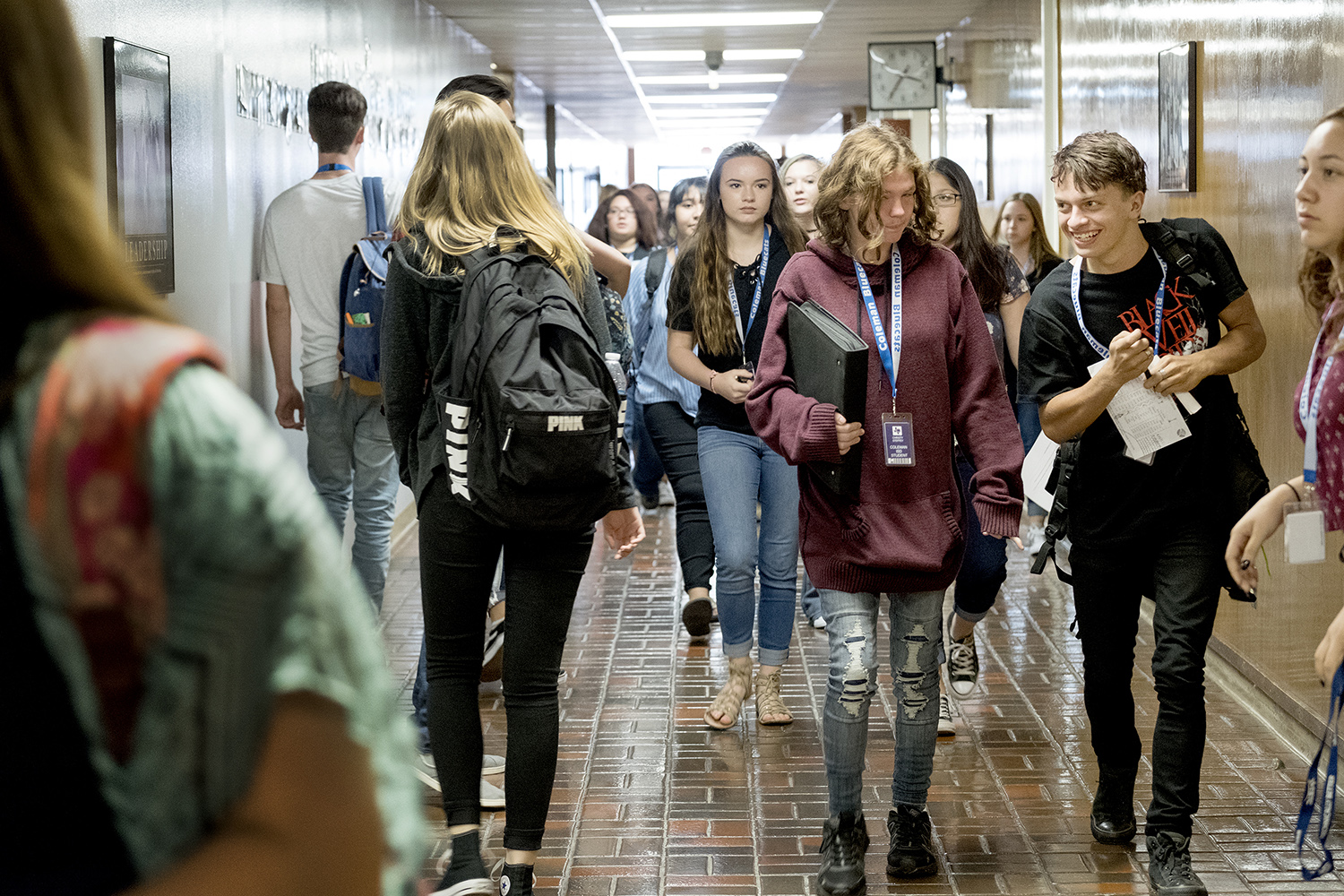 Coleman ISD is creative about how it uses its money, forming a cooperative with two other districts to share a director of special education, and using a federal after-school grant to increase arts and science offerings for students and supplement teacher pay, said Superintendent Skip McCambridge.
The district's teachers earn an average base salary of around $40,000, which is $11,000 below the state average. But increasing salaries dramatically would require a spike in enrollment that the rural district is unlikely to see, McCambridge said.
"The bigger the school, the more you're able to do because you fill the classrooms," he said.
Coleman ISD cannot raise local property taxes any higher, due to a state cap. And the school finance bill legislators passed this month, which created a set of grant programs to help some disadvantaged student groups and small, rural districts, will likely not send much funding Coleman's way.
Dobbins went to college recruitment fairs in Abilene last spring to replace a few teachers who retired, and convinced the recruits that they should move to Coleman despite the lower pay.
One of four brand-new teachers this year, Coleman High School graduate Cheyenne Casey, was considering taking a first-year teaching job in Mesquite for about $10,000 more, but decided she wanted to stay close to her family.
Like all of the school's 38 staff members, Casey takes on several roles, teaching family and consumer science during the day, staying after school to oversee a cake decoration class, and running a youth hunting club. She remembers taking Strickland's eighth-grade science class, breaking out into small groups to shoot off small rockets.
"I've never wanted to leave this community," she said. "I can go down the street and see my great-grandpa."
At an assembly in the school auditorium Wednesday morning, each teacher rattled off a long list of their positions at the high school, with the librarian also directing extracurricular activities and handling technology requests.
"No matter what happened this summer [in the Legislature], every teacher was planning to start school, whether we give them more money, less money," McCambridge said. "They're going to teach the first day of school, kids are going to show up. And they've done that their whole careers."
High school quarterback to high school teacher
On the first day of school, Strickland stood outside his classroom before each bell and watched students' faces on their way to their seats. "Once you get to know students, you get to tell by looking at them which doesn't feel well, which is having a bad day," he said.
The former Coleman High School quarterback spent 20 years running his family ranch after his father died of lung cancer, then went through alternative certification to become a teacher.
"I wanted to fly rockets, blow things up, set things on fire," he told his students Wednesday.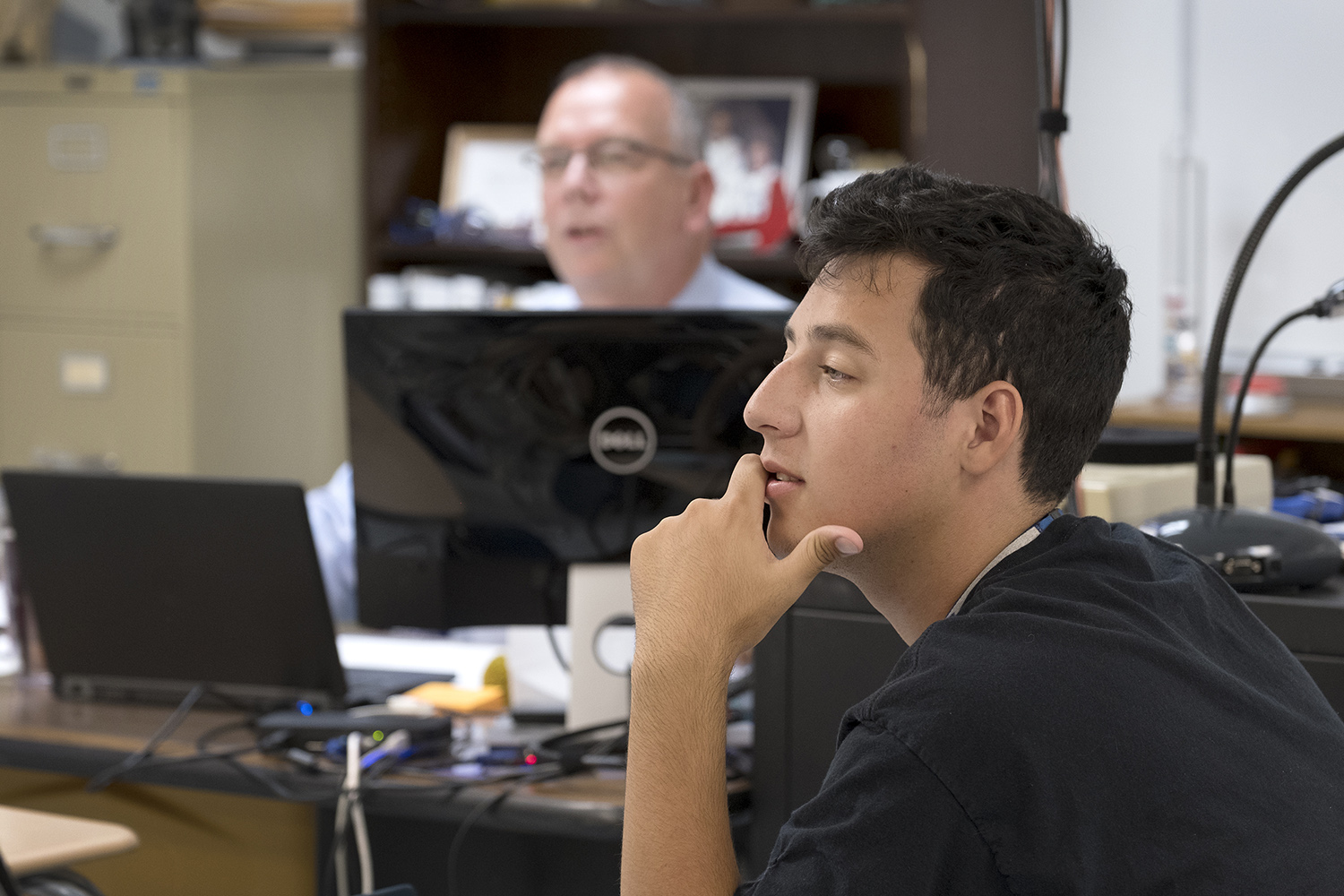 The 56-year-old has been teaching for 15 years now, and was recently a Texas Teacher of the Year award finalist. He's eligible to retire in five years but sees himself working past that date.
He knows he could be making more money if he moved to Dallas or Fort Worth. But in a denser area with less open sky, his students wouldn't be able to test the rockets they construct in his design class, shooting them hundreds of feet into the air.
Working in a small school, he can bend the curriculum to target kids who need more help. This summer, he got certified in computer science so he could teach the district's first official course.
Most days, his students can expect a tactile learning experience, using class time to roll marbles down paper rollercoasters or devise the right formula to launch a Hot Wheels car into a cup. He sends them home to watch him lecture in low-budget YouTube videos, as part of a "flipped" method of instruction, so they can take notes at home and work through problems in class.
"Why can't Coleman offer all the experiences a school in Austin could offer?" he said.
Seventeen-year-old senior Joey Amador already knows he wants to be a lawyer, but his backup plan is learning to write computer code. He started with computer science as an extracurricular activity his freshman year, learning bits and pieces of one coding language. When Strickland started to oversee that group during Amador's sophomore year, students made it clear they were interested in a full course.
"He got certified and he did it," Amador said, with awe in his voice. "It's nice to have a teacher you can count on."
Texans need truth. Help us report it.
Our Fall Member Drive is underway, and we need your support. The Texas Tribune is a critical source of truth and information for Texans across the state and beyond — and our community of members, the readers who donate, make our work possible. Will you join as a member with a tax-deductible donation of any amount?
Yes, I'll donate today
---
Information about the authors
Explore related story topics