The Brief: Is the Texas Legislature done yet?
Are we done yet? The last weekend of the first-called special legislative session by Gov. Greg Abbott is upon us, and things at the Capitol are shaping up to be busy.
Good morning and happy Friday, folks. Thanks for reading The Brief, our daily newsletter informing you on politics, public policy and everything in between. Forward this email to friends who may want to join us. They can sign up here. — CP
What you need to know
Are we done yet? Maybe, almost. The last weekend of the first-called special legislative session by Gov. Greg Abbott is upon us, and it's shaping up to be a busy one at the Capitol. Here's what you need to know:
• First things first. Remember when Abbott called state lawmakers back for a second round because they hadn't managed to pass "sunset" legislation to keep several state agencies, such as the Texas Medical Board, running? Well, yesterday — on the 24th day of the special session — the House finally gave the initial OK to those sunset bills. The chamber is expected to give the measures final approval this morning, which will mark the first bills lawmakers have sent to the governor so far.
• Today, a Senate committee today is taking up the House's chief school finance proposal — but don't hold your breath. The two chambers bickered over the issue during the regular session and haven't yet reached a compromise during the special session; The House is holding up a Senate proposal to create a school finance commission until the upper chamber acts on their school finance bill that would pump $1.8 billion into public schools — both of which are items Abbott wants passed during the 30 days. More than 1,000 school officials asked Lt. Gov. Dan Patrick yesterday to pass the House's school finance bill, but Patrick referring to the measure as a "Ponzi scheme" and the Senate Ed chairman saying he doesn't plan to accept the House's proposal probably tells us everything we need to know.
• And while you're at the pool Saturday, the House will debate property tax reform. Like school finance, the House and Senate have argued over the best way to curb rising property taxes in the state the last eight months. The Senate wants a bill requiring larger cities and local governments to have an election if the amount of property tax revenues they collect exceeds 4 percent of what they took in the year before, while the House wants the trigger set at 6 percent. Abbott has said the issue is his No. 1 priority during the special session on numerous occasions. If the House passes the bill on Saturday, the lower chamber and Senate could still reach a compromise before time runs out on Wednesday.
• Did you think 30 days was long? Sure, especially when school's out and there are vacations to be taken. But flashback to the 71st Legislature in 1989, when then-Gov. Bill Clements ended up calling lawmakers back for not one, not two — but six extra rounds, to work on everything from worker's comp reform to the state's public school system. By the time Clements was satisfied, that Legislature had met for almost 300 days — with the 140-day regular session included — and had already worked well into the next year. To compare, the current 85th Legislature is on track to meet for a total of 170 days this year so far — and that's assuming Abbott doesn't call them back for more.
Tribune today
• From Ross Ramsey: A round of applause for the Texas Legislature, which dug itself into a $7.9 billion hole during the regular session — and may deepen it before lawmakers leave the Capitol next week.
• U.S. Rep. Beto O'Rourke really wants to unseat U.S. Sen. Ted Cruz in 2018 — so he's campaigning across Texas for 34 days to prove it.
• An East Texas mortician-turned-murderer who hid the body of his victim in a freezer for nine months was denied a new trial.
Pencil us in
The full program for the 2017 Texas Tribune Festival is now available! Join us for three days of the best conversations in politics and public policy, Sept. 22-24. Check it out.
What we're reading
Links below lead to outside websites; we've noted paywall content with $.
Texas cuts aid to 'colonias' after years of offering help, AP

While some communities become sanctuaries, others are happy to help with Trump's immigration crackdown, Five Thirty Eight

Castro launches political group ahead of possible 2020 run, Politico

Ted Cruz's Democratic challenger tries to steal his Tea Party support, Fort Worth Star-Telegram

New map details Trump's Texas border wall plan, renewing flood concerns, The Austin American-Statesman ($)

Texas' electricity marketplace riddled with deceivers, manipulators and violators, The Dallas Morning News ($)
Photo of the day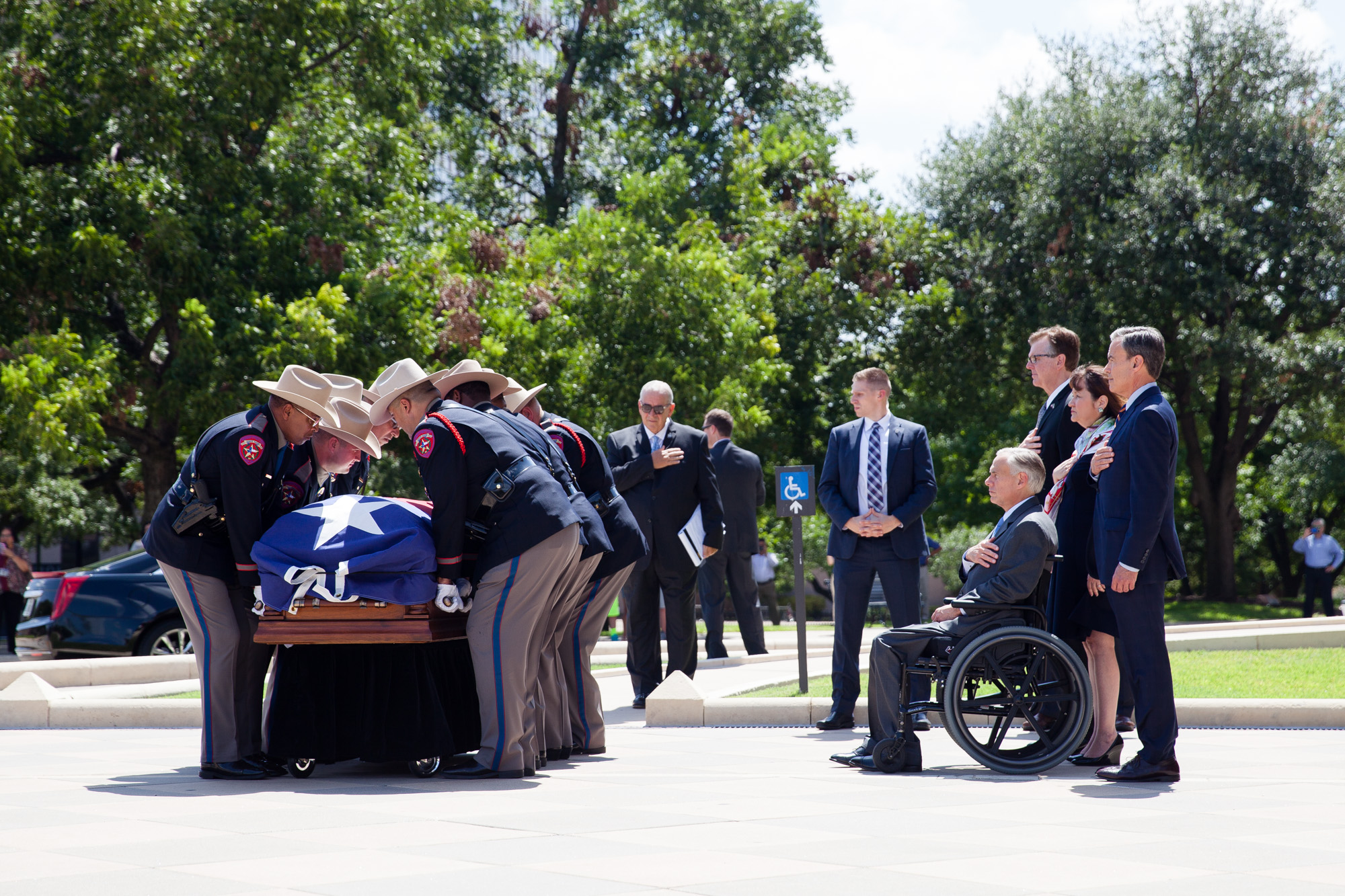 Gov. Greg Abbott, Lt. Gov. Dan Patrick and House Speaker Joe Straus salute the casket of former Gov. Mark White at the Capitol on Aug. 10. Photo by Austin Price. See more photos on our Instagram account.
Quote to note
"They went looking for money. They didn't want to raise taxes. And they didn't want to hit the Rainy Day Fund for any recurring expenses. That left them with some new — and some time-worn — accounting tricks."
— Ross Ramsey, on a new report that says the Texas Legislature dug a fiscal hole they'll have to fill in 2019, thanks to budget tricks.
Feedback? Questions? Email us at thebrief@texastribune.org. As always, thanks for choosing The Brief — if you liked what you read today, become a member or make a donation here.
Texans need truth. Help us report it.
Our Fall Member Drive is underway, and we need your support. The Texas Tribune is a critical source of truth and information for Texans across the state and beyond — and our community of members, the readers who donate, make our work possible. Will you join as a member with a tax-deductible donation of any amount?
Yes, I'll donate today
---
Information about the authors
Explore related story topics