The Brief: Amid health care debate, Texas families worry over possible Medicaid cuts
While Republicans in Congress are in the middle of a health care overhaul debate, one slice of the pie — Medicaid reform — is on the mind of many Texans.
Good morning and happy Wednesday, folks. Thanks for reading The Brief, our daily newsletter informing you on politics, public policy and everything in between. Forward this email to friends who may want to join us. They can sign up here. — CP
What you need to know
While Republicans in Congress are in the middle of a health care overhaul debate, one slice of the pie — Medicaid reform — is on the mind of many Texans. Here's what you need to know:
• How did we get here? When the U.S. House passed its version of the GOP health care bill last month, it included provisions that could cut future Medicaid spending by more than $800 billion over 10 years. Some opposed to the House proposal pointed to Texas — where almost half of children in the state receive health insurance through the program — and said the changes would leave less money in the pot. Others, mainly Texas Republicans, said the Medicaid reforms would curb runaway spending and modernize the program.
• What's support like for health care reform among Texas voters? A little more than half of Texas voters following the health care debate said they had an unfavorable view of the GOP health care bill, while 20 percent said they had a favorable view of it, according to a June University of Texas/Texas Tribune poll.
• The ball is in the Senate's court. The Senate version of GOP health care overhaul is set to be unveiled Thursday, but it's unclear how Medicaid will be addressed in the legislation. A possible hint came Tuesday, when U.S. Sen. John Cornyn, R-Texas, referred to the House plan as paving a path to keeping Medicaid spending increasing "at a sustainable rate." Cornyn has also said the sooner the legislation is voted on the better, adding he wants it to happen before Congress breaks for its August recess.
Other stories we're watching today
• Dallas Area Rapid Transit, one of the state's largest transit agencies, might see multiple board members replaced during a Dallas City Council vote this morning. Follow Texas Tribune reporter Brandon Formby for updates.
Tribune today
• A Texas congressman said he took things "a step too far" after accusing former President Bill Clinton of admitting to responsibility in a widely debunked conspiracy theory about the 1993 death of a White House aide.
• From Ross Ramsey: Four days, seven stories, piles of charts and a podcast later, here are five takeaways from the latest University of Texas/Texas Tribune Poll.
• A small ride-hailing nonprofit that popped up after Uber and Lyft left the city of Austin is struggling to survive since the two have returned.
Pencil us in
Register for the 2017 Texas Tribune Festival! Join us for three days of the best conversations in politics and public policy, Sept. 22-24. Register here.
What we're reading
Links below lead to outside websites; we've noted paywall content with $.
The best and worst legislators 2017, Texas Monthly
Oil and gas study raises concerns, calls for more research, Marfa Public Radio
Sen. Cruz to participate in McAllen Fourth of July Parade, The Monitor

Sparks flare at City Council as public testifies on SB 4, The Houston Chronicle ($)
After baseball shooting, Texas congressman wants to let lawmakers carry guns anywhere, The Dallas Morning News ($)
Trump takes steps to undo Obama legacy on labor, The New York Times ($)
Photo of the day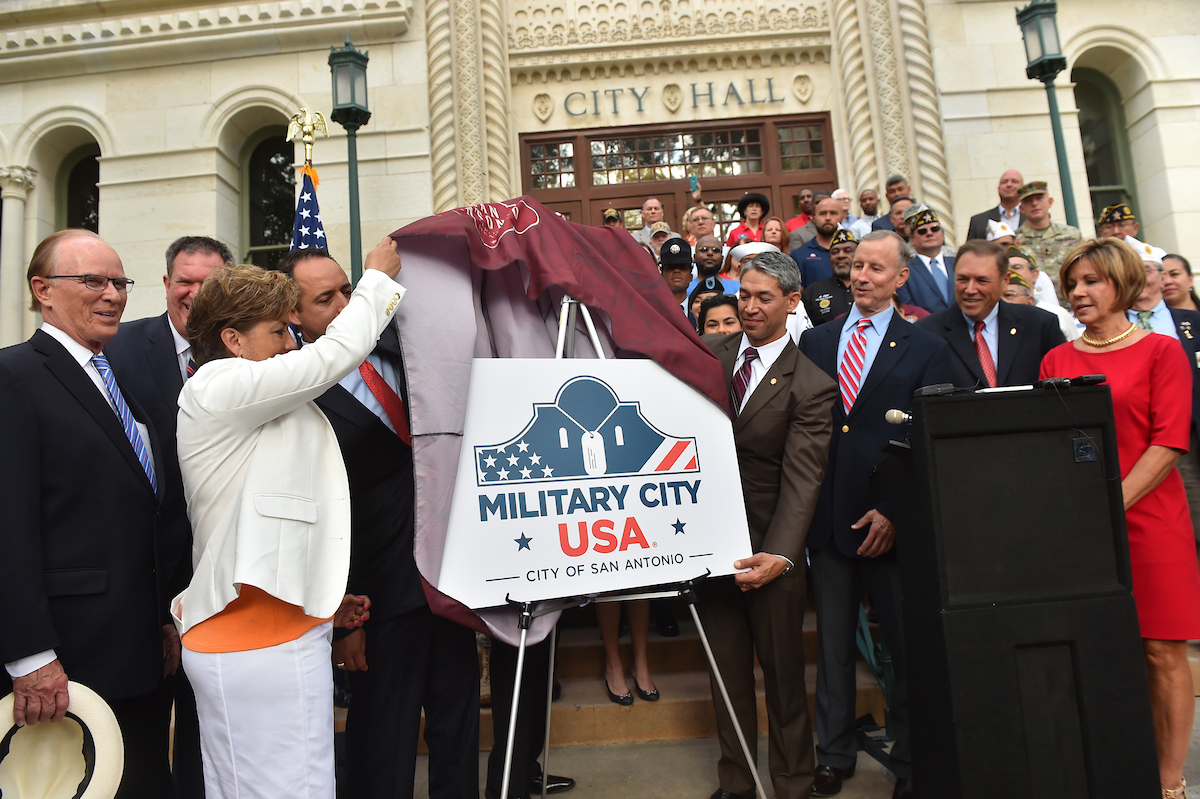 The city of San Antonio has officially trademarked "Military City, USA," which Ron Nirenberg, the city's mayor-elect, and others unveiled a new logo for on June 19. Photo by Robin Jerstad. See more photos on our Instagram account.
Quote to note
"I regret my choice of words."
— U.S. Rep. Pete Olson, R-Sugar Land, about remarks he made accusing former President Bill Clinton of admitting to the murder of a White House aide.
Feedback? Questions? Email us at thebrief@texastribune.org. As always, thanks for choosing The Brief — if you liked what you read today, become a member or make a donation here.
Your New Year's resolution list isn't complete without …
… supporting the Tribune. This new year, resolve to do your part to sustain trusted journalism in Texas. Join thousands of readers who power The Texas Tribune's nonprofit newsroom.
Donate now