The Brief: Who's in trouble in 2018?
With less than a year to go before 2018, several U.S. House seats from Texas are drawing interest from potential challengers. The 2018 landscape remains in flux but there are early indications of what it could look like.
Editor's note: If you'd like The Brief in your inbox every weekday, sign up here.
Tribune today
• Texas forced this school district to take in neighboring students. Now it may not fully pay for them.
• The Texas education board will consider a compromise on evolution standards in the high school biology curriculum.
• Texas Agriculture Commissioner Sid Miller's push for hog poison has hit a roadblock. House lawmakers approved a bill that would require more study for the practice.
• Five death penalty bills were heard in a seven-hour-long meeting at the Capitol Monday night.
• Ted Cruz is worried that the "Democratic radical left" will trigger a government shutdown.
• A new study is highlighting concerns about the potential economic impact of Texas passing a "bathroom bill" by stating that it could cost the state $3.3 billion in annual tourism revenue.
• Sherry Cook will step down after a turbulent few weeks as TABC chief.
• The Texas House State Affairs Committee will wade into the debate over bathroom regulations Wednesday.
• Despite Attorney General Ken Paxton's request, Judge George Gallagher will continue to stay on in his case.
What you need to know
With less than a year to go before 2018, several U.S. House seats from Texas are drawing interest from potential challengers. The 2018 landscape remains in flux but there are early indications of what it could look like.
• There will be at least two races for open House seats. Two incumbents – Republican Sam Johnson of Richardson and Democrat Beto O'Rourke of El Paso – have already announced they won't be running for reelection.
• Democrats have high hopes that Texas could play a role in helping them take back the U.S. House after Hilary Clinton's strong performance in the state's urban areas. Several Republicans are more focused on surviving their primary — as the GOP is bracing for contentious races between hard-line conservatives and more moderate incumbents.
What we're reading
Links below lead to outside websites; we've noted paywall content with $.
Tesla tries to change how you can buy a car in Texas (again), Texas Standard
Death from above, Texas Observer
How Texas is beating the Supreme Court on abortion, Politico
Democrat group sets Gohmert town hall - with or without him, Longview News-Journal
Tea party groups blast Texas House over sanctuary cities, budget, The Houston Chronicle
Bernie Sanders returning to Grand Prairie to rally Democrats against Donald Trump, The Dallas Morning News ($)
It's time for the Justice Department to disown Texas's discriminatory voting law, The Washington Post ($)
For your calendar
On April 20: Watch our livestream or join us in person at the Austin Club to hear state Reps. James Frank and Ina Minjarez talk about foster care with Texas Tribune CEO Evan Smith. RSVP.
On April 24: Join us in Austin or on our livestream as the Texas Tribune talks about what "Repeal and Replace" could mean for Texas. This is the beginning of a three-part conversation series on health care. RSVP.
Photo of the day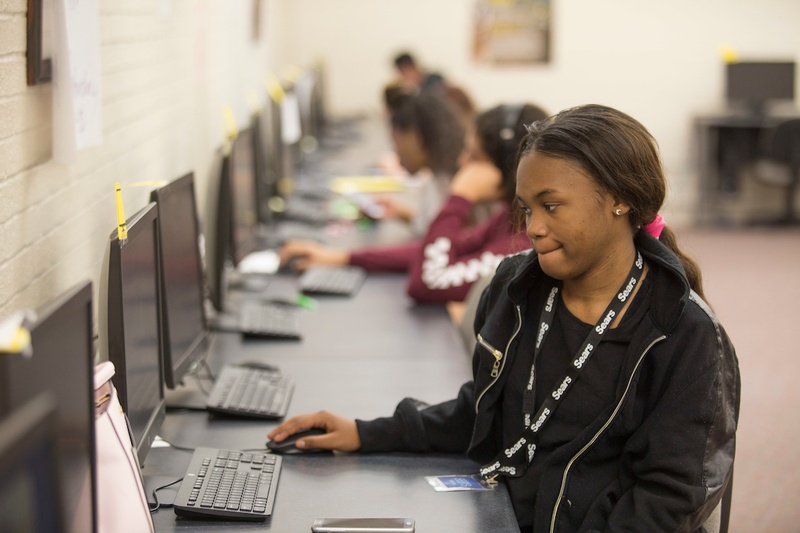 Myritha Lenor, a senior at La Marque High School, wears her Sears badge — she works there part time — while studying at Texas City ISD's Challenge Academy. As lawmakers debate possible reforms to the school finance system this week, they might decide whether to continue offering extra funds to districts like Texas City ISD. Photo by Michael Stravato for The Texas Tribune. See more photos on our Instagram account.
Quote to note
"If the state eliminates [the program], that's more than an error. That's an ethical and moral wrong that kids are going to pay for."
— Cynthia Lusignolo, Texas City ISD Superintendent, on the possible elimination of ASATR.
The Brief is written and compiled by your morning news baristas, Bobby Blanchard and Sanya Mansoor. If you have feedback or questions, please email thebrief@texastribune.org.
As a nonprofit newsroom, we count on readers like you to help power newsletters like this. Did you like what you read today? Show your appreciation by becoming a member or making a donation today.
Support public-service journalism that's always free to read.
It's been a busy year. Through it all, The Texas Tribune's journalists have not missed a beat. And with redistricting starting in earnest next week and the 2022 elections on the horizon, we know our journalism will continue to be fundamental for Texans everywhere. Support our work today so we can be there for you in 2022 and for whatever else 2021 might throw at us.
Yes, I'll donate today