The Brief: TABC's terrible, horrible, no good, very bad hearing
The Texas Alcoholic Beverage Commission's spending controversies landed them in the hot seat with Texas lawmakers on Thursday. The House Committee on General Investigating and Ethics grilled top officials from TABC for more than three hours.
Happy Friday! Thanks for reading The Brief, The Texas Tribune's daily newsletter that prepares you for the day ahead. If you have friends who might want to join our list, please forward this email. They can click here to sign up. – BB
Tribune today
• Gov. Greg Abbott made it clear last session that he's not afraid to expand his veto authority when it comes to the budget.
• From Ross Ramsey: A state law that's supposed to keep a leash on school tax increases might be preventing temporary tax breaks in the Texas districts with the highest tax rates.
• A new measure signed by President Trump could slash funding for women's health clinics in Texas.
• Rick Perry made his first appearance in Texas since being sworn in as U.S. energy secretary, heaping praise on a $1 billion energy project that captures climate-altering emissions from the state's largest coal plant.
• Texas Insurance Commissioner David Mattax died Thursday morning after a battle with cancer.
• A House Select Committee considered legislation Thursday that would call for a convention of states to amend the U.S. Constitution.
• Police are investigating an incident at the University of Texas at Dallas after two copies of the Quran were found inside a toilet bowl.
What you need to know
The Texas Alcoholic Beverage Commission's spending controversies landed them in the hot seat at the Texas Legislature on Thursday, where officials spent more than three hours before a House ethics panel.
• The hearing came a week after Texas lawmakers voted to keep state liquor regulators from traveling out of state. "We know, as admitted, we have 69 days of state employees traveling to exotic locations, all paid for by the taxpayer. Actions like this are why people no longer have faith in the government and our institutions," said Rep. Sarah Davis.

• TABC director Sherry Cook said she could "account for every dime" spent at meetings hosted by the National Conference of State Liquor Regulators.
• Rep. Giovanni Capriglione quizzed Cook on whether the infamous TABC flier was a misuse of state resources. "Yes, I'll just say yes," Cook said. The flier, created by the agency, showed top officials headed to a national conference clutching bottles of Lone Star beer.
What we're reading
Links below lead to outside websites; we've noted paywall content with $.
'Our son made no further progress', Killeen Daily Herald
Longview summit attendees told Trump is ally to energy, Longview News-Journal
Texas getting first immigrant center build under Trump, The Associated Press
Can Texas nullify U.S. laws, court rulings it doesn't like?, Austin American-Statesman
Corpus Christi 'jumbo project' $100 million headache for U.S., Texas companies, San Antonio Express-News ($)
On April 24: Join us in Austin or on our livestream as the Texas Tribune talks about what "Repeal and Replace" could mean for Texas. This is the beginning of a three-part conversation series on health care. RSVP.
On May 21: Texas Tribune CEO Evan Smith hosts a Texas-centric trivia night at The Highball in Austin at 6 p.m. RSVP.
Photo of the day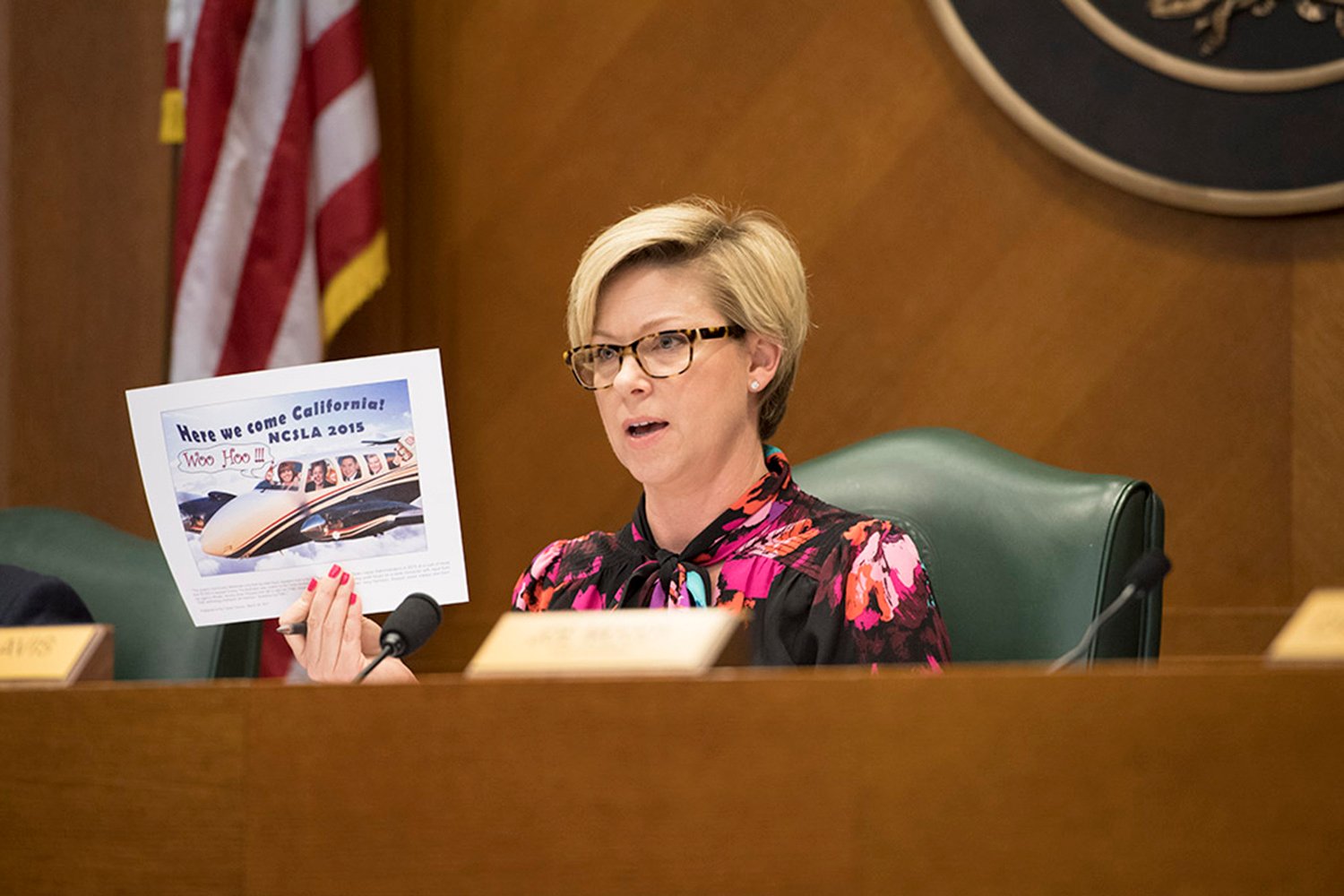 State Rep. Sarah Davis, R-West University Place, grilled TABC officials at a hearing of the Committee on General Investigating and Ethics on Thursday. Photo by Bob Daemmrich for The Texas Tribune. See more photos on our Instagram account.
Quote to note
"The president has made it very clear to me that he does not just want the U.S. to be energy independent; he wants America to be energy dominant, and today's opening is just another step and another example of that becoming a reality."
— Rick Perry, during his first Texas appearance as U.S. energy secretary
The Brief is written and compiled by your morning news baristas, Bobby Blanchard and Sanya Mansoor. If you have feedback or questions, please email thebrief@texastribune.org.
As a nonprofit newsroom, we count on readers like you to help power newsletters like this. Did you like what you read today? Show your appreciation by becoming a member or making a donation today.
Support public-service journalism that's always free to read.
It's been a busy year. Through it all, The Texas Tribune's journalists have not missed a beat. And with redistricting starting in earnest next week and the 2022 elections on the horizon, we know our journalism will continue to be fundamental for Texans everywhere. Support our work today so we can be there for you in 2022 and for whatever else 2021 might throw at us.
Yes, I'll donate today