As Trump talks unity, Texas delegation offers a divided response
Among members of Congress, Texans' reactions to President Donald Trump's first joint address to Congress fell along partisan lines.
WASHINGTON — In possibly his most conventional political speech ever, President Donald Trump relayed a message of "unity and strength" as he laid out his vision for the country in speech before a joint session of Congress.
Using biblical quotes and mostly traditional Republican policy proposals, the new president repeatedly lobbied the American public to better work together after his administration has been marked by a chaotic start.
"I am asking all citizens to embrace this renewal of the American spirit," he said. "I am asking all members of Congress to join me in dreaming big and bold and daring things for our country. I am asking everyone watching tonight to seize this moment."
Republicans were pleasantly surprised, if not all-out gushing.
Minutes after the speech concluded, U.S. Michael McCaul, an Austin Republican, could be heard after the speech calling it "visionary" and "very inspiring."
"I was pleased," said U.S. Rep. Joe Barton, R-Ennis. "He was more presidential tonight, in a positive way."
And Trump's old rival, U.S. Sen. Ted Cruz, crowed to reporters about his impressions.
"I was encouraged," he said. "This was a speech that responded to so many people across this country who are struggling."
Democrats, however, hardly shared the same enthusiasm, particularly with Trump's remarks on immigration. Trump reiterated his plan to build a wall on the U.S. border with Mexico and said he was restoring "integrity and the rule of law to our borders."
U.S. Joaquin Castro, D-San Antonio, said that Trump was "dark and divisive" in his remarks and said the president "continued to scapegoat immigrants."
Castro seemed somewhat encouraged with reports that Trump softened his perspective on immigration in private comments to television anchors earlier in the day.
Castro said he hoped Trump would "extend a hand on immigration to try to reach a compromise and he seemed to allude to that."
"I hope that he's sincere about it," he added.
Cruz declined to weigh in on those reports, saying, "I make a policy of not trying to swat down every unsourced and unsubstantiated" report.
"I'll focus on actual substantive policy," he added.
U.S. Rep. Marc Veasey, a Fort Worth Democrat, took issue with comments Trump made about leveraging allies to pony up for common defense spending.
"Our partners must meet their financial obligations," Trump said. "And now, based on our very strong and frank discussions, they are beginning to do just that. In fact, I can tell you the money is pouring in. Very nice."
"What money flowing?" Veasey countered after the speech. "I'm on the House Armed Services Committee. He said the money's flowing already. There's no money flowing already. If that happened, it happened like in the last 20 minutes."
U.S. Rep. Lloyd Doggett, D-Austin, hammered Trump for his lack of specifics, stating the speech was "big on talk, short on details."
The main policy issue, however, was how to handle the future of former President Obama's 2010 health care overhaul. Trump promised in the speech to "repeal and replace" the law. But that process is proving to be more complicated and difficult by the day.
Trump touched on other topics, like promising a revamped travel ban for people from certain Muslim countries and lowering the cost of prescription drugs. He mostly avoided foreign affairs, but he did passingly mention the F-35, a Texas-manufactured fighter plane, and called it "fantastic."
Many members of Congress chose to make statements with their choices of guest in the chamber gallery. For instance, U.S. Rep. Filemon Vela, D-Brownsville, brought celebrity chef and immigrant José Andrés to send a message about the president's often incendiary immigration language.
But many Texans chose to bring friends and family. Cruz and U.S. Rep. Randy Weber of Friendswood each brought their wives, while U.S. Rep. Kenny Marchant brought an old friend.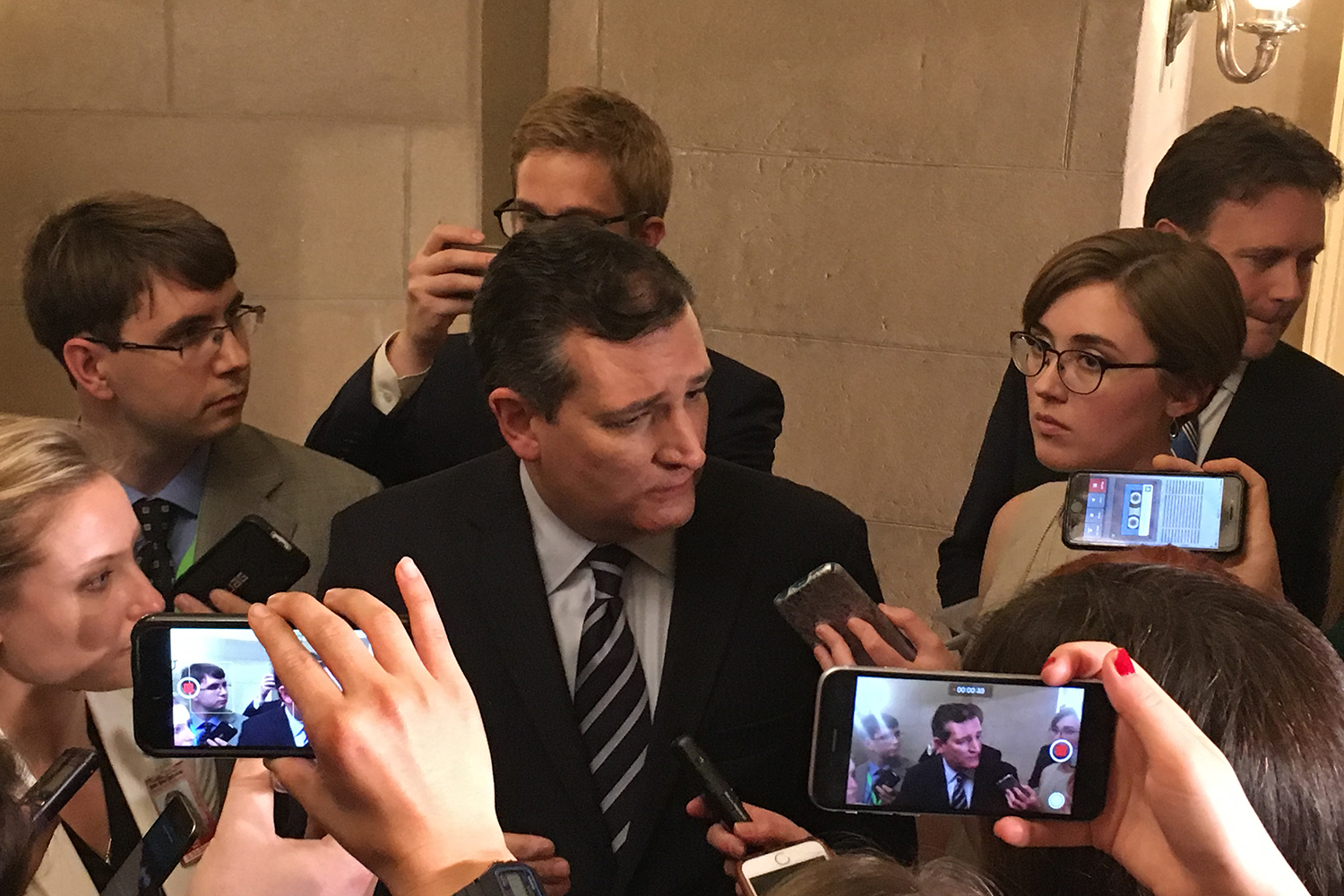 Over and over, Trump aimed for a unity message.
But some Democrats, including a Texan, never heard those comments. U.S. Rep. Al Green, a Houston Democrat, opted against attending the speech.
"Although my desire was to attend tonight's Joint Session of Congress, I cannot in good conscience do so given the action taken one day ago by the now Trump Justice Department to withdraw the its longstanding claim that the Texas Voter ID law intentionally discriminated against minorities," he said in a statement. "My action is more than a refusal to attend the joint session, it is my resistance and protestation to the normalization and legitimization of our President's harmful behavior."
Like several dozen other House Democratic women, the delegation's two Democratic women, U.S. Reps. Eddie Bernice Johnson of Dallas and Sheila Jackson Lee of Houston, wore white to the speech. That color served as a quiet acknowledgment to women's suffrage and also to what could have been: Former Secretary of State Hillary Clinton wore the color on pivotal victory nights of her campaign.
But mostly, Jackson Lee earned attention for breaking a tradition. During both previous Democratic and Republican administrations, she was a fixture on the aisle — grabbing the president and cabinet members for a quick moment of issue lobbying and a hug.

But this year, she kept a bit of distance - sitting one seat over from the aisle.
Read more:
U.S. Rep. Sheila Jackson Lee's troubled image in Washington is often at odds with her friendships and persistence.
Most Texas Republicans offered a muted response to questions about questions about Trump administration ties to Russia.
Texans need truth. Help us report it.
Our Fall Member Drive is underway, and we need your support. The Texas Tribune is a critical source of truth and information for Texans across the state and beyond — and our community of members, the readers who donate, make our work possible. Will you join as a member with a tax-deductible donation of any amount?
Yes, I'll donate today
---
Information about the authors
Explore related story topics