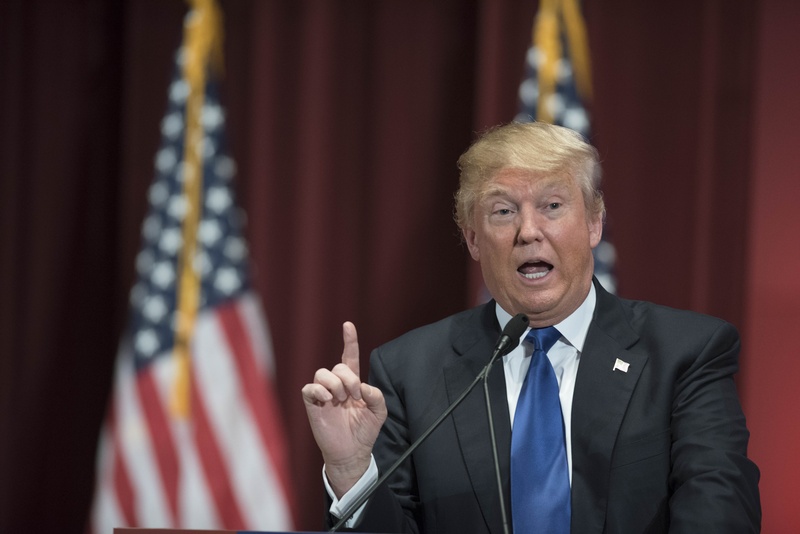 *Editor's note: This story has been updated throughout.
President Donald Trump invited a wave of speculation Tuesday when he volunteered to "destroy" the career of a unnamed Texas state senator in response to a state sheriff's complaint about the lawmaker.
Trump's remark came during a meeting with sheriffs at the White House that included Rockwall County's Harold Eavenson. When Trump asked the group for input on how to improve law enforcement, Eavenson spoke up.
"Asset forfeiture," Eavenson replied. "We've got a state senator in Texas that's talking about introducing legislation to require conviction before we can receive that forfeiture money, and I told him that the cartel would build a monument to him in Mexico if he could get that legislation passed."
The Texas Tribune thanks its sponsors. Become one.
"Who's the state senator?" Trump asked, getting no answer from a demurring Eavenson. "Want to give his name? We'll destroy his career."
Hours after the exchange, it was still unclear to whom Eavenson, a Republican, was referring. He was not immediately available for comment.
State Sen. Bob Hall, R-Edgewood, represents Rockwall County in the Senate. Hall told reporters at the Texas Capitol that he had "no idea" if Eavenson was talking about him but he believes he has a "very good relationship" with the sheriff.
"I'll be glad to talk to him," Hall said. "My honest opinion is he made a statement for a fact and didn't make the whole statement, probably not anticipating how Trump would react to it."
Eavenson appeared to be speaking about civil asset forfeiture, a practice some state senators have called for reforming during this year's legislative session, including state Sen. Konni Burton, R-Colleyville, who filed Senate Bill 380 in December, and state Sen. Juan "Chuy" Hinojosa, D-McAllen, who filed Senate Bill 156 in November.
"I don't know the sheriff," Hinojosa told reporters at the Texas Capitol. "I never met the sheriff. Any person who wants to discuss any piece of legislation with me can come in and talk to me."
The Texas Tribune thanks its sponsors. Become one.
"President Trump, as [we've] gotten to know him, he says a lot of remarks off the cuff," Hinojosa added. "Quite frankly I don't think he was serious."
As speculation mounted about the identity of the state senator, Eavenson took to Facebook to elaborate on his comment to Trump.
"My objective was to make a point of the lack of logic to such a position," Eavenson wrote. "It was also to make the point public to possibly benefit law enforcement. My personal opinion is that such a bill if were to pass would benefit the cartels and damage law enforcement."
By the end of the afternoon, Democrats in the state Senate were circulating a proposed resolution rebuking Trump for the comment to Eavenson. The proposed resolution, authored by state Sen. José Menéndez of San Antonio, asks the president to "refrain from threatening elected officials."
Julián Aguilar and Sanya Mansoor contributed to this report.