The Brief: Trump's travel ban leads to chaotic weekend
President Donald Trump signed an executive order Friday banning travel from seven countries in the Middle East. What followed was a chaotic weekend at the nation's airports.
Tribune today
In State of the State address, Abbott to fill in some blanks
Texas Gov. Greg Abbott's second State of the State speech is set for Tuesday — a chance for the governor to make his priorities known to a Legislature that has already made plans of its own.
Analysis: What we talk about when we talk about school vouchers
The debate over education savings accounts and other voucher programs is only peripherally about educating kids. It's really a debate about money.
Trump's travel ban leads to immigrant detainments at Texas airports
Trump's executive order banning travel from seven predominantly Muslim countries led to the detainment of several travelers at Texas airports.
In Houston, DNC chair candidates talk fighting Trump, turning Texas blue
At a forum in Houston Saturday, the 10 candidates for Democratic National Committee chair trained almost all their fire on President Trump, assailing him as a threat to Democracy who deserves little, if any, Democratic cooperation.
Two sharply different portrayals of Border Patrol agent at murder trial
Devoted public servant who protected the nation's borders and erred only by helping out his family? Or leader of a drug- and gun-trafficking enterprise? Those were the two portraits that emerged of Border Patrol Agent Joel Luna at his two-week murder trial. Now, a jury will decide his fate as early as Monday.
Lawsuit alleges even more rapes by Baylor football players
A federal lawsuit filed against Baylor University on Friday claims 31 football players at the school committed 52 acts of rape from 2011 to 2014, which is far more than had been previously disclosed by university officials.
Cornyn concerned about Trump import tax proposal
U.S. Sen. John Cornyn expressed concern Friday over a proposal floated by the Trump administration to put a 20 percent tax on all imported Mexican goods to fund a wall along the U.S.-Mexico border.
Pentagon launches review of costs of F-35, largely built in Texas
Secretary of Defense James Mattis on Thursday reportedly ordered a review of costs associated with the F-35 fighter plane, a key economic driver in the state of Texas.
What you need to know
President Donald Trump signed an executive order Friday banning travel from seven predominantly Muslim countries in the Middle East. What followed was a chaotic weekend at the nation's airports as travelers with valid visas trying to enter to the United States were detained.
This is a developing story. Follow Texas Tribune reporters Abby Livingston and Alexa Ura for updates or subscribe to our breaking news alerts.
Other stories we're watching today:
News from home
If you know someone affected by Trump's refugee ban in Texas, we want to talk to you.
Join the engineers who keep our site buzzing! We're hiring a software developer. Apply here.
What we're reading
(Links below lead to outside websites; paywall content noted with $)
Outpouring of support overwhelms mosque members, The Victoria Advocate

No stopping Texas shale boom as Permian fever spreads to pipes, The Midland Reporter-Telegram
McAllen breaks ground on intelligence center, The Monitor
1-year later: Investigation continues, but Children's Hope could see more kids, Lubbock Avalanche-Journal

In State of the City, Adler blasts Trump's refugee order, calls Austin home to immigrants, KUT
Rawlings to immigrants detained at DFW: "On behalf of the citizens of Dallas, we're sorry," Dallas Observer

Inside the 'war room' at DFW, where more than 100 lawyers volunteered to help detainees, The Dallas Morning News ($)
Texas CPS veterans angry they're left out of pay raises as confusion on rules sets in, The Dallas Morning News ($)
UT regents chairman apologizes for saying black perspective on board not 'critical', The Dallas Morning News ($)
'Bury this!' Women send Gov. Greg Abbott soiled tampons, pads to protest fetal burial rule, The Dallas Morning News ($)
Lawmakers want Abbott to take a more vocal role in passing, blocking bills, Houston Chronicle ($)
Turner, feds clash over affordable housing policies,Houston Chronicle ($)
For your calendar
The Texas Tribune will moderate a conversation on ethics, transparency and open government with state Sens. Van Taylor and Kirk Watson and state Rep. Giovanni Capriglione tomorrow at The Austin Club. RSVP here.
For a complete list of upcoming events, visit our site here.
Photo of the day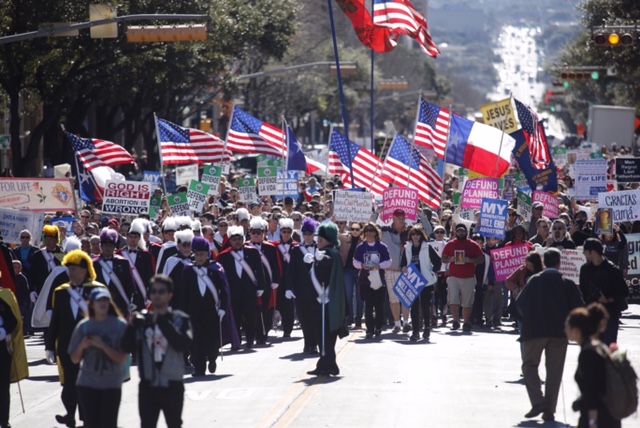 Anti-abortion demonstrators march up Congress Ave. towards the Capitol in Austin for the Texas Rally for Life on Jan. 28, 2017. Photo by Bob Daemmrich. See more photos on our Instagram account.
Quote to note
"Isolating ourselves from the world does not make us safer — it only isolates us. Our nation does not back down from what is right because of fear. That is not who we are. This executive order is rooted not in fact but in fear, which actually cedes power to terrorists who have terrorized the people our country now shuns. Those terrorist will use this as a rallying cry for years to come."
— Aaron Rippenkroeger of Refugee Services of Texas about Trump's executive order to cut back the U.S. Refugee Admissions Program via TribTalk
The Brief is written and compiled by your morning news baristas, Bobby Blanchard and Cassi Pollock. If you have feedback or questions, please email thebrief@texastribune.org. We're a nonprofit newsroom, and count on readers like you to help power newsletters like this. Did you like what you read today? Show your appreciation by becoming a member or making a donation today.
Support public-service journalism that gets the context right
Your donations make our reporting possible and keep it free for all to access. Support our nonprofit newsroom by May 11, and your gift will help us unlock $25,000 in matching funds from our partners at Tito's Handmade Vodka, the Bernard & Audre Rapoport Foundation and the Suzanne Deal Booth Charitable Trust.
Yes, I'll donate today