2016 Year in Review
The 10 days that defined 2016 for the Texas congressional delegation
From U.S. Sen. Ted Cruz's Republican National Convention speech to U.S. Rep. Filemon Vela's letter to Trump, 10 days in 2016 stand out for how they disrupted, empowered or otherwise messed with members of the Texas delegation.
2016 Year in Review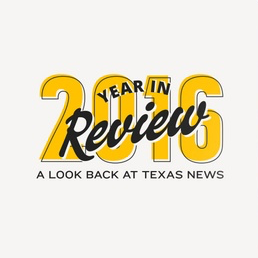 For those obsessed with Texas government and politics, 2016 was filled with big news, from the somber (the ambush of police officers in Dallas) to the absurd (University of Texas students toting dildos to protest the new campus carry gun law). And then there was the election. Here's our roundup of the year's most memorable Texas stories.
More in this series
WASHINGTON — There are no quiet days in the nation's capital, but that maxim proved particularly true in 2016 for the Texas congressional delegation, thanks to its 38 members, seven chairmen, a presidential candidate and loads of drama.
The presidential contest incited both excitement and angst in the delegation, but so did these members' own re-election efforts and their bids for power and prestige at that other dome.
Here are the 10 most consequential moments of the year:
March 1: No incumbents lose their primaries
U.S. Rep. Will Hurd didn't lose re-election, but neither did anyone else in the Texas delegation.
Like no other presidential cycle in modern history, anti-establishment rage snuffed out conventional wisdom and the ambitions of politicians across the spectrum.
But that sentiment was no match for the power of incumbency in the U.S. House — particularly in Texas.
Of the 34 Texas members of Congress who sought re-election in 2016, all will return to Washington, and for most, that outcome was largely decided when they won their district's Republican or Democratic primaries.
Of the handful of members who seemed in trouble with their party's base — Republican U.S. Reps. Kevin Brady of the Woodlands, John Culberson of Houston, Pete Sessions of Dallas and Lamar Smith of San Antonio and Democratic U.S. Rep. Gene Green of Houston — all secured majorities on primary day.
For all the national angst, Texas did not even find itself with a single congressional primary runoff this year.
June 6: U.S. Rep. Filemon Vela tells Trump to shove border wall up his derriere
Until June, this Democratic sophomore from Brownsville was largely unknown.
And then he put pen to paper. Vela fired off a viral missive, telling the presumptive GOP nominee that "you're a racist and you can take your border wall and shove it up your ass."
Now when Vela writes, people in the halls of Congress stop and read it.
July 6: U.S. Rep. Joaquin Castro moves up the ranks
Certainly, it was merely a single committee assignment.
But when U.S. House Minority Leader Nancy Pelosi appointed Castro to the House Intelligence Committee, the gravest post in Congress, it was one of a succession of Democratic signals of confidence in the sophomore from San Antonio.
In 2015, U.S. House Minority Whip Steny Hoyer appointed Castro to serve as one of his deputies. And heading into his third term, Hispanic colleagues voted Castro as a leader in the Congressional Hispanic Caucus.
His name often floats for a Senate run, but it would be a gamble — Castro would be leaving a great deal of influence behind in the U.S. House.
July 13: U.S. Rep. Ted Poe announces he has leukemia
Perhaps the hardest news all year came in July: Poe, a Republican from Humble, announced he was in a battle with cancer.
A bipartisan contingent of the delegation — including U.S. Reps. Pete Olson, R-Sugar Land, and Sheila Jackson Lee, D-Houston — took the news hard and rallied behind their friend.
Poe returned to the Capitol for votes in September in high spirits, ready to battle cancer physically and legislatively. Even so, he has been mostly absent from votes during this year's lame-duck session.
"Congressman Poe's condition is continuing to improve thanks to the Good Lord and the treatment he has received from the best physicians in the world at M.D. Cancer Center," a spokeswoman said of his status in December. "It has been a long year, but he is beating cancer and he is very much looking forward to being sworn in for the 115th Congress in January."
July 20: U.S. Sen. Ted Cruz is booed at the Republican National Convention
There was no more dramatic moment in Texas politics this year.
Just months earlier, Cruz was flying high — at times he even seemed within striking distance of the GOP presidential nomination. And even after conceding defeat to Donald Trump, Cruz still had some political juice.
And then it all fell apart in a strange and humiliating moment in Cleveland.
Cruz withheld his endorsement of Trump (it would eventually come in the fall), but delivered a speech at the Republicans' convention anyway urging attendees to "vote your conscience."
The crowd soon soured on him and he left the stage amid a hail of boos.

Things were no easier for the junior senator from Texas the morning after, as he faced a fiery, perplexed Texas convention delegation over breakfast.
There is little doubt with hindsight that those events deeply wounded Texas' most prominent politician. The fallout prompted questions of whether Cruz had botched his chance of running again for president, or even if his re-election in 2018 might be in trouble.
But even those Republicans and Democrats who despise him most concede he is both wily and a workhorse: Even a weakened Cruz is not someone to underestimate in the future.
Aug. 8: U.S. Rep. Michael McCaul eyes higher office
It was McCaul whose name rose to the top of the heap amid Cruz's summer spiral. In August, CNN reported that high-profile Republicans were recruiting the Austin Republican to challenge Cruz in the 2018 Senate GOP primary.
At the same time, McCaul, the chairman of the House Homeland Security Committee, spent the summer and fall building a rapport with Trump and advising him on national security — instantly putting him at the top of most lists to lead that Cabinet department.
Trump passed on McCaul for the post earlier this month, making a future Senate run more plausible.

McCaul is still undecided on the matter, but 2016 made clear that McCaul is open to higher-profile roles in his future.
Nov. 4: U.S. Rep. Beto O'Rourke floats a Senate run
A few days out from Election Day, O'Rourke told the Texas Tribune that he was considering a run for the Democratic nomination to challenge Cruz in 2018 or U.S. Sen. John Cornyn in 2020.
Surely, it will be an uphill climb in either year. Remote El Paso is a difficult geographic base from which to build a statewide profile, and O'Rourke would need to raise somewhere between $30 million and $50 million to be competitive — and prove that Texas is worth the national Democratic apparatus' dollars.
But some Texas Democrats predict an erratic Trump presidency could unleash a 2018 backlash in the state and that Cruz, who appears weakened after his tangles with Trump, will be vulnerable.
Maybe — just maybe — some argue, there is an opening for O'Rourke or another contender. But even then, Democrats concede a statewide run remains a long shot at best.
For O'Rourke, there is little to lose: He already promised to term-limit himself by leaving office by 2021 at the latest.
Nov. 8: U.S. Rep. Will Hurd survives re-election
Few in Washington had any idea who Hurd was when he came to Washington two years ago — and some even called him an accidental congressman after he defeated former U.S. Rep. Pete Gallego in a surprise 2014 victory.
But Hurd ran hard against Gallego in a 2016 rematch, raising piles of money and drawing intensive support from U.S. House Speaker Paul Ryan.
Amid the chaos Trump unleashed on the party — especially in a district that had a substantial Hispanic population like Hurd's 23rd Congressional District — the freshman congressman's chances looked grim.
Instead, he beat the Trump drag and defeated Gallego on Election Night by 3,767 votes out of more than 226,000 cast.
Nov. 15: House Republicans block Texans from the leadership table
Despite several committees chaired by Texans, it remains a burr in the saddle of many in Texas politics that there are no Texans at the House leadership table. After all, the Lone Star State sends the largest GOP delegation to Washington.
And so a week after the election, two Texans – U.S. Reps. Bill Flores and Roger Williams – ran for high-profile roles within the House GOP caucus. Flores ran for vice chair, and Williams aimed to run the House GOP campaign arm.
Both lost, adding to a perception that many House Republicans suffer from an affliction known as "Texas fatigue."
Dec. 1: Seven Texas House chairman hold onto their gavels
Earlier this month, the seven Texas chairmen in the U.S. House secured the necessary backing to retain their lofty posts from U.S. House Speaker Paul Ryan and a group of House Republicans who serve on a powerful panel that carries weight on deciding chairmen.
It was an unsurprising move, but it means another term of Texas committee dominance.
But Republicans have strict term limit rules for chairmen, so these tenures are finite. Starting in two years, these Texas chairmen will begin to cycle out.
Read more year-in-review stories here.
Quality journalism doesn't come free
Perhaps it goes without saying — but producing quality journalism isn't cheap. At a time when newsroom resources and revenue across the country are declining, The Texas Tribune remains committed to sustaining our mission: creating a more engaged and informed Texas with every story we cover, every event we convene and every newsletter we send. As a nonprofit newsroom, we rely on members to help keep our stories free and our events open to the public. Do you value our journalism? Show us with your support.
Yes, I'll donate today
---
Information about the authors