New program moves women from prison to life
Before they can earn their freedom, about 40 Texas prisoners will be the first to complete a six-month program that focuses on decision-making and life skills.
FALLS COUNTY – A group of 28 women participated in a spirited discussion recently about how much they would spend each month on food, housing, transportation and other living expenses.
One woman estimated she would need $500 for food, but others suggested putting more money toward rent, children's needs and insurance coverage.
"If you go big, you're going to go broke," case manager Irvanette Lofton stressed. "Nothing wrong with eating leftovers. If you don't have it to spend, don't spend."
For many people, the spending rules might seem obvious. But these women have been in prison for years, if not decades, and such questions have been unknown or irrelevant in their lives. That changes in early March, when a new six-month, pre-release program wraps and these 28 women are transported from the Marlin Transfer Facility to the Christina Melton Crain Unit outside of Gatesville, where they'll be released and have to begin fending for themselves.
The learning curve is different for each prisoner. One inmate could already have a job lined up on the outside, while another faces filling out job applications for the first time. Before going to prison, it had always been about earning "fast money," one admitted.
The Texas Board of Pardons and Paroles asked the Texas Department of Criminal Justice to create a six-month re-entry preparation program to help inmates gauge and build on life skills while examining the choices that landed them behind bars.
The curriculum covers a lot of ground: Living arrangements, managing a household, budget planning, applying and interviewing for jobs, finding a place to live, hygiene and more. The program currently has two groups of women: the 28 who've been in the program since September and another 15 inmates just beginning. The program has a capacity for 112 women.
More inmates will be added as the Board of Pardons and Parole votes to send them to Marlin ahead of their release. Out of about 147,000 inmates in the prison system, 12,500 are women.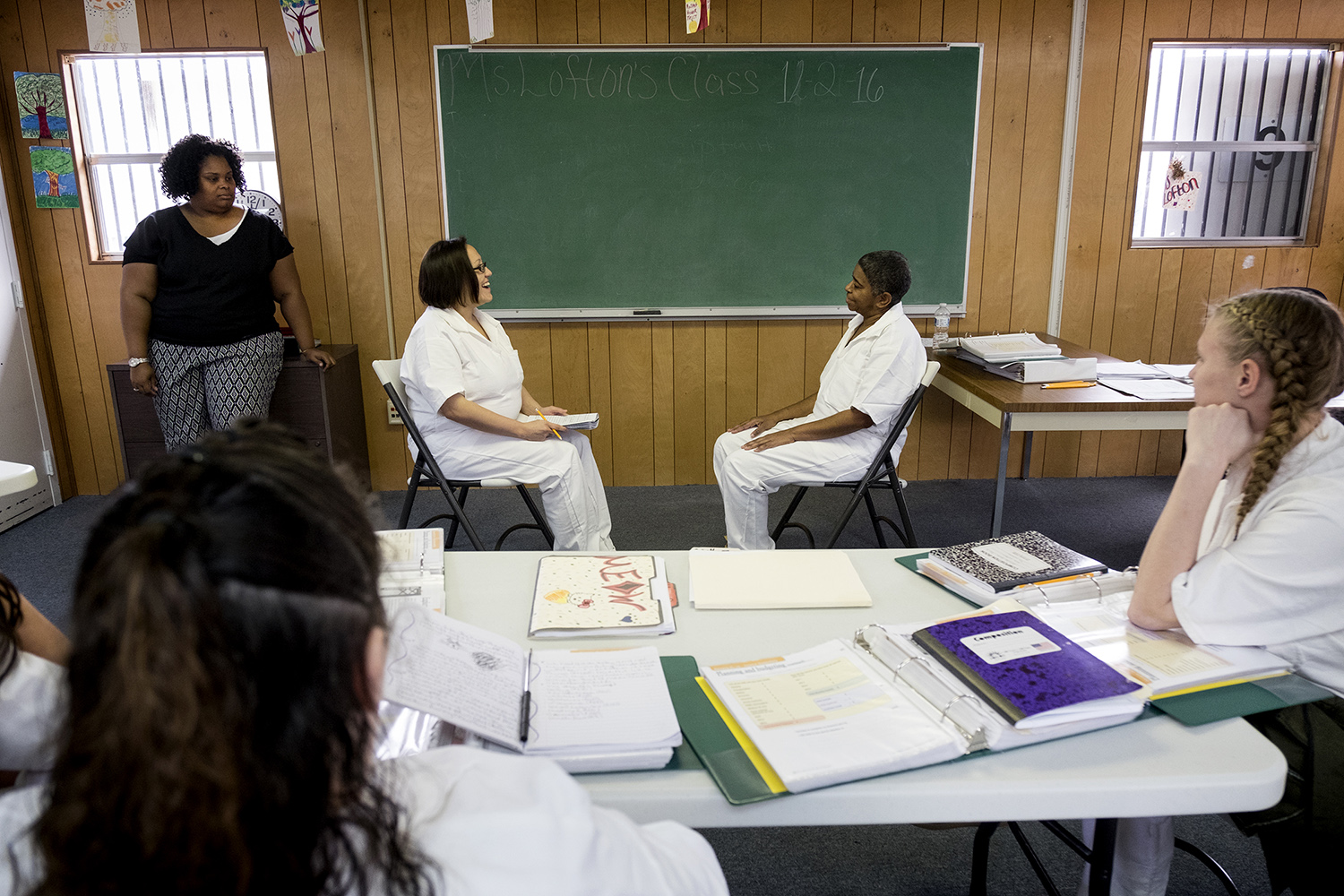 Before this program, women inmates only had a substance abuse treatment program. Men have similar pre-release and substance abuse treatment programs.
"It has a definite impact on recidivism. It's very difficult to look at yourself," said Madeline Ortiz, director of rehabilitation programs for the Texas Department of Criminal Justice. "These individuals will be living next to you, go to school with you. Would you want them to have learned nothing, not looked at themselves?"
Monica Bush, 41
Impulse control is a lesson Monica Bush, 41, said she has learned from the program. She's serving a 30-year sentence for shooting and injuring a child in 1993, when she was 18.
Bush left two young children behind who are now 24 and 25 years old. She's also now a grandmother.
"There's a lot of guilt for that, and you can't change that. You have to just do better," said Bush, who has kept tabs on the ways the world has changed through media and loved ones. "I don't give myself room to come back to prison. There are no other options."
Prison is a "dog-eat-dog" world, said Bush, who recalled getting into fights, spending time in solitary confinement and worrying who was sleeping next to her.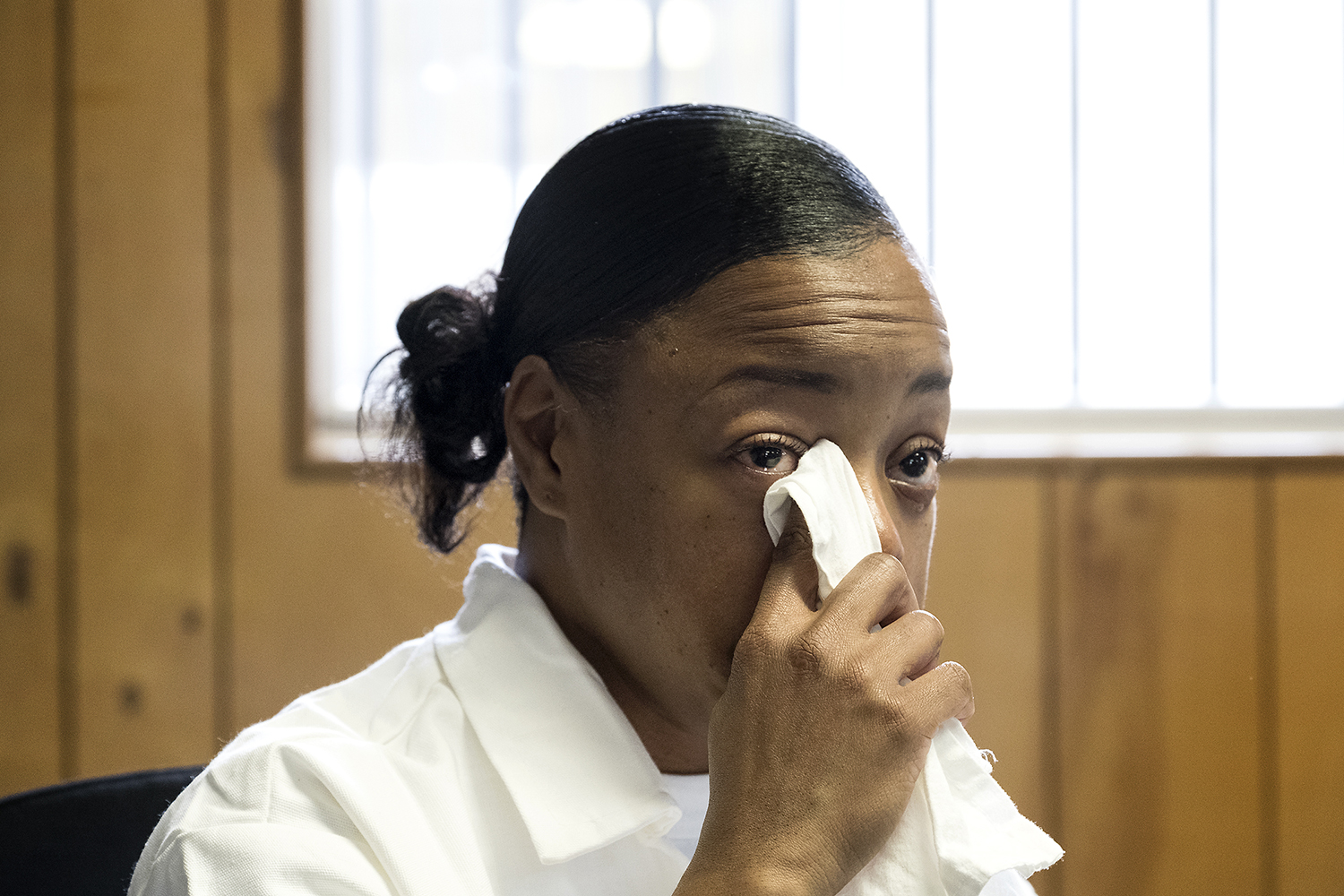 "Prison doesn't discriminate. It's ruthless. It's rugged. It's not somewhere little girls dream of coming to," she said. "It really is survival of the fittest. You're thrown into a jungle. There's no fun to it."
Bush said she was in orchestra, an honors student and cheer captain – a good person whose one mistake cost her more than 20 years of freedom. Now, more reflective, she said she wants to return to her family as they remember her, and not a woman hardened by prison.
"Do you want to take that person back to them?" she said. "No, because that's not who they know."
Pricilla Gutierrez, 37
The new program builds character, said Pricilla Gutierrez, 37. Gutierrez is serving a four-year sentence for aggravated assault. She said she was jumped at a nightclub before pulling a knife and stabbing her victim.
"I'm not going to go out being the same person I was," she said.
Gutierrez said she was a youth pastor before her relationship with a man led her down a different path.
"As I got older, I thought the world owed me," she said. "I've always been a caring person. I felt protecting someone got me here. I should have called the police, but I took it into my own hands."
For Gutierrez, the program has helped her deal with her anger.
"I'm ready to hold my kids, but I'm scared because it's hard," she said. "I don't want to end up back in here. One decision will get you behind these walls. It's not, 'It's OK, you've been a good person all your life.'"
Rachel Flores, 42
Drugs have always been in Rachel Flores' life, she recalled. Both of her parents died of heroin overdoses, and her grandmother contracted Hepatitis C. Flores is serving a six-year sentence for possession of a controlled substance with intent to deliver.
"If I could do it all over again," she said, "I would just embrace my family, the normalcy of going to work."
Flores' time will be cut short if she completes the pre-release program. She said the program is helping her with anger management and being more empathetic. She hopes to have that normal life soon.
"I have a grandbaby I want to go home to," Flores said. "I'm done with all that, that fast money. I want to go home and be the best grandma I can be."
Read more coverage of the Texas criminal justice system:
Texas county jails have seen an almost 60 percent decrease in suicides from last year.
Dads in a maximum-security lockup in Brazoria County hold on to hope by holding on to their kids.
Could the police-civilian divide be healed with new civics lessons and traffic stop guidelines from the state?
Quality journalism doesn't come free
Perhaps it goes without saying — but producing quality journalism isn't cheap. At a time when newsroom resources and revenue across the country are declining, The Texas Tribune remains committed to sustaining our mission: creating a more engaged and informed Texas with every story we cover, every event we convene and every newsletter we send. As a nonprofit newsroom, we rely on members to help keep our stories free and our events open to the public. Do you value our journalism? Show us with your support.
Yes, I'll donate today
---
Information about the authors