For university president who's a veteran, free tuition for military kids presents a conundrum
Steven Tallant is a university president and a veteran, which makes the fight over free tuition for veterans' kids especially difficult for him.
KINGSVILLE — Steven Tallant, president of Texas A&M University-Kingsville, credits two American institutions for his success: the military and higher education.
He has studied or taught at universities in Florida, Utah, Wisconsin and Texas, and been stationed by the Air Force in Mississippi, Portugal and Washington, D.C. Those experiences helped him rise from a young night-shift worker at a soup factory to a high-ranking official in the Pentagon, and then to a job overseeing a school with over 9,000 students.
And that's why the last few years have been so hard for him. Texas universities, lawmakers and veterans groups have been in a prolonged tussle over the future of a state program that provides free tuition to veterans' children. The program's backers say it's the least Texas can do to thank veterans for defending the country. The universities say it's way too expensive and is driving up college costs for everyone else.
As a veteran and a college president, Tallant has been forced to pick a side. And he has reluctantly chosen the side of the universities. He has been among the most important voices calling for paring back the program known as Hazlewood. But it hasn't been an easy stance to take. His struggle highlights how difficult the Hazlewood issue has become.
"We owe the veteran everything," he said. "We are not here today without the veteran."
But, he added, "To me, this is a social justice and economic justice issue."
Upward mobility
Tallant is a first-generation college graduate. He grew up in Paris, Texas, and his first job after high school was working the midnight to 8 a.m. shift at the local Campbell's Soup factory. During that time, he also took classes at Paris Junior College, and was determined to make it to a four-year school.
In 1969, during the Vietnam War, he enlisted in the Navy with the goal of earning the benefits of the GI Bill, he said. He served until 1973, and then used those benefits to pay for a bachelor's degree at the University of Florida and a master's in social work at the University of Utah.
Then, he joined the Air Force as a social worker. He investigated cases of child abuse, helped enlistees deal with problems of mental health and worked to help families handle the stress of having a member overseas. His military career culminated at the Pentagon, where he served as chief of Air Force family research.
"I truly understand the military family," he said.
But Tallant says he also understands low-income students who struggle through college without much family help. He became a professor once he retired from the military, and then rose through the ranks of academia. As president of A&M-Kingsville, he presides over a school that is a few miles away from a Naval air station. But the university also serves poor students from across South Texas. About 84 percent of A&M-Kingsville students receive some sort of financial aid. More than 63 percent receive federal Pell Grants, which are given to low-income students. Many of those students are trying to become engineers or teachers. And they struggle as hard as he did to work their way through school, Tallant said.
That's what worries Tallant. Hazlewood was originally conceived as a program for veterans. But the Legislature began allowing ex-military members to pass on their unused credit hours to children in 2009. At the time, the state predicted the expansion would cost universities about $10 million per year. In fact, the cost of the program grew by more than 15 times that much. By one estimate, Hazlewood could cost schools a combined $380 million by 2019. (Some veterans groups say that guess is way too high. The cost in 2015 was $178 million, which schools say is already too much.)
The universities get little help from the state to pay for the program. So, university officials say, schools have to make up the costs by raising tuition for everyone else. A&M-Kingsville waived $2.3 million worth of tuition last school year.
Tallant says that money could have otherwise been used to lower tuition for all students. Or it could have paid for full-ride scholarships for 114 poor students, or funded the debt payments on a brand new 70,000-square-foot building.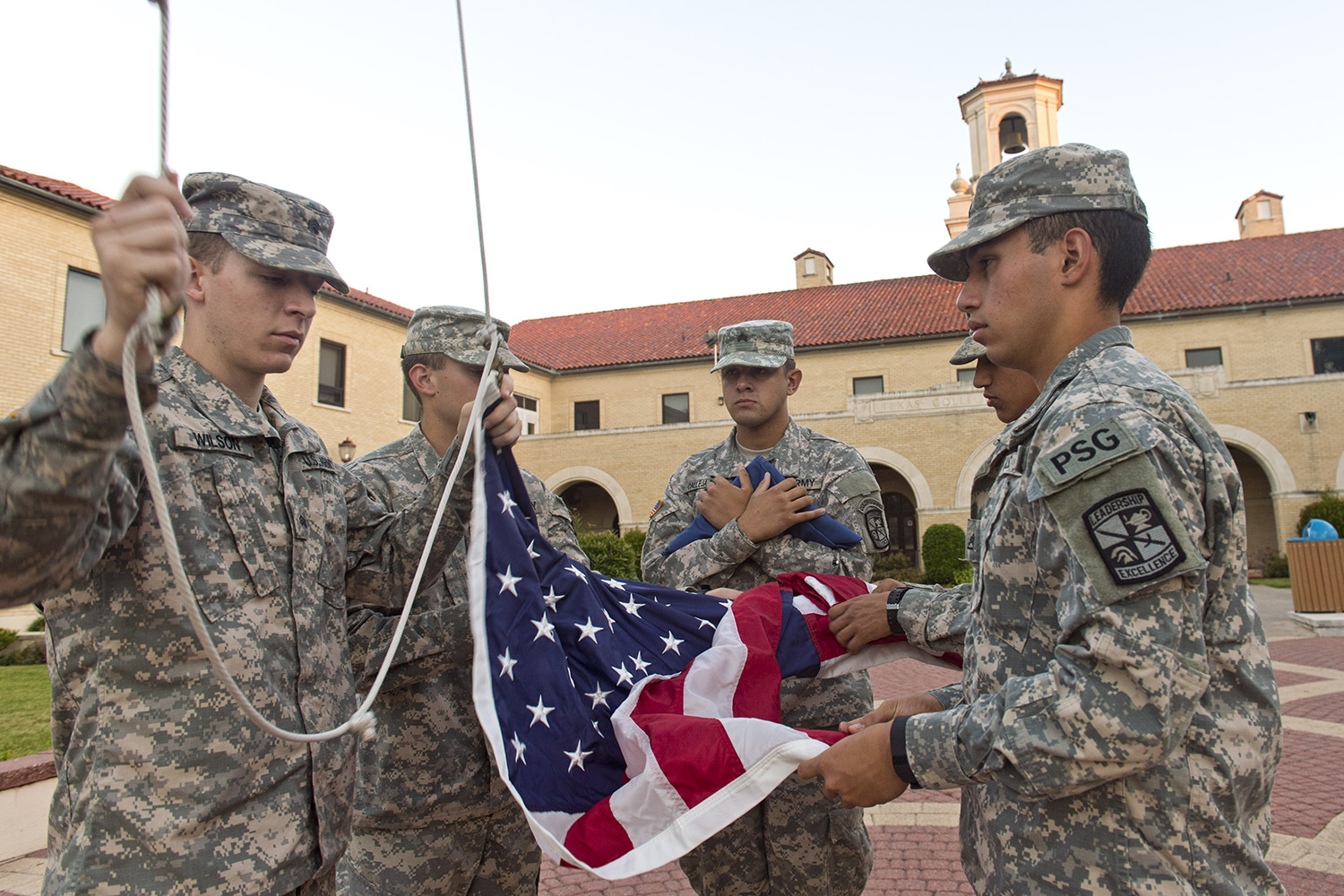 In a perfect world, he said, the state would pay the tuition for veterans' children. But that seems unlikely, given the cost. So Tallant has met with lawmakers and asked at hearings in Austin that the benefit to be pared back. Veterans and their spouses should still get free tuition, he says, but in most cases the children should not.
He says he feels passionate about that opinion, but still struggles to express it. He worries about appearing insensitive, or making it look like he doesn't appreciate the sacrifices veterans have made. But ultimately, he said, he doesn't believe the program is fair.
"Why is the cost to provide Hazlewood being paid by students of modest means in South Texas — and not the entire state?" he said.
Looking for a solution
Not everyone at A&M-Kingsville agrees. Last year, 299 students benefited from Hazlewood's "legacy" provision. And the school often hears from veterans two or three years away from sending their kids to college. Sometimes the parents don't know how they'd pay for their kids' school without it.
Michael Lugo, director of the A&M-Kingsville's veterans affairs office, said the state shouldn't break the promise it made to those families.
"Patriotism goes a long way, and Texas has the best benefits. I don't want that ruined," said Lugo, who served 22 years in the Navy, including in Iraq and Afghanistan. He has six kids of his own, and may one day use the benefit himself.
Many lawmakers agree, and that sentiment helped block changes to the program in 2015. That year, Sen. Brian Birdwell, R-Granbury, authored a bill that would have substantially reined in costs by restricting most military children's access to the free tuition. Veterans would have had to serve six years before they could pass on the benefit to a child, and the benefit would have expired 15 years after the veteran was discharged. That would have meant children born after the veteran was out of the military wouldn't have been eligible.
The bill passed the Senate, but died in the House soon after a passionate speech by Rep. Joe Farias, D-San Antonio. Farias, a veteran, resigned in 2015 and underwent a kidney transplant this summer. But he returned to the Capitol last month to urge his former colleagues to protect the program.
"I don't care where the money comes from; I don't care if someone grows a tree and gets it from there," he said. "We just need to continue to fund the veterans and our families."
Some legislators are determined to enact some kind of fix in 2017, though no leading plan has emerged. Tallant has shown up at hearings to make his case. During one such meeting, he described talking about the issue with his two sons. They grew up in a military family, and moved all over the world while they were young. They loved the experience, he said. When he asked them if they felt like they deserved free tuition, they said no, he said. The money would be better spent elsewhere on people who needed it more.
At A&M-Kingsville, there are a lot of possibilities, Tallant said.
"We are a small campus, and every penny counts," he said.
Read more:
Texans need truth. Help us report it.
Independent Texas reporting needs your support. The Texas Tribune delivers fact-based journalism for Texans, by Texans — and our community of members, the readers who donate, make our work possible. Help us bring you and millions of others in-depth news and information. Will you support our nonprofit newsroom with a donation of any amount?
Yes, I'll donate today
---
Information about the authors
Explore related story topics