Rural Landowners May Sue TxDOT Over Toll Road Plan
Bill Voss said he is prepared to sue the Texas Department of Transportation over the agency's handling of proposed routes for a toll road that would cut across his land in Grimes County. Several frustrated neighbors may join him.
When Bill Voss finally found the perfect property two years ago to build his in-laws' retirement home and a secluded weekend getaway for his family, it seemed almost too good to be true. After years of searching, he had discovered a gorgeous plot of undeveloped land in an ideal location — rural Grimes County, at least a 40-minute drive from any major city.
Despite his interest in the 216-acre plot, Voss had a brief moment of hesitation before placing his bid when he learned that the Texas Department of Transportation was looking to build a toll road through the southern half of the county. The route being considered at the time did not cross the property he was looking to buy.
"[I] had a phone conversation with TxDOT and was told unequivocally and expressly that I should move forward with the purchase of the property because it was either going to be the current proposed route or a no-build," Voss, an insurance attorney in the Woodlands, said in a recent interview. "Those were the two only options that were going to be on the table."
Voss said the conversation with the TxDOT official put his mind at ease.
"We bought the land and we felt comfortable," he said. He paid $1.8 million.
Now, more than a year later, the initial preferred route for the toll road has been scrapped and TxDOT is looking at two different routes, both of which cross Voss' property.
Voss said he may sue TxDOT over what he views as the agency's mixed messages, and several neighbors also unhappy with the state agency's handling of the project may join him.
The TxDOT employee Voss spoke with before purchasing the land remembers that initial conversation the same as Voss with one key difference.

"We don't make guarantees, agreements, deals, promises, whatever choice of words you'd like to make," said Chad Bohne, the director of transportation planning and development for TxDOT's Bryan office.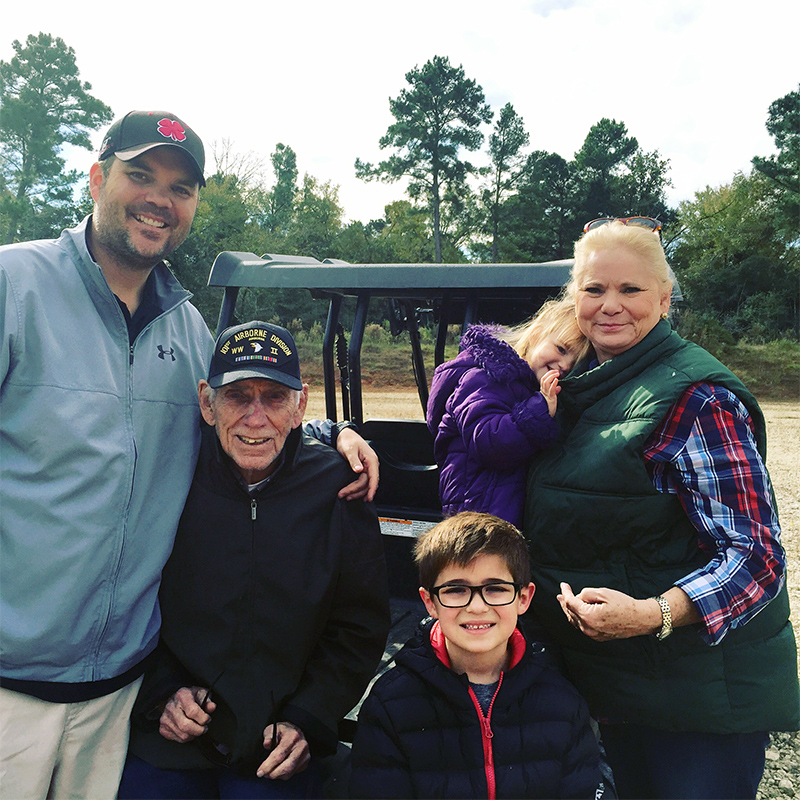 Instead, Bohne said he answered Voss' questions and shared the most current information available from the department about the planned road while reminding him that "things aren't final until they're constructed and set in concrete."
The 15-mile stretch of toll road at issue is part of a larger project aimed at extending Texas 249, which currently goes from Interstate 45 north of Houston to FM 1774 in Pinehurst. Ultimately, the toll road is supposed to create a more direct route from Houston to College Station.
Other landowners in Grimes County haven't been shy about their displeasure with the project, drafting letters to state lawmakers and members of the Transportation Commission. In June, more than 100 landowners attended a public meeting about the project. Most were opposed to it.
A preferred route has been identified for most of the extension. The portion running through Grimes County is the last section left to be decided. After backing away from the agency's original preferred route, TxDOT has put forward two possible options — known as the green route and the yellow route. Bohne said the agency hopes to make a selection this summer.
"The fact that we've had to look further and adjust that alignment some and go deeper with other alternatives ... that wasn't expected or anticipated, but [it] did occur, and that's part of the environmental process," Bohne said. "You have to continue to review and look at the project until you find the least-impactful alternative."
Yet even now, Bohne said he would not make any guarantees about the toll road's final path.
"At this point, we have these two lines, but if someone called me today and said, 'Can you assure, can you guarantee, can you promise that it won't do something?' It's not possible," Bohne said. "Those aren't words we use in our vocabulary."
Of the two remaining routes, Voss said the green option is less damaging as it would only cover a corner of his land. The yellow option "devastates our property," he said, particularly a wooded area where at least 200 animals live.
Voss, said he expects to decide whether to file a lawsuit against TxDOT within the next few weeks, "assuming the route does not change, or the lines of communication remain broken." He added in an email that he is talking with other "potential plaintiffs."
"We probably have at least 12 neighbors that are in agreement and willing to move forward with filing an injunction asking that the entire project either be put on hold or stopped entirely," Voss said.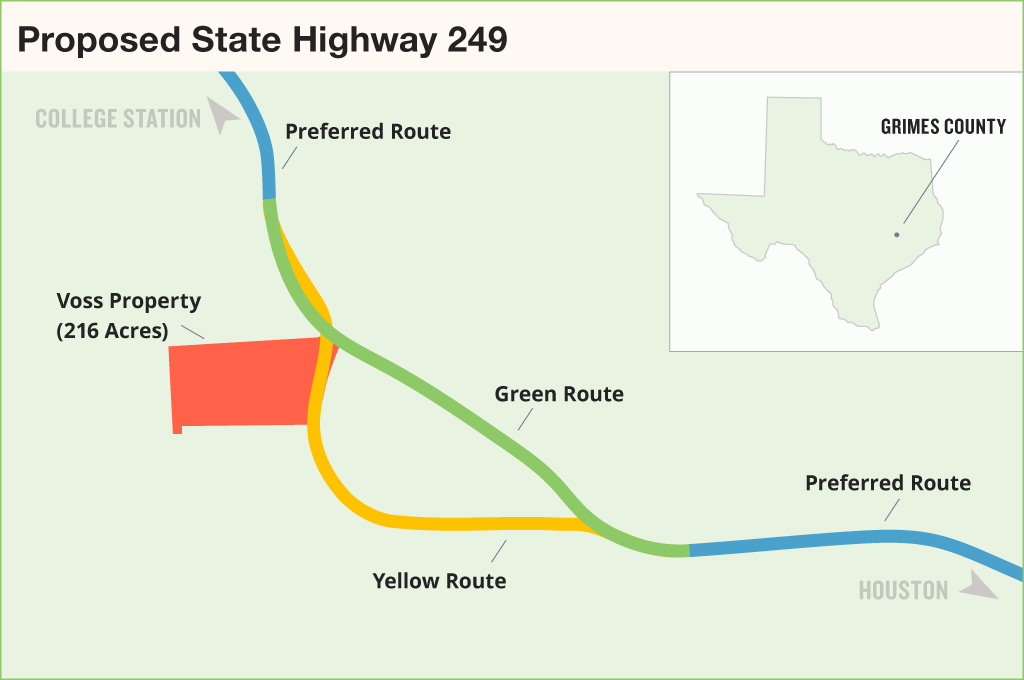 David Schillings, whose mother's land would be divided in half by the green route, said he would "absolutely" support Voss' lawsuit.
"I wish that I could put it into words the way that she feels," Schillings said of his mother. "It is horrible, horrible, horrible. I think if more people knew what was going on, there would be more outcries against it and the way the process has gone."
Voss also has support from Linda Baldwin and Martha Ray Jones, cousins from a family that has owned land in Grimes County since the 1860s. As the acreage was passed down, Baldwin said the sections grew smaller and more narrow with each passing generation and the birth of more children. Both women own tracts that could be impacted if TxDOT opts for the yellow route.
More importantly, Jones said that option would block the path that leads to the family cemetery on the south side of the land.
"Our grandparents are buried there, my mother's mother and daddy, plus their mother and daddy and cousins and so forth are all buried there," Jones said. "We have a long history of that land being in our family, and we love it."
Bohne said developing major road projects through rural communities is always a challenge.
"There are many folks in that area who are concerned and would rather not see that project come through their property," Bohne said. "All we can do as TxDOT and the department developing a project is answer questions, give them the current status to the best that we know at the time and just do our best to inform."
Texans need truth. Help us report it.
Our Fall Member Drive is underway, and we need your support. The Texas Tribune is a critical source of truth and information for Texans across the state and beyond — and our community of members, the readers who donate, make our work possible. Will you join as a member with a tax-deductible donation of any amount?
Yes, I'll donate today
---
Information about the authors
Explore related story topics