Austin Black Lives Matter: "We Will Move Forward"
Criticized anew after the shooting of police officers in Dallas, the Austin chapter of Black Lives Matter is determined to continue its push to become a legitimate political influence in the Capitol.
A week after a black sniper killed five Dallas police officers and injured six others, hundreds of Black Lives Matter activists and supporters peacefully rallied outside the state Capitol last Friday demanding justice for two African-American men killed by police in Minneapolis and Louisiana.
Protesters held signs reading "Change begins with us" and "This working class white stands with Black Lives Matter," and the chant "No Justice, No Peace" echoed across the lawn. The carnage in Dallas cast a somber shadow over the event.
Before the shootings, Austin's Black Lives Matter chapter had been working steadily to transform itself from a protest group to a legitimate political player, crafting a criminal justice reform agenda to pursue in the next legislative session. But now members find themselves on a political tightrope, as critics, including Lt. Gov. Dan Patrick, accuse the movement of at least partially inspiring the deadly shootings.
"I don't want any controversial incidents to take away from the fact that there's been a significant loss of life. I acknowledge the loss of life in Dallas, but the same amount of attention and concern needs to be parlayed into loss of life of these African Americans killed by police," Margaret Haule, founder of the Austin chapter, said in a recent interview.
"That shooting has nothing to do with Black Lives Matter. You cannot blame the actions of that person on the movement. We will move forward," she added.
The Dallas shooting deaths of the officers came at the end of a peaceful Black Lives Matter protest by hundreds against the killings of Alton Sterling and Philando Castile.
Afterwards, the group received harsh public scrutiny from critics, including state Rep. Bill Zedler, R-Arlington, who tweeted "Clearly the rhetoric of Black Lives Matters encouraged the sniper that shot Dallas police officers." Former New York City Mayor Rudolph W. Giuliani called the group "inherently racist" and said that it essentially put targets on the backs of police officers. But supporters of the movement said criticism will not derail their activism efforts.
"It's very unfair to blame the movement for what happened. But history speaks for itself," said Jason Stevens, adding that the federal government also tried to discredit activists during the civil rights movement. Stevens was one of hundreds of whites who stood shoulder-to-shoulder with people of color at Friday's rally.
"I don't think people like me should be silent," he said. "We're in a position to help, and whatever affect one group should bothers us. That's why I came here to show my support. I'm standing with them."
With the next Texas legislative session five months away, Haule hopes lawmakers will make efforts to pass criminal justice reforms the group supports. Their proposals include using an independent body to investigate police-involved killings and misconduct; mandatory investigations of police officers accused of misconduct, even if the officer quits, is fired or transfers to another department or agency, and the treatment of drug addiction as a public health issue rather than incarcerating users.
Nationwide, Black Lives Matter and allied groups like Campaign Zero want Congress to pass legislation establishing a use-of-force standard, creating a national database of killings and serious injuries by police, ending the militarization of police departments and enacting the End Racial Profiling Act of 2015.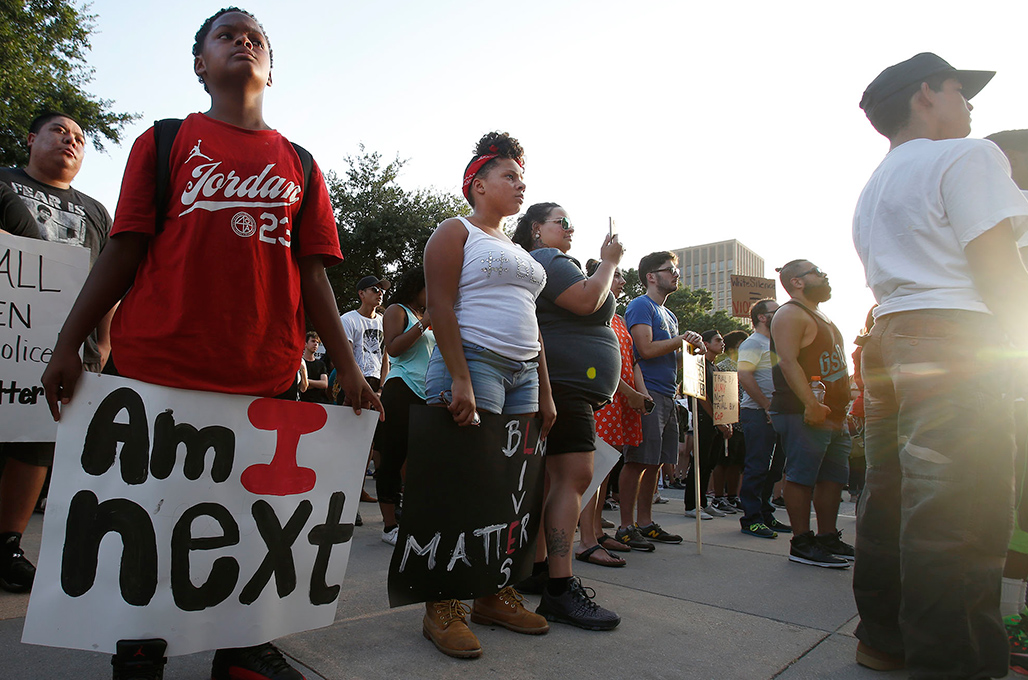 But some warn that Black Lives Matter, which is largely embraced by liberals, could be hurt by the rhetoric some of its own professed supporters use that might jeopardize the movement's appeal to a broader group of Americans, and even some of its allies.
State Sen. John Whitmire, D- Houston, who heads the Senate's Criminal Justice Committee, said he's a staunch supporter of the causes that the Black Lives Matter movement advocates. But he decried a "shout down" he received during his speech at a recent gathering in Houston from supporters who identified as members of the group.
"They were shouting me down as I speak," he said. "They have to be careful that they don't play into the hands of the people who respect them. Shouting people down is counter-productive. But I'm not going to use that to form an opinion of the movement because I know people who are doing good work. I am concerned that [it's getting] infiltrated by troublemakers."
Kevin Buckler, a professor of criminal justice at the University of Houston-Downtown, said there are areas where law enforcement interests and the agenda of Black Lives Matter coalesce, "but if the Black Lives Matter movement is unable to maintain an anti-violence message in a broad context, the potential for these legislative victories may be harder to achieve. The public is practical and pragmatic when it comes to maintaining an ordered and safe society."
Despite the challenges that lie ahead, Black Lives Matter Austin, the only affiliated chapter in Texas, will not be distracted by the public scrutiny, Haule said.
"We're working on our strategy," she added. "The time is now for criminal justice reform. The time is now to end discrimination of African-Americans, and I believe that we will win."
---
Information about the authors
Quality journalism doesn't come free
Perhaps it goes without saying — but producing quality journalism isn't cheap. At a time when newsroom resources and revenue across the country are declining, The Texas Tribune remains committed to sustaining our mission: creating a more engaged and informed Texas with every story we cover, every event we convene and every newsletter we send. As a nonprofit newsroom, we rely on members to help keep our stories free and our events open to the public. Do you value our journalism? Show us with your support.
Yes, I'll donate today