After Court Win, Fenves Says UT Will Re-Examine Admissions Policies
The University of Texas at Austin's long legal fight over race and admissions is over. But in his first extended interview about the case, President Greg Fenves says the school is now ready to review its policies and possibly make changes.
To those who closely track the U.S. Supreme Court, affirmative action at the University of Texas at Austin seemed destined to die this summer.
The university had spent more than seven years fighting a lawsuit over its consideration of race in admissions. With Justice Anthony Kennedy expected to be the swing vote in the case before the high court, the final outcome seemed clear. Kennedy had never voted to uphold a school's affirmative action policy in the past.
But last month Kennedy surprised a lot of people by writing the majority opinion in UT-Austin's favor. The lawsuit, known as Fisher v. University of Texas, is finally over. But the UT-Austin admissions debate shows no sign of ceasing. The school's policies are unlike any other in the country. Under a state law known as the Top 10 Percent Rule, 75 percent of Texas students admitted into the university get in automatically based on their class rank. The other 25 percent are admitted under a process called holistic review, during which race is taken into consideration.
With Fisher now resolved, UT-Austin President Greg Fenves sat down with The Texas Tribune this week for his first extended interview about the case and the future of his school's admissions policies.
The interview has been condensed and edited for clarity.
Texas Tribune: What was your reaction to the Fisher ruling? Were you surprised?
Greg Fenves: I was in the airport in Singapore at 10 o'clock at night, knowing that it was likely that we would find out the Supreme Court's decision. I was actually in the immigration line at Changi Airport when I saw the [update from the website] SCOTUSblog. I was confident that we were going to be successful based on the merits of the case. But I did think it was going to be a narrow ruling. It wasn't until I got to the hotel in Singapore that I found out that Justice Kennedy wrote the majority opinion, and it is a pretty astounding opinion. From the point of view of higher education, it provides clarity in what the standards are by which universities can achieve their goals of diversity.
TT: But Kennedy did write that UT-Austin needs to continue evaluating its policies and possibly adjust as time goes on. Do you think the way UT-Austin is using affirmative action is working right now?

GF: We have been doing that [continuing to review UT-Austin's policies]. In fact, that is acknowledged in the majority opinion. But now with the litigation complete, we are going to take another look. And with the guidance in this opinion, we are going to continue our efforts to be clear about what our goals are and how we measure those goals in a constitutional way without setting quotas and without the [racial] balancing that the majority and minority opinions said was unacceptable.
TT: Supporters of affirmative action point out that we live in a state where the majority of the students who are graduating from high school are now black or Hispanic. But black and Hispanic students make up only about a quarter of the students at UT. Is that a problem?
GF: We have a responsibility as a flagship public university to serve the entire state. That is a responsibility that we take very seriously. But all of the Supreme Court cases have made clear that demographic parity is not a constitutionally acceptable goal and we can never have that goal. Our goal is to provide the educational benefits of diversity, and that's not an easy thing to measure.

TT: You mentioned that the Supreme Court doesn't necessarily let you guys set a quota or a certain target...
GF: Not "not necessarily." They don't.
TT: That's right, and the court says you can't pursue diversity for social justice reasons. The goal needs to be a diverse learning environment for the school...
GF: I don't want to try to define the term social justice. Higher education provides an important social justice in the broad sense. What the Supreme Court does not allow is what they term racial balancing — meeting numerical goals for parity within demographics or other measures.
TT: So with UT-Austin the top-ranked public university in a state as big and diverse as Texas, should it be aiming for a different level of diversity than a school like, say, the University of Oregon, which is in a state that is 80 percent white?

GF: As Justice Kennedy talked about, universities are given a wide degree of latitude and deference in reaching their goals. I can't speak for Oregon. But I think that it is part of our responsibility to be clear about what our goals are in Texas. We are a majority-minority state and I think we do have an important obligation to provide educational opportunities to everyone in the state. Now, we are a selective university and this is a factor. This has been a challenge of admissions to selective universities. If you look at the big picture, our total underrepresented [black and Hispanic] population is about 24 percent. If you look nationally, we are one of the most diverse top-ranked public universities in the country. Is that the goal? That is not the goal, but it's one of the things we look at as we try to figure out how to address these issues and move forward.
TT: Would the makeup of incoming students or the admissions situation at UT-Austin have been very different if UT had lost this case?
GF: That is in the realm of speculation, but what I can say is that our admissions currently operate under Senate Bill 175, which passed the Legislature in 2009 and caps our automatic admits at 75 percent. If we had lost this case, there is a provision in SB 175 that would have removed the cap. That would have been pretty bad for UT. We would have been auto-admitting more students than we currently admit and what we have the capacity for.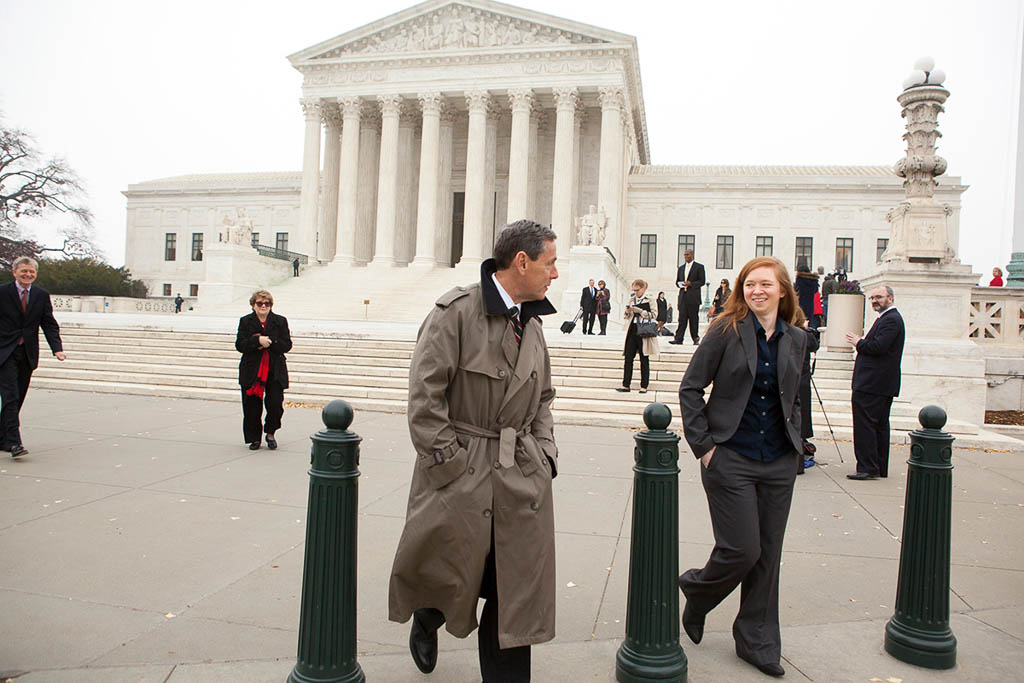 TT: In recent months we have heard Gov. Greg Abbott and both chairmen of the House and Senate higher education committees say that next year we need to look at the rule and see if it needs to be adjusted. Some have said they'd like to see it go away. Others say it's time to lower the 75 percent cap. What do you think about that?
GF: I'd like to keep our enrollment about the same and that does introduce a constraint that needs to be considered. So, just as we are going to continue to look at how we use race and ethnicity — and all the factors in our holistic procedure — I think it is important to be meeting with the Legislature and the leadership and the governor to work on this together. I don't have a position. Now that the ruling has been issued in our favor, this is going to be an ongoing discussion that we can have.
TT: In his dissent, Justice [Samuel] Alito had a lot of positive things to say about the Top 10 Percent Rule, and was critical of the university for arguing that it wasn't sufficient in achieving diversity. He said that by making that argument, the university was saying that the rule admits "the wrong kind" of African American and Hispanic students — those from poor families who attended the less competitive schools in the state. Do you have a reaction?
GF: I disagree very strongly with that characterization of what our position was. That was not our position. Our position is that diversity has multiple dimensions and we want to be able to admit bright ambitious kids with many different types of backgrounds and mixtures of backgrounds. So that requires multiple factors in a holistic admission to be able to do that. No single factor is determinative. In fact in opposition to Alito, Justice Kennedy is quite critical of the Top 10 Percent for exactly that reason.
TT: But when you look at the two different pools of students admitted into UT — the automatic students and the holistic review students — there is a higher proportion of black and Hispanic students getting in automatically than through holistic review, which includes affirmative action. Why do you think that is?
GF: It is pretty clear why that is. It is why the automatic admit process was established. Because a large number of high schools are predominantly a single race. That is the whole basis for automatic admission. So it is very natural that you would expect that.
TT: On the other side of this argument, there is widespread frustration among kids who go to the so-called elite public schools like Highland Park in Dallas, Westlake in Austin and Alamo Heights in San Antonio who feel their students — who get very good grades, very good SAT scores but are outside the top 10 percent — have a hard time getting in. Do you sympathize with that complaint?

GF: Well, I certainly hear it a lot. Sympathy is not the right word. I understand the basis of that frustration. And my answer is we are a selective university. If you go back to earlier times, decades ago, UT was not as selective. We are a much better university. We are very large — the highest-ranked university over 50,000 — so growth is not going to solve this problem because that would diminish quality. So we have become a selective university and in a selective university there is a lot of interest in coming and not everybody comes.
TT: Certain people in Texas look at UT-Austin to do two different things: They want a university of the first class that keeps the brightest minds in Texas in Texas. But they also want an institute that provides upward mobility and can help those kids from the poorer places have opportunity. Do you sometimes feel that there are opposing priorities?
GF: Of course there are, that is life, there are always opposing needs that have to be balanced. But yes, we have a role to do both. That doesn't mean we can provide it to everybody. But we have a responsibility to provide access and opportunity to smart kids from underserved areas of the state. And I think we do a great job of that.
Disclosure: The University of Texas at Austin has been a financial supporter of The Texas Tribune. A complete list of Tribune donors and sponsors can be viewed here.
Your New Year's resolution list isn't complete without …
… supporting the Tribune. This new year, resolve to do your part to sustain trusted journalism in Texas. Join thousands of readers who power The Texas Tribune's nonprofit newsroom.
Donate now