Boats off the Water Little Help in Border Security
Boats are one of the most effective ways to patrol the 300 miles of river and lakes under the jurisdiction of the U.S. Border Patrol's Rio Grande Station. But the boats aren't in the water around the clock.

ROMA — Keeping people and drugs from crossing illegally into the United States requires more than boots on the ground. In the busy smuggling corridor of Starr County, Texas, it also takes boats in the water.
But while millions of dollars in state and federal money are being showered on the Rio Grande Valley to beef up border security, the U.S. Border Patrol does not keep its boats patrolling around the clock on the 300 miles of water covered by the Rio Grande Station. As a result, Border Patrol agents are accustomed to watching smuggling action surge after the boats leave the river.
It's so predictable, agents can plan their meals around it.
"The reason they don't cross here right now is because the boats are out," veteran Border Patrol Agent Jose Perales observed during a recent tour of the border in deep South Texas. "A lot of the agents take this downtime to take the opportunity to go get something to eat or whatever because once the boats get out of the water they know they are in for a busy afternoon."
Explanations for why the boats can't stay on patrol around the clock depend on who you ask. Perales said it's all about warm bodies. "We don't have that manpower to man them 24/7. Other stations that are bigger stations do have three shifts, so the boats are 24/7," he said. "However, we are in the Rio Grande Station area of responsibility, and we don't have the manpower."
But it's more about willpower the way Border Patrol union official Chris Cabrera sees it. The station has more than 3,000 agents, according to agency statistics, and Cabrera said there are more than enough willing recruits to man the boats.
"For some reason — I don't know what it is — we have unused boats," said Cabrera, vice president of the National Border Patrol Council's Rio Grande Valley chapter. "Nobody wants to get us the manpower. We have manpower at the station, but they don't want to take away from the station to put it on a boat, even though it's a force multiplier."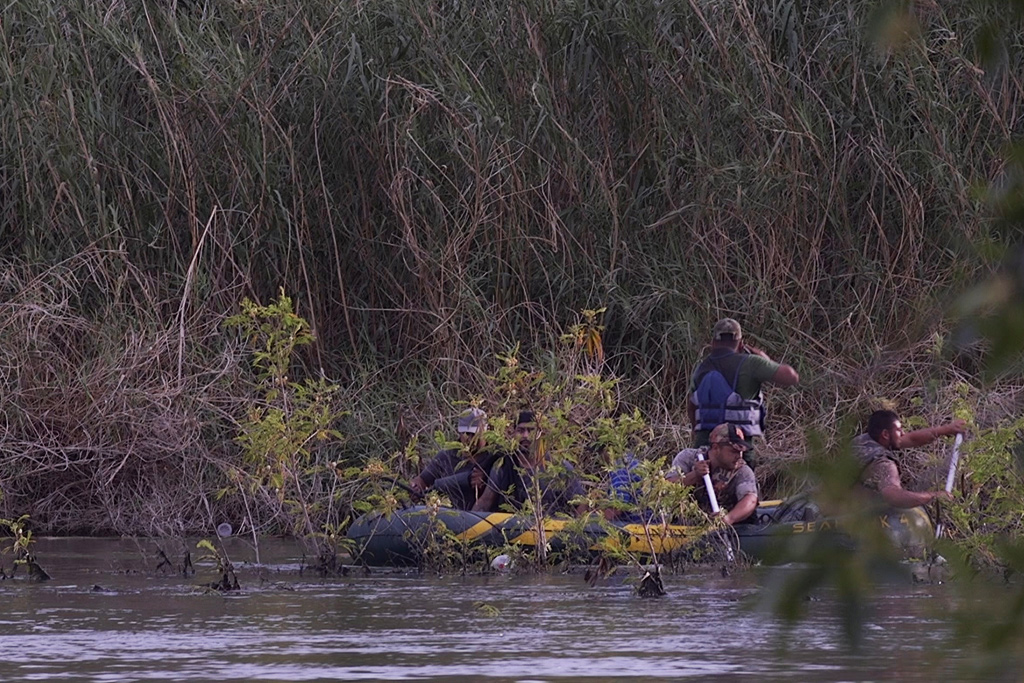 Citing operational security, the agency won't say how many boats it has, or how many certified pilots it has to operate them. In an email, CBP spokeswoman Marlene A. Castro would say only that the agency has "numerous" teams that are deployed "day and night." Asked if it was possible to have vessels in the water round the clock, she said the units are assigned maritime duty "according to trends and intelligence," without elaborating.
Increasing patrols isn't as easy as matching existing agents with available boats, she said, because the Border Patrol follows U.S. Coast Guard safety standards and has rules for selecting crews and captains.
Agents need at least two years on the job to be considered, Castro said. They must first be certified as a crewman, which requires passing a fitness and swim-rescue test in a full uniform. A crewman can apply to be a vessel commander, attending a four-week course in marine law enforcement at a training facility in Glynco, Georgia. That's followed by a 10-week course to prepare for a field performance evaluation. The names of agents who pass that test are forwarded to the National Marine Training Center in Saint Augustine, Florida, where, if accepted, they are evaluated for two more weeks.
A boat commander has to pass quarterly and yearly evaluations, Castro added.
Even after all that, additional bureaucratic hurdles loom. Castro said agents can only pilot a boat for 6 out of any 12 hours, followed by at least 10 hours of rest, in accord with Coast Guard standards. What's not clear is why the Border Patrol is using those standards — developed for commercial vessels — for river boat pilots.
"It's up to the agencies to decide whether they want to use commercial regulations as their standards or if they want to adopt their own or come up with their own," said Coast Guard spokeswoman Lt. Anne Besser. "The IMO standards are kind of the gold standards as far as internationally set safety standards."
Castro said her agency uses the Coast Guard standards as a starting point.
The state of Texas has a tiny fleet in comparison to the Border Patrol, but one that doesn't face the same maritime constraints as the federal agency.
The Texas Department of Safety's Secure Texas project — a big part of the $800 million effort to beef up state law enforcement on the border — includes 10 vessels in its Tactical Marine Unit, with three more coming soon, says agency spokesman Tom Vinger.
He said training is also vigorous for state cops who want to pilot the vessels: They must attend and complete a Texas Parks & Wildlife Department marine safety enforcement officer course, a U.S. Coast Guard Crewman course and a U.S. Military machine gun qualification course. They must also pass the same training in Georgia that CBP agents attend.
But Vinger said time constraints don't prevent the agency from doing constant patrols, regardless of current maritime operating policies.
"We currently patrol the Rio Grande River 24/7 for Operation Secure Texas," he said an email. "DPS follows all U.S. maritime rules and regulations that are in effect on international waterways. We currently have no time restrictions placed on vessel commanders, since we have a sufficient number of vessel commanders to rotate into the position."
Cabrera, the Border Patrol union vice president — and a former boat commander himself — said the failure to stage a more robust fleet of boats on the water "hits a nerve" with him because the maritime patrols are the best assets the agency has.
"If two boats can shut the area down, imagine what 10 or 12 boats can do," he said. "It's more of a pissing contest, like, 'We don't want to give your our manpower from our line to go with your manpower on the boats.'"
This story is part of The Texas Tribune's yearlong Bordering on Insecurity project.
Quality journalism doesn't come free
Perhaps it goes without saying — but producing quality journalism isn't cheap. At a time when newsroom resources and revenue across the country are declining, The Texas Tribune remains committed to sustaining our mission: creating a more engaged and informed Texas with every story we cover, every event we convene and every newsletter we send. As a nonprofit newsroom, we rely on members to help keep our stories free and our events open to the public. Do you value our journalism? Show us with your support.
Yes, I'll donate today
---
Information about the authors