Disability Community Divided On Sub-Minimum Wage Program
Some disability rights activists say state contracts paying people with disabilities well below minimum wage is exploitative and inhumane.
AUSTIN — More than two dozen Texans with fetal alcohol syndrome, cerebral palsy and Down syndrome squeezed into a packed room of a nondescript government building here this month. They were there to address an obscure panel studying possible changes to how the state purchases services of people with disabilities.
The disabled workers and their families had traveled to Austin from the Fort Worth area to relay a somewhat counterintuitive message: that a program that pays disabled workers well below the federal minimum wage — in some case as little as 61 cents an hour — was worth saving.
"The options for the multi-disabled are few and far between," Mary Jane Gilbert, mother of Tommie, who has multiple developmental disabilities, told the Texas Workforce Commission advisory panel. Tommie works at a packaging and assembly plant owned by EXPANCO, a nonprofit that receives government contracts to employ people with disabilities. Gilbert, who described herself as a 33-year advocate for people with disabilities, said the job had given her son a sense of self-worth, despite the low pay.
"He and I talked about it and decided that this was where he wanted to go," she said. "He was going to go to work, just like his mother, his father and his sister."
Over three and a half hours, the committee heard tearful testimony about the value of the State Use program, in which state agencies give preference for awarding tens of millions of dollars in contracts to nonprofits that employ the disabled. Those include companies like EXPANCO, which pays 140 employees with disabilities below the federal minimum wage, often between $2 and $5 per hour. The hearing provided a venue for an emotional and sometimes heated debate over a government program that has created a rift among the disability community.
On the one hand, some disability rights activists say the practice of paying people with disabilities below minimum wage is exploitative and inhumane. They are hoping the Texas Legislature will reform the State Use program in 2017 to prevent any state funding from subsidizing companies that pay their employees sub-minimum wage.
On the other hand, many of the people employed through the contracts, as well as their caregivers, say they are perfectly content with the program and express doubts that they could find fulfilling jobs without it.
Federal law allows some employers to pay abnormally low wages to workers who have disabilities. That law has come under heavy scrutiny, most recently drawing national attention when Democratic presidential candidate Hillary Clinton said she favored abolishing it.
In Texas, the application of the federal law by state contractors drew special focus after a 2015 review found that in some cases, people with disabilities were laboring in factories for pay as low as 61 cents per hour.
"That's indefensible," said Dennis Borel, executive director of the Coalition of Texans with Disabilities, which opposes the sub-minimum wage program. "Calling that a good thing for people is just not right."
Borel said if companies currently paying below minimum wage were forced to lay off people with disabilities as a result of their contracts being terminated, those people with disabilities could be better served at day habilitation centers that offer life skills training and recreational activities.
But David Dodson, EXPANCO's president, said those criticisms ignored financial reality. His employees prefer to have paying jobs than spending their days in adult day care, he said. And because many of his company's workers have profound cognitive disabilities, they are only about 22 percent as productive as a typical employee, which means EXPANCO could not continue to employ those people at standard pay, he said.
The pay for most disabled EXPANCO workers is pegged to an $11.79-per-hour wage for an average nondisabled worker and is scaled to each laborer's productivity. The nonprofit has contracts with private companies such as Lockheed Martin, which pays the company's employees to clean and assemble a cylindrical aircraft part known as a Cleco. EXPANCO also has contracts with state and federal agencies, with workers performing tasks such as shredding paper and assembling filing cabinets.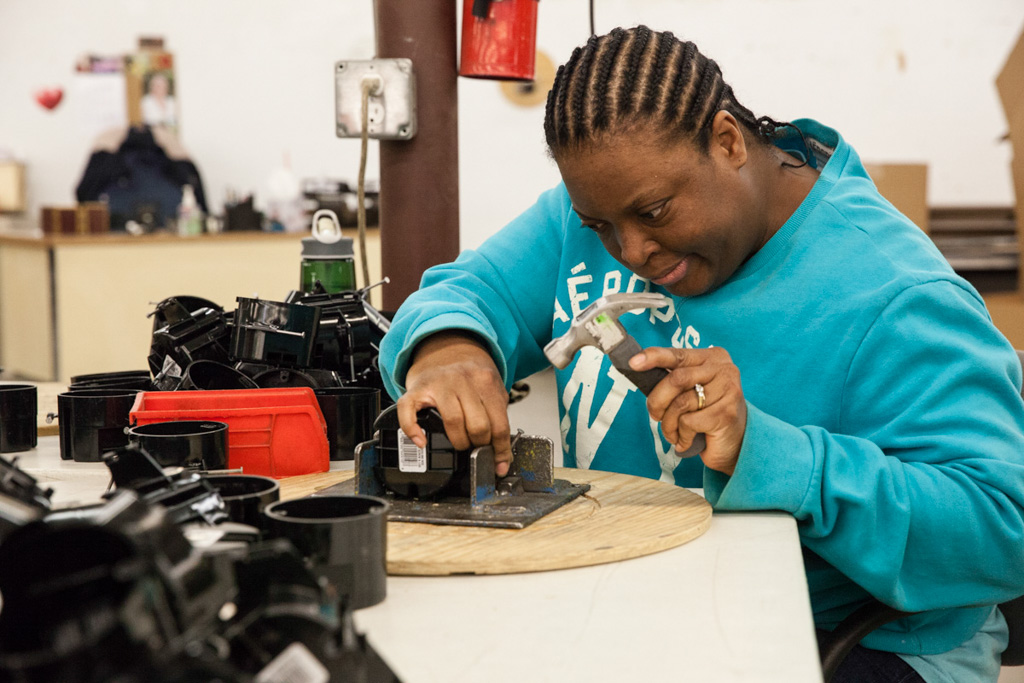 "This is the only way we can do this for these folks," Dodson said.
Texas lawmakers are poised to take a hard look at the State Use program in 2017 after they made significant changes to its oversight structure in 2015. That year, lawmakers shut down the Texas Council on Purchasing from People with Disabilities, the obscure entity that directed the program for more than 30 years. The Texas Workforce Commission took control with orders to assess the program's future and give disabled advocates more input, in part by creating the advisory committee that laborers came to testify before.
Under the State Use program, state agencies are required to ignore competitive bidding rules and favor a network of about 120 nonprofits for a wide range of purchases. For a nonprofit to become part of the State Use network, at least 75 percent of its employees working on state contracts must be disabled.
Dodson said comparisons by disability rights activists of his company to some sort of sweatshop were misguided. Those with the most severe disabilities are unable to work a six-hour shift and spend much of their time in a classroom environment learning basic skills like counting.
The disabled employees who attended the hearing backed up Dodson's claims that their work environment was rewarding. Linda Patrick, testifying on behalf of her son Scott, said employment through the State Use contract had helped her son recover from severe depression.
"His self-esteem is the highest it's ever been in his life," she said. "He can't stand the weekends because he loves his job so much."
Patrick and others testifying at the hearing repeated a concern that even if their adult children were able to find work outside of the State Use contract, they feared their children would be bullied or exploited in settings not specifically catered to people with disabilities.
Still, critics of the arrangement expressed skepticism about the appropriateness of giving state funds to businesses that paid workers such low rates.
"The concern is, we have people making 10 cents an hour and we have the executive leadership making six figures," said Jean Langendorf, chair of the Texas Workforce Commission's Committee on Purchasing from People with Disabilities. She said she would like to look more closely into the program's finances and performance measures.
"How much would it cost for us to pay minimum wage?" she asked of the state contract. "Are we talking ridiculous amounts?"
Disclosure: Lockheed Martin Aeronautics has been a financial supporter of The Texas Tribune. A complete list of Tribune donors and sponsors can be viewed here.
---
Information about the authors
Quality journalism doesn't come free
Perhaps it goes without saying — but producing quality journalism isn't cheap. At a time when newsroom resources and revenue across the country are declining, The Texas Tribune remains committed to sustaining our mission: creating a more engaged and informed Texas with every story we cover, every event we convene and every newsletter we send. As a nonprofit newsroom, we rely on members to help keep our stories free and our events open to the public. Do you value our journalism? Show us with your support.
Yes, I'll donate today