Sandra Bland Case: Fired DPS Trooper to Appear in Court Tuesday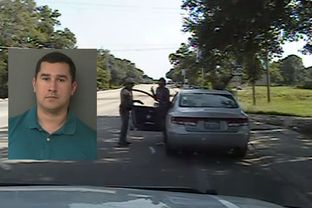 Enlarge
Waller County Sheriff Dept.
When former Texas Department of Public Safety Trooper Brian Encinia steps into a Waller County courtroom on Tuesday for his arraignment, he will move forward with one of three battles he is fighting since he arrested Sandra Bland last year. Her hanging death in her jail cell three days later ignited a national firestorm.
He is facing a perjury charge in Waller County, and a lawyer representing him has said he will plead not guilty. Encinia — who was fired from the Department of Public Safety — is also fighting to regain his job. Finally, he faces a wrongful death lawsuit in federal court.
Encinia stopped Bland near the Prairie View A&M University campus on July 10 for failing to properly signal a lane change. After a heated argument, the trooper arrested Bland for assaulting a public servant. Her death has been ruled a suicide.
A grand jury indicted Encinia in January on a perjury charge after concluding there was evidence he lied about the circumstances under which Bland exited her car. The grand jury did not indict anyone for Bland's death.
In the dashboard camera video, Encinia can be seen opening Bland's driver's side door and reaching in for her. She refuses to come out and the trooper threatens to use a Taser on her. In Encinia's report, he wrote: "I had Bland exit the vehicle to further conduct a safe traffic investigation." Special prosecutor Darrell Jordan said grand jurors keyed in on that statement.
If convicted of the misdemeanor, Encinia could face up to a year in jail and a $4,000 fine. His case will be heard in the 506th District Court in Waller County.
Encinia has amassed a three-attorney defense team including one of the lawyers who represented real-estate heir Robert Durst in his 2003 murder trial in Galveston. Houston attorney Chip B. Lewis, who represented Durst, and his associate, Alicia O'Neill, joined Hempstead attorney Larkin Eakin Jr. earlier this year. Eakin is a former Waller County district attorney.
"They're going to have to prove beyond a reasonable doubt that those words used were intended to deceive, and honestly, he does not feel, nor do I, that they are deceptive," Eakin said earlier this year, referring to Encinia's report. "I mean, it was for officer safety. One types up a probable cause statement right after you deliver the prisoner to the jailhouse, and you don't go into as much detail as you go into when you do your formal statement or testify even."
Bland's mother, Geneva Reed-Veal, called the perjury charge ridiculous.
"I thought it was just a disrespectful slap in the face," she told The Texas Tribune. "I couldn't get excited about that. I guess you have to be the one who lost the child to really know that was a slap in the face."
Shortly after Encinia's indictment, DPS Director Steve McCraw began the process of firing him for violating department policies.
Encinia has appealed McCraw's decision to the Texas Public Safety Commission, which oversees DPS. As part of the appeals process, a public hearing by the group is required. A date for the hearing has yet to be announced.
Reed-Veal filed a wrongful death suit against Encinia, Waller County and more than a dozen of its employees in a Houston federal court. She alleges that defendants denied her her civil rights and their negligence led to Bland's death.
On Thursday, U.S. District Judge David Hittner ordered the FBI to produce its copy of the Texas Rangers report on the investigation into Bland's arrest and death. Reed-Veal's legal team had asked to see the report to determine how to move forward with its case.