Cruz, Once Hopeful For a Two-Month Primary, Now Preparing For A Long Slog
Ted Cruz once suggested he could clinch the Republican presidential nomination by the end of March. Now he's gearing up for a long slog that could end on the convention floor in Cleveland in July.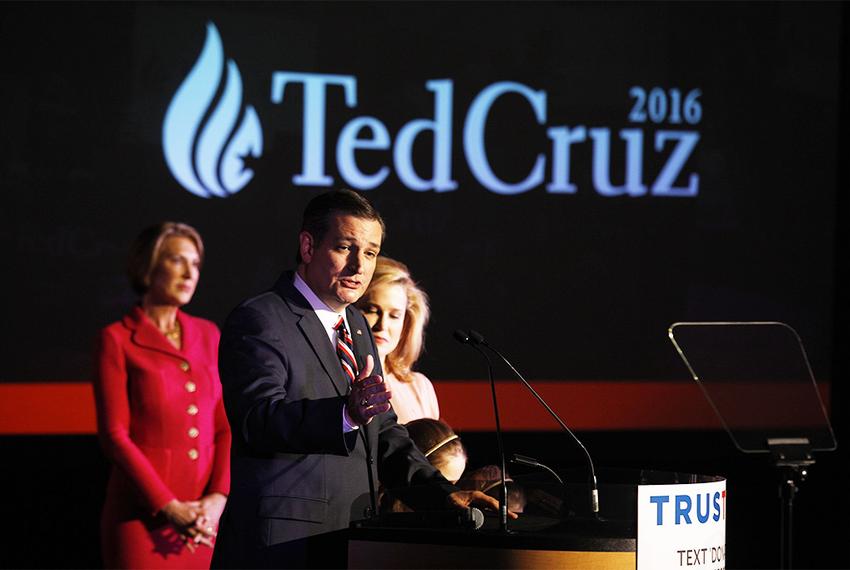 HOUSTON — On New Year's Eve, a cautiously optimistic Ted Cruz was laying out his plan to secure the Republican presidential nomination.
He told supporters to gear up for a "90-day sprint," implying he could have the nomination locked up by the end of March. A month and a half later, after placing a disappointing third in the South Carolina primary, Cruz would insist to reporters he could still clinch his party's nod before April 1.
Those days are over.
Cruz's campaign, which turns 1 year old in a week, is now gearing up — if it wasn't before — for a long slog to the nomination that could end on the convention floor in Cleveland in July. That possibility was only made more likely Tuesday, when billionaire Donald Trump won three out of five contests as U.S. Sen. Marco Rubio of Florida dropped out of the race after losing his home state to Trump.
While the billionaire took a big step Tuesday night toward the nomination, Cruz's campaign argues his path actually narrowed thanks to Rubio, whose exit helps the anti-Trump vote consolidate behind Cruz.
Trump "has a long way to go," Cruz strategist Jason Johnson told reporters here. "There's still a majority of Republican primary voters who are opposed to him. That's a problem for him. I don't see it changing."
Cruz's campaign is now pinning its success on a number of factors, starting with a strong showing in the Utah caucuses Tuesday. But looking farther down the line, Cruz's team is talking about states that have seldom come up before in discussions, circling June 7 on its calendar as a day when the Texas senator could "win big," for example.
Cruz's team acknowledges the difficulty of winning 1,237 delegates — the number needed to clinch the nomination — before Cleveland, but it insists both that it can be done and that Cruz is the only candidate beside Trump who can do it. On Tuesday, the campaign's internal projections indicated Cruz would still net as many as 1,262 delegates and Trump as little as 827.
Cruz officials are nonetheless readying for a contested convention, which they believe they can enter with a delegate lead over Trump, even if they do not reach the 1,237 threshold.
"If we're not able to get those numbers, then we're prepared for a convention," Cruz campaign manager Jeff Roe told reporters here Tuesday night. "I think that's less than a 50 percent chance, but there is a chance that we end up there."
Cruz and his team have made a point of distinguishing between a contested convention, which they are open to, and a brokered convention, which they are not. In their telling, a brokered convention would consist of Republican power brokers parachuting in their choice into Cleveland, potentially forcing upon the Republican primary electorate a candidate who has not won a single vote.
"I think if they tried that, it would be an absolute catastrophe," Cruz told conservative radio host Hugh Hewitt on Tuesday. "The people would revolt and quite rightly."
As part of its preparations for a contested convention, Cruz's campaign is circling back to the states it has already won and ensuring that delegates follow through on their promise to support the Texas senator at the convention. On Tuesday alone, Cruz's campaign was monitoring three meetings at state or local levels across the country where delegates were being selected.
The bulk of the scenarios that the campaign is gaming out depend on the Republican National Committee keeping the rules as they are, something not exactly guaranteed as some party leaders scramble to figure out a way to stop Trump. Johnson made clear the Cruz campaign would oppose any proposed changes to the rules, even if they gave an upper hand to the Texas senator.
"Regardless of who it benefits, if the Rules Committee for the Republican National Convention has a plan to suddenly change the rules to subvert the will of Republicans across the country, that is a very perilous path with many, many problems and not advisable," Johnson said.
One of those rules requires a candidate to receive a majority of delegates in at least eight states or territories to be eligible for the nomination. Trump crossed that threshold with his win Tuesday in the Northern Marianas Islands, while Cruz was still working toward it with four majority victories to show for.
Closed primaries ahead
Going forward, Cruz's campaign is perhaps most encouraged by the fact there are still many closed primaries, or nominating contests in which only registered Republicans can vote. Trump has been unable to consistently win in such settings, which make up 14 out of the next 22 contests, according to an internal campaign memo dated Tuesday.
"If you have to be a Republican to vote in a primary, it's a great state for us," Roe told reporters as he brushed off the idea Cruz would not be competitive in the Northeast, where a number of the remaining contests are being held. "Last time I checked, Maine is on the East Coast," Roe added, referring to the state whose caucuses Cruz easily won earlier this month.
Cruz's campaign is now looking forward to June 7, when 303 delegates are up for grabs across five states: California, Montana, New Jersey, New Mexico and South Dakota. According to the memo, the campaign believes it is on track to win outright in Montana, capture a majority of delegates in New Mexico and take at least 55 percent of the vote in California.
Cruz's campaign is also eying the primary on April 5 in Wisconsin, which will award its 42 delegates on a winner-take-all basis at the congressional district and statewide levels. The memo suggested Cruz could be helped in Wisconsin by his strength in neighboring states such as Iowa, whose first-in-the-country caucuses he won last month, and Michigan, whose primary he finished a surprising second in last week.
Johnson advised reporters to watch for "a lot of Cruz campaign activity" in not only Wisconsin, but also in Trump's home state of New York. That's where 81 of the 95 delegates at stake in the April 19 primary are allocated by congressional district.
"If you think we're ceding New York because Donald Trump hails from Queens and lives in Manhattan, that would be a mistake," Johnson said.
The Kasich factor
While the results Tuesday cleared the field of Rubio, they left one last obstacle between Cruz and a two-man race with Trump: Ohio Gov. John Kasich, whose comfortable victory in his home state breathed new life into his bid for the White House. In his victory speech, the Ohio governor said he planned to "rent a covered wagon" and continue his campaign across the country.
Cruz officials were quick Tuesday night to reiterate their belief that Kasich stands no chance of winning 1,237 delegates, even with his win at home. Cruz spokesman Ron Nehring wrote Wednesday morning that "would have to win 112% of the remaining delegates to become the nominee, an impossibility."
Going forward, the officials argued, delegates allocated to Kasich would essentially be wasted delegates for a quixotic effort.
"It's like my dream of being on the senior tour of PGA or being a NASCAR driver," Johnson told reporters. "It ain't gonna happen."
Throughout the race, there has perhaps been no other candidate Cruz has had as little interaction with as he has had with Kasich, aside from some sparring the two did over bank bailouts at a debate in November. Cruz's team suggested the results Tuesday were unlikely to change that. "We might send them a calculator, nothing else," Roe told reporters.
Johnson said Kasich "has an interesting record that's gone without examination to this point in time," but when asked what would have to happen for Cruz to address that record, Johnson downplayed the likelihood of such a scenario.
"What will probably have to happen will never happen, and that's for him to be a viable candidate for the nomination," Johnson said of Kasich.
Arizona and Utah
Cruz will receive his first major opportunity to test his viability in a narrowed field Tuesday, when Arizona and Utah hold their nominating contests. Fifty-eight delegates are up for grabs in the Arizona primary and 40 in the Utah caucuses.
Cruz campaign officials are less than bullish about their chances in winner-take-all Arizona, noting that more than half the electorate has already cast a ballot. They believe they can still get to 1,237 delegates before the convention without capturing victory in Arizona.
The campaign is nonetheless making a play in Arizona, where it went on the air Thursday. Cruz is expected to travel there later this week.
Utah is a different story. Cruz has the support there of U.S. Sen. Mike Lee, and the state's closed caucus system plays to the Texas senator's strengths. His campaign expects to win a majority of the vote in Utah, the threshold at which it can sweep all 40 delegates.
Cruz is expected to spend the beginning of next week in Utah, where the 13th Republican debate is being held Monday in Salt Lake City, the eve of the caucuses. Trump has suggested he could skip the debate; Cruz plans to be there.
Texans need truth. Help us report it.
Independent Texas reporting needs your support. The Texas Tribune delivers fact-based journalism for Texans, by Texans — and our community of members, the readers who donate, make our work possible. Help us bring you and millions of others in-depth news and information. Will you support our nonprofit newsroom with a donation of any amount?
Yes, I'll donate today
---
Information about the authors
Explore related story topics