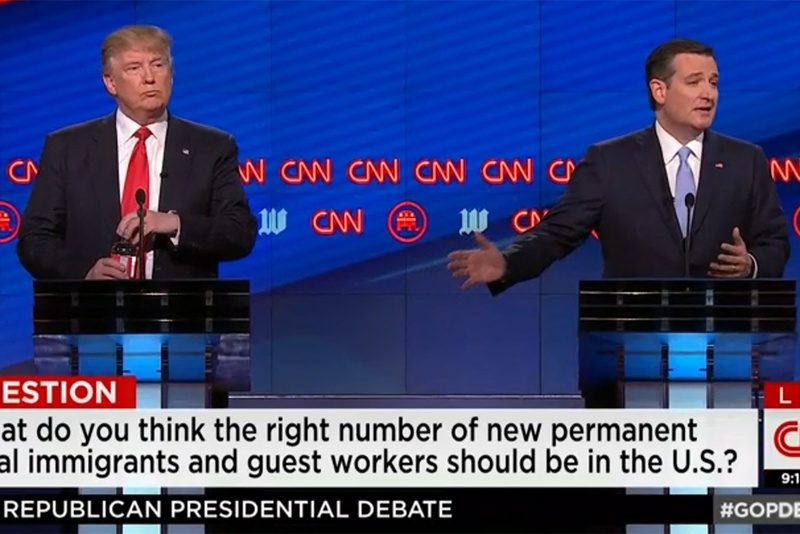 MIAMI — The Republican presidential hopefuls were on their best behavior at Thursday night's debate, with almost no insults, ad hominem attacks, mockery or commentary about candidate appendages.
Instead, the four remaining GOP contenders for the party nomination — U.S. Sen. Ted Cruz, Ohio Gov. John Kasich, Florida U.S. Sen. Marco Rubio and real estate magnate Donald Trump — tackled big issues and kept the discussion on immigration, trade and the Middle East.
"We're all in this together. We're going to come up with solutions," Trump said. "We're going to find the answers to things. And so, far I cannot believe how civil it's been up here."
The first half of the debate, and much of the closing, was primarily between Cruz and Trump, and offered a glimpse of the coming one-on-one fight between the two men that many in politics are anticipating.
The Texas Tribune thanks its sponsors. Become one.
"Donald's right. There are only two of us up here that have a path to the nomination," Cruz said, acknowledging that expectation.
The debate took place ahead of the Tuesday's primaries, the first winner-take-all contests on the GOP primary schedule. The setting, Miami, meant that moderators focused also on Cuba and the flooding implications of global warming.
There will be 367 delegates at stake. Besides Florida, several other states and territories will host primary contests: Illinois, Missouri, North Carolina, Ohio and the Northern Mariana Islands.
Trump is widely blamed for the devolving tone in this cycle's debates. But without his mixture of testosterone and acid, the debate resembled the approaches of past cycles.
Even so, Cruz did needle Trump — but in a more subtle manner than in more recent debates.
When asked about recent physical attacks at Trump events, Cruz directed a stump speech line directly at Trump.
The Texas Tribune thanks its sponsors. Become one.
"At Donald's rallies recently, he's taken to asking people in the crowd to raise their hand and pledge their support to him," he said. "I've got to say ... I think that's exactly backwards. This is a job interview. We are here pledging our support to you, not the other way around."
He also questioned Trump's grasp of foreign policy and repeatedly revisited Trump's past political donations to Democrats.
"When it comes to these deals, Cuba and Iran, they were negotiated by Hillary Clinton and John Kerry," he said. "There's a real difference between us. Donald supported Hillary Clinton and John Kerry."
On many occasions, Trump avoided returning fire and rather focused on explaining himself.
Rubio had one of his strongest nights, calmly countering many of Trump's most incendiary statements. But it is probably too late for the senator; his campaign's future rides on his performance in his home state on Tuesday, and there is little indication in recent polls that he will win there.
Cruz is scheduled to campaign Friday in Orlando.