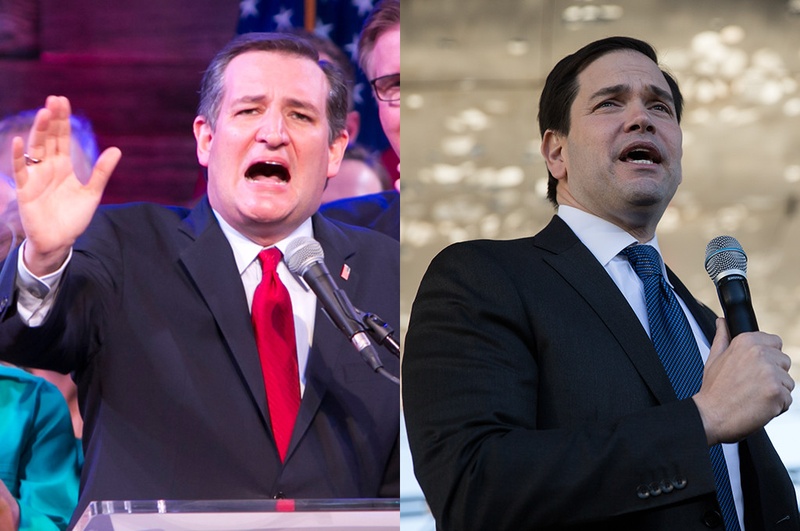 Editor's note: This story has been updated throughout.
Ted Cruz's allies are launching an all-out offensive to ensure Marco Rubio loses his home state, an effort that reflects the urgency of Cruz's mission to narrow the field to himself and Donald Trump.
Keep the Promise I, one of four main super PACs supporting the U.S. senator from Texas, released a number of ads Sunday night that target Rubio on his Senate attendance record, support for sugar subsidies and tax proposals. Keep the Promise I has said it intends to compete in the Sunshine State, which holds its winner-take-all primary March 15.
A spokeswoman for the super PAC said it has plans to air some of the commercials in Florida but declined to comment further Monday morning.
The Texas Tribune thanks its sponsors. Become one.
The commercials most sharply criticize Rubio for favoring subsidies for the sugar industry, charging him with seeking to protect the interests of his donors. One spot calls Rubio an "errand boy" for the industry, while another says he is guilty of the same kind of "pay-to-play corporate cronyism" that Democratic presidential frontrunner Hillary Clinton is.
In recent days, Cruz has made clear he plans to "vigorously contest" Florida, potentially keeping Rubio from the first-place finish he likely needs to continue his campaign. Cruz is hoping to stop Trump by forcing a two-man race the Texas senator is confident he can win.
Cruz's campaign has signaled it sees an opening in Florida, opening 10 offices across the state last week and not ruling out travel there surrounding the Republican debate Thursday in Miami. Rubio is scrambling to shore up support at home, where some polls have shown him trailing Trump by as much as 20 points.
The Florida senator's campaign called the super PAC ads hypocritical and expressed confidence Floridians would pick Rubio over Cruz.
"Considering Senator Cruz's weak record on defense, tax plan that will lead to higher prices for seniors, and political rise fueled by undisclosed corporate loans, these ads are the Gold Standard of hypocrisy," Rubio spokesman Joe Pounder said in a statement. "Floridians know Marco is the only candidate who can beat Hillary Clinton and usher in a new American Century with a stronger economy and national defense."
Keep the Promise I has been largely funded by an initial donation of $11 million from New York hedge-fund magnate Robert Mercer. The super PAC has since spent over $7.5 million in support of Cruz, and it had $2.7 million cash on hand at the end of January.
The Texas Tribune thanks its sponsors. Become one.
Keep the Promise I was not the only pro-Cruz outside group Monday seeking a piece of the action in Florida. Make DC Listen, a political action committee supporting Cruz, was rallying supporters with the possibility that the Texas senator could pull off an upset in the Sunshine State and "turn the race upside down."
"One of the single biggest ways to stop Trump at this point in the race is for Ted Cruz to win Florida," John Drogin, the head of the PAC, said in an email to backers, calling a vote for Rubio "a vote for Trump."