The Ticket: Super Tuesday and a Surprise Trump Endorsement
This week on The Ticket: Jay Root and Ben Philpott give their takes on the March 1st Super Tuesday elections. And we talk about Chris Christie's endorsement of Donald Trump with WNYC's Matt Katz.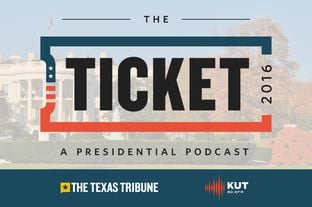 The Ticket was a weekly look at presidential politics from a Texas perspective in the leadup to the 2016 election. It included veteran political reporters Jay Root of The Texas Tribune and Ben Philpott of KUT News. Find it on SoundCloud and Stitcher.
More in this series
This week on our presidential race podcast: Jay Root and KUT's Ben Philpott bring you a mini-episode with our takes on the March 1st Super Tuesday elections. We'll also hear from Matt Katz of WNYC's The Christie Tracker podcast on the strange week for New Jersey Gov. Chris Christie, newly minted endorser of Donald Trump.
Visit TheTicket2016.com, where you can find more episodes and links to subscribe on iTunes, SoundCloud and Stitcher.
Get The Brief
Never miss a moment in Texas politics with our daily newsletter.