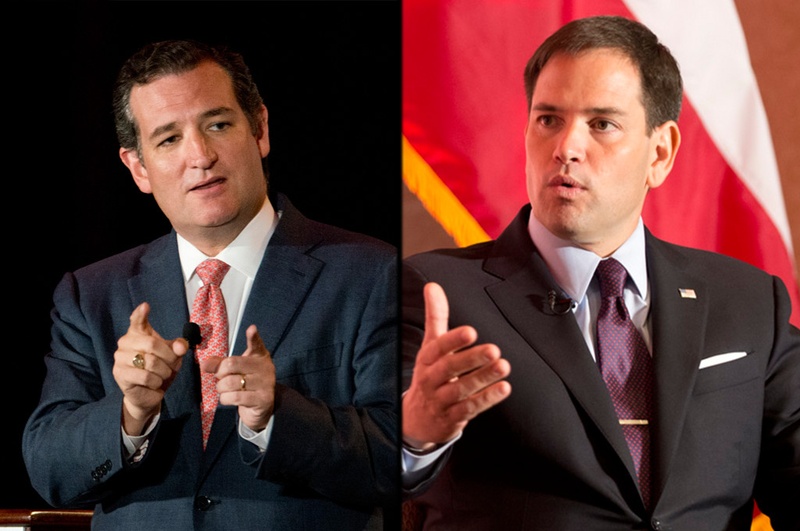 Editor's note: This story has been updated throughout.
U.S Sen. Ted Cruz on Tuesday night trailed Marco Rubio to come in third in the Nevada caucuses, his second straight finish behind his Senate colleague as they vie to be the chief alternative to billionaire Donald Trump.
With all precincts reporting, Rubio led Cruz with 23.9 percent to 21.4 percent. Trump won by a wide margin, drawing 45.9 percent support.
Cruz did not wait for more results to come in to address supporters in Las Vegas, congratulating Trump on a "strong evening." The Iowa caucus winner reiterated that he remains the only candidate to have beaten Trump, an "undeniable reality" that will crystallize the choice for voters in the next round of nominating contests.
The Texas Tribune thanks its sponsors. Become one.
"One week from today will be the most important night of this campaign," Cruz said, alluding to the group of mostly southern states, including Texas, that are set to vote March 1 in what is being called the "SEC primary." It is then, Cruz said, that voters will be able to "choose between two Washington dealmakers or one proven, consistent conservative."
The outcome in Nevada was not a cause for celebration for Cruz, who had campaigned sparingly overall there but nonetheless finished last among the three candidates he has said the primary has come down to. As the results came in, the Cruz and Rubio campaigns were scrambling to raise the stakes on one another, with Cruz's team saying Rubio's Nevada "firewall" failed and Rubio's aides insisting Cruz had gone "big in Nevada" with nothing to show for it.
Cruz had hoped to build a libertarian-leaning coalition in the Silver State, appealing to rural voters by promising to return "full control" of public land to the state from the federal government. Cruz had used the issue against Trump on the airwaves and on the stump, arguing the billionaire wanted to keep Washington, D.C., in charge of the land.
While there was a measure of uncertainly about how things would go in the relatively new caucus state, Trump had been expected to win by a healthy margin and he did, getting nearly double the number of votes Rubio did. Multiple news networks called the state for him as soon as the caucuses ended at 11 p.m.Wednesday.
When the dust settled in the Silver State on Wednesday morning, Cruz walked away from the contest with six delegates, compared to seven for Rubio and 14 for Trump. The billionaire continues to lead the overall delegate race by a wide margin.
On Tuesday night, though, Cruz and his surrogates were already looking beyond Nevada, doing little to tamp down on already high expectations for his performance in the SEC primary. With its 155 delegates, Cruz's home state is the biggest prize that day.
The Texas Tribune thanks its sponsors. Become one.
"I cannot wait to get home to the great state of Texas," Cruz said in Las Vegas, adding that Wednesday night is the first time he will be able to sleep in his own bed in a month.
The senator was scheduled to return to his hometown of Houston on Wednesday afternoon to hold a rally with Texas Gov. Greg Abbott, who formally endorsed Cruz Wednesday morning. Both were scheduled to attend the Harris County GOP's Lincoln-Reagan Dinner in the evening. Cruz will also be in Houston on Thursday for the Republican debate.