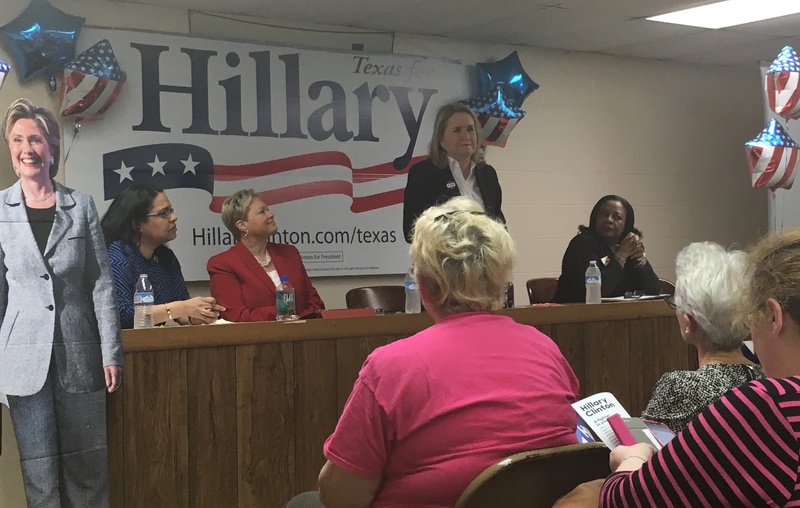 HOUSTON — One day after the sudden passing of U.S. Supreme Court Justice Antonin Scalia in West Texas, supporters of Hillary Clinton's campaign in the state's largest city talked up the heightened stakes in the race for the White House.
Following a Sunday roundtable on women's health issues at the Clinton campaign's Houston headquarters, U.S. Rep. Sheila Jackson Lee, D-Houston, lambasted Republicans for beginning the battle over Scalia's replacement so soon after the news broke.

"Individuals from the late Justice Scalia's own party didn't even allow his body to be transferred before they began talking about what they're not going to do and who they are going to block," said Jackson Lee. "That's evidence to the voting public that this is a fight like we've never had before."
On Saturday, Gov. Greg Abbott and U.S. Sen. Ted Cruz were among the Texas Republicans who strongly asserted that Scalia's successor should be nominated by the next president, not Barack Obama, even though Obama has more than 11 months left in his second term.
The Texas Tribune thanks its sponsors. Become one.
Jackson Lee, who is a member of the House Judiciary Committee, said she was "energized even more now than I was before" by the added purpose to the campaign.
"His sad passing now highlights the stakes that we are fighting for and the absolute loss that we will face if a Republican is victorious," Jackson Lee told the Tribune. "We know now that Republicans will have no fairness in any selection process; they will simply be seeking someone who will do everything they can to undermine the rights of the vulnerable."
State Sen. Sylvia Garcia, D-Houston, told the crowd of around 70 Clinton supporters that when she first began speaking as a campaign surrogate a few weeks ago, she was asked for one reason why volunteers should work for Clinton and not her opponent, U.S. Sen. Bernie Sanders of Vermont.
"You know what I said? Two words: 'Supreme Court,'" said Garcia. "And isn't it something that yesterday that became abundantly clear."
Garcia pointed to the many Texas cases before the Court — on reproductive rights, immigration, affirmative action and redistricting — as evidence of the election's local significance.
"The next nominee is critical," Garcia said. "So we need someone who will be able to nominate a justice who will make a difference on the Supreme Court and who's going to be ready to tackle those congressional hearings and get the nominee through. We've got to have someone who's a fighter, someone who's been a lawyer, someone who knows the ropes, someone who knows how to pick the right person."
The day after the March 1 Texas primary, the Supreme Court is scheduled to hear oral arguments in Whole Woman's Health v. Hellerstedt, which challenges the constitutionality of the contentious abortion law passed by state lawmakers the 83rd Legislative session. If the Court deadlocks 4-4, it would affirm the June ruling of the U.S. 5th Circuit Court of Appeals, which upheld the requirement that nearly all Texas facilities that perform abortion meet hospital-like standards.