The Ticket: On the Road with a Presidential Campaign in Iowa
This week on The Ticket: Ben Philpott gives us a peak behind the curtain to see what life on the campaign trail is like, plus a breakdown of the final GOP debate before Monday's Iowa caucus.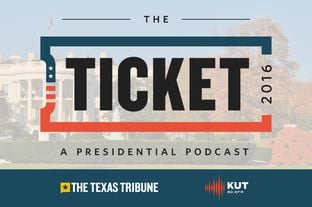 The Ticket was a weekly look at presidential politics from a Texas perspective in the leadup to the 2016 election. It included veteran political reporters Jay Root of The Texas Tribune and Ben Philpott of KUT News. Find it on SoundCloud and Stitcher.
More in this series
This week on The Ticket: KUT's Ben Philpott takes us behind the scenes for a look at what it's like covering a presidential campaign in Iowa. The Texas Tribune's Patrick Svitek stops by to break down the final GOP debate before Caucus night. And we'll hear some stories from the road from a few other political reporters.
Visit TheTicket2016.com, where you can find more episodes and links to subscribe on iTunes, SoundCloud and Stitcher.
The Texas Tribune thanks its sponsors. Become one.
Get The Brief
Never miss a moment in Texas politics with our daily newsletter.