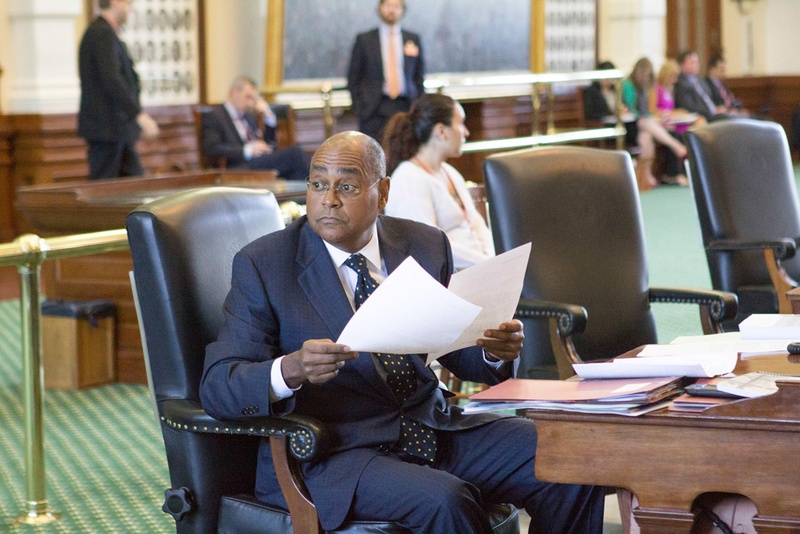 State Sen. Rodney Ellis, D-Houston, will remain on the primary ballot for re-election in Senate District 13, despite his plan to seek the Harris County Commissioner's seat left open when Commissioner El Franco Lee died Jan. 3.

"I'm excited to visit with Harris County precinct chairs and other leaders about continuing El Franco Lee's legacy of service to his community," Ellis said. "I can confirm that I am seeking to be the next commissioner for Harris County Precinct One."
Under Texas election rules, it's too late to take Lee's name off the March 1 primary ballot. Lee was running unopposed as a Democrat. Ellis must also remain on the Democratic primary ballot in SD 13.
In June, the new Harris County Democratic precinct chairs will be sworn in and can pick a nominee to replace Lee on the November general election ballot. In the meantime, County Judge Ed Emmett announced Friday that attorney Gene Locke will serve as the interim county commissioner.
The Texas Tribune thanks its sponsors. Become one.
"Gene Locke will be a good caretaker for this seat, and he will be a strong voice for constituents as the Democratic Party goes about making our selection for someone to place on the November ballot," county Democratic party chair Lane Lewis said in a statement.
If the party picks Ellis to replace Lee on the ballot, Ellis will need to withdraw from the SD 13 general election. That would set into motion a potential domino effect. Precinct chairs in SD 13 would need to nominate a replacement for Ellis. If they were to choose a member of the Texas House, the precinct chairs in that House district would need to do the same, until all vacancies are filled.