Richard Linklater, Jack Black, Matthew McConaughey Organize "Bernie" Fundraiser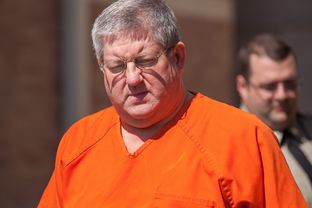 *Editor's note: This story has been updated to include comment from the Nugent family.
Four years after director Richard Linklater made a dark comedy about Bernie Tiede, a genial East Texas man who killed an 81-year-old woman, the filmmaker and the film's star-studded cast are planning a fundraiser to help pay for Tiede's legal costs ahead of a new sentencing trial.
Linklater has sent out an invitation for an "uber-private" and "exclusive" fundraiser on Jan. 8 to raise between $150,000 and $200,000 for Tiede's defense fund. Tiede was convicted in 1999 of first-degree murder and sentenced to life in prison. Linklater's film, "Bernie," featured Jack Black, Shirley MacLaine and Matthew McConaughey, and was based on a 1998 Texas Monthly article. It portrayed Tiede as a lovable, popular funeral director and church singer caught in an abusive relationship with a miserly wealthy widow.
Following the film's release, Tiede's attorney presented evidence that he was sexually abused as a child, a factor they argued might have persuaded the original jury to give him a lighter sentence. Tiede's life sentence for killing Marjorie Nugent was dismissed in 2014. With the agreement of the original prosecutor in the case, visiting state District Judge Diane DeVasto allowed Tiede to be released on bond while his sentencing is revisited. Nugent's family filed court papers objecting to his release. A condition of Tiede's release was that he live in Austin with Linklater.
"The trial date is now set for early April 2016, and the reality has set in that the only way to compete with the power of the state ... is to put together a top criminal defense team," Linklater writes in an invitation from "the BERNIE film gang (me, Jack Black, Matthew McConaughey, and Bernie Tiede)" obtained by The Texas Tribune.
Shanna Nugent, Marjorie Nugent's granddaughter, called the event "in poor taste" and said the announcement of it over the holidays was particularly painful.
"I wish she was here with me," she said. "She was a loving, caring grandmother. And she didn't deserve to be shot four times in the back by this perpetrator."
In the invitation, Linklater writes that the fundraiser "will include a dinner and music line-up we'll all be talking about for years. Jack Black, Bernie composer Graham Reynolds and Bernie Tiede himself will perform songs from the movie and more. After that, Jack's band Tenacious D will take the stage."
As an added incentive to those who help pay for a table at the fundraiser, Linklater promised "the most exclusive screening of Bernie EVER" with Tiede, McConaughey, Black and "possibly" MacLaine in attendance, according to the invitation.
The state's and Tiede's attorneys are under a gag order, a situation Linklater alludes to in explaining the event's exclusivity.
"Bernie himself can't do anything 'public' on judge's orders," Linklater writes.
A call to Linklater's production company was not immediately returned Monday morning. Nugent's family could not immediately be reached for comment.
Johnathan Silver contributed to this story.
Disclosure: Richard Linklater is a major donor to The Texas Tribune. A complete list of Texas Tribune donors and sponsors can be viewed here.