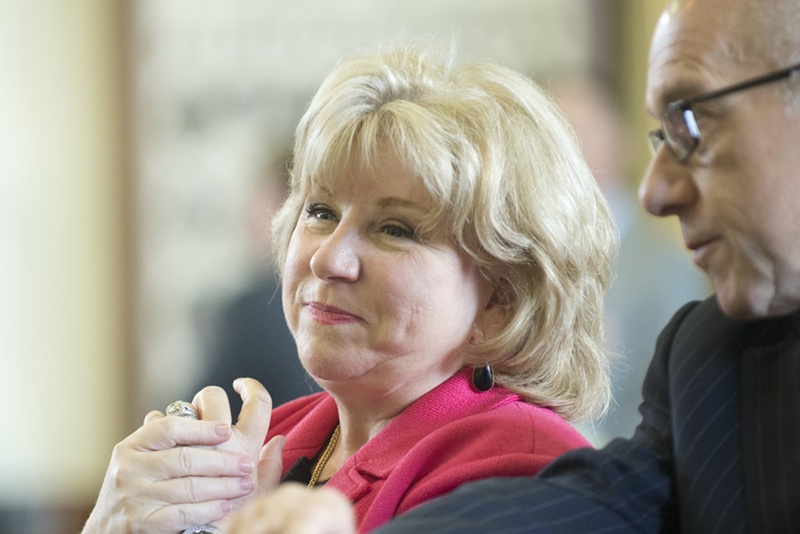 LUBBOCK — Lt. Gov. Dan Patrick revealed Friday he tried to draft state Sen. Jane Nelson, R-Flower Mound, to run for lieutenant governor last year before he decided to enter the race.
Addressing the biennial convention of the Texas Federation of Republican Women, Patrick recalled the role that Nelson played in the lead-up to his June 2013 announcement that he would challenge then-Lt. Gov. David Dewhurst, a fellow Republican.
"It wasn't on my bucket list to run for lieutenant governor," Patrick said, adding that he was more than satisfied with chairing the state Senate Education Committee. "But when I thought there may be a change, I went to Jane and I said, 'Jane, I'd like you to be the first lieutenant governor in history who's a woman, and I'm here to support you.'"
In Patrick's telling, Nelson responded that she had "a lot going on in my life" and was not ready for the rigors of a statewide campaign.
The Texas Tribune thanks its sponsors. Become one.
"I think she would've won easily, and she said, 'Why don't you do it?'" Patrick recalled. "Sometimes you just let God lead you."
Patrick went on to advance to a runoff with Dewhurst in the GOP primary, besting Land Commissioner Jerry Patterson and Agriculture Commissioner Todd Staples. In the second round, Patrick easily defeated Dewhurst.
With Patrick leading the Senate, Nelson has served as the first woman to lead the powerful Senate Finance Committee. Patrick noted she was selected "not because she was a woman but because she was the most qualified person."
Nelson issued a statement after Patrick's remarks saying she was at one time open to a run for statewide office. The statement did not address any conversation between Nelson and Patrick about the race for lieutenant governor.
"I love the Senate, and I have always said the only one other position I would run for is lieutenant governor," she said. "There was a time when I would have been willing to put everything in my life on hold to run a statewide campaign, but I think that ship has sailed. Plus, I served in the Senate with all four candidates and knew we were going to be in good hands. Lt. Gov. Patrick is doing a great job, and I appreciate his compliment on my campaign skills."