In Emails Between Hall and McRaven, Fights Over UT Records Resurface
University of Texas System Regent Wallace Hall has renewed an old request for information about the workloads of faculty, prompting all-too-familiar exchanges about whether his requests are too burdensome.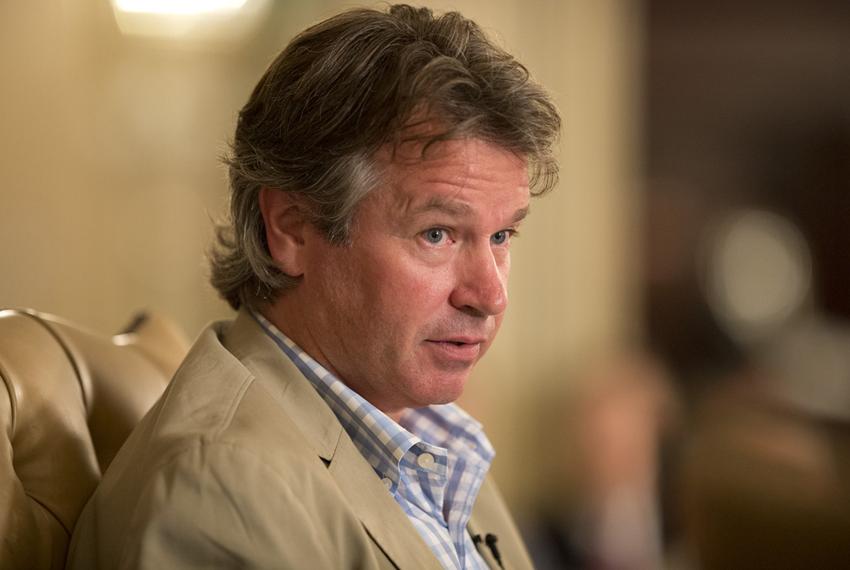 On Aug. 13, University of Texas System Regent Wallace Hall emailed a high-ranking system official to reiterate a request that had been dormant for more than two years. He wanted access to all kinds of information related to UT System faculty: their duties, salaries and information on how their positions were funded.
"None of these questions were previously answered by the System," he wrote to Deputy Chancellor David Daniel, who had been appointed to his job months earlier. "As it has been two-and-a-half years (though no fault of yours, obviously), I would hope that I could get this soon."
Hall didn't get what he wanted, emails obtained by The Texas Tribune show. But his recent requests have reignited old fights over Hall's sweeping requests for information. Over the years, Hall has argued he seeks such information to do his due diligence as an overseer of the system and its universities.
But his critics, including other regents and some Texas lawmakers, have accused him of conducting "witch hunts" that sap the time and resources of UT System staff. The target, Hall's critics allege, is former UT-Austin President Bill Powers, who stepped down earlier this year.
UT System officials did not immediately respond to a request for comment.
A special Texas House committee reviewed Hall's actions in 2014 and censured him for "misconduct, incompetency in the performance of official duties, or behavior unbefitting a nominee for and holder of a state office." A grand jury also investigated Hall but this year decided not to indict him. The grand jury was critical of Hall, however, saying his requests involved "more than 800,000 pages of documents, which cost the university more than $1 million to prepare."
Hall's recent requests have drawn similar complaints. Some information was provided to him within a matter of weeks, emails show, prompting his thanks and a compliment of "good work." But other responses brought bickering.
For example, Daniel sent an email to Hall in early September with the subject "Teaching Load Credit Report." Daniel describes the attached files as information Hall requested, compiled "in a convenient format for reading." (The attached documents were withheld from records provided to The Texas Tribune.) Daniel wrote, "I believe this completes the answers to questions that you posed to me in August."
Hall was not satisfied. He argued in one email that state law requires that some of the information be submitted to regents each year.
"I feel like I am getting the runaround," Hall wrote to UT System Chancellor Bill McRaven. "I would appreciate some straight answers to these questions."
McRaven replied minutes later: "Wallace, no one is giving you the runaround. Truly. Part of it is understanding exactly what you need. David clearly thought he had provide [sic] you the information requested. Now that we know better, we will tighten the shot group. But getting frustrated at staff who are trying to answer your questions while getting their other work done isn't helpful."
Hall wrote back: "Could you please just get me the information I've requested in a timely manner. Thx."
A few days later, Hall added to his request. He said he wanted copies of the documents used by UT-Austin's vice provosts for faculty affairs to monitor faculty compliance with workload requirements. Daniel forwarded Hall's request to other UT System officials, expressing worry that it would "involve a very significant investment of time" to comply.
The officials agreed, and McRaven replied to Daniel's email by saying, "If this involves a lot of work, I will notify Regent Hall that we are too busy to comply."
Five days later, on Sept. 15, McRaven wrote Hall to say the system was working on the request but that it could take a while.
"We are swamped right now with a number of requests and trying to keep up with our daily work load," McRaven wrote. "If you don't need it right away, we would appreciate you giving us a couple of months to get through other pressing issues before we tackle this one."
It's unclear what exactly Hall has received so far. The email exchanges between him and system officials that were turned over to the Tribune are heavily redacted. The UT System has requested an opinion from the Texas Attorney General's Office on whether it has to give the Tribune the rest of the information.
"It is disingenuous to suggest that my request requires any additional work whatsoever since these reports are required by rule and law to be presented annually to the Board of Regents, which has never once occurred," Hall said in a statement Tuesday evening. "My pursuit of this important information is ongoing."
But the emails do suggest that tension between Hall and UT System officials remains high. Hall is currently suing McRaven to gain access to admissions records used to compile a report that found that UT-Austin admitted some unqualified students with powerful connections. The full Board of Regents has asked Hall to drop that suit. A hearing is scheduled for early next month.
Disclosure: The University of Texas at Austin is a corporate sponsor of The Texas Tribune. A complete list of Tribune donors and sponsors can be viewed here.
Texans need truth. Help us report it.
Our Fall Member Drive is underway, and we need your support. The Texas Tribune is a critical source of truth and information for Texans across the state and beyond — and our community of members, the readers who donate, make our work possible. Will you join as a member with a tax-deductible donation of any amount?
Yes, I'll donate today
---
Information about the authors
Explore related story topics