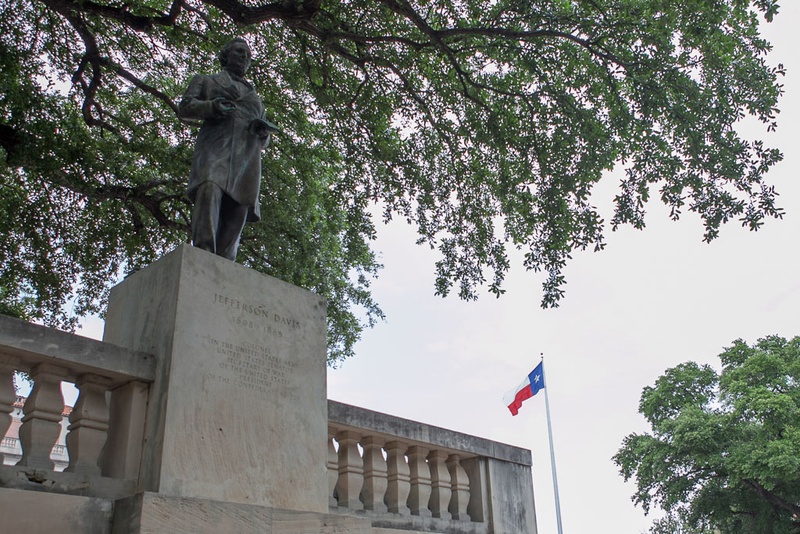 The fight over the future of a statue of Confederate President Jefferson Davis has boiled on the University of Texas at Austin campus for years. On Thursday, a judge will consider whether to end it.
UT-Austin President Greg Fenves wants to move the statue from the school's south mall to an exhibit in the Dolph Briscoe Center for American History. Acting on advice from an on-campus committee, he made plans to remove it on Aug. 15, but a last-minute lawsuit by the Sons of Confederate Veterans put them on hold.
The school has asked a judge to dismiss the suit. A hearing is scheduled for Thursday afternoon to hear the two sides out.
The Sons of Confederate Veterans is arguing that removing the statue would violate the will of the man who donated the money to erect it, old UT-Austin benefactor George Washington Littlefield. The Confederate group is also arguing that the school needs permission from the state before it takes action.
The Texas Tribune thanks its sponsors. Become one.
The university disagrees, saying it has a right to place statues anywhere on campus it wants. It's also arguing that the two plaintiffs in the Sons of Confederate Veterans' suit — group commander Gary David Bray and Littlefield's third cousin David Steven Littlefield — have no right to sue.
A vocal group of UT-Austin students have complained that the statue of Davis is offensive to minorities on campus. It has been vandalized multiple times. Calls for its removal increased after nine people were killed in a racially motivated church shooting in Charleston, S.C.
Some opponents of moving the statue have argued that taking it down would be an attempt to ignore the state's history.
The future of a statue of former U.S. President Woodrow Wilson is also at stake. No one has complained about that statue, but it's on the other side of the mall from the Davis statue, so university leaders say they want to move it for symmetrical reasons.
Disclosure: The University of Texas at Austin is a corporate sponsor of The Texas Tribune. A complete list of Tribune donors and sponsors can be viewed here.