Baylor May Face Legal Fallout from Rape Case
Baylor University's lawyers reportedly were in the courtroom during most of football player Sam Ukwuachu's rape trial last week. Now that he's been convicted, the school faces the possibility of lawsuits and federal scrutiny.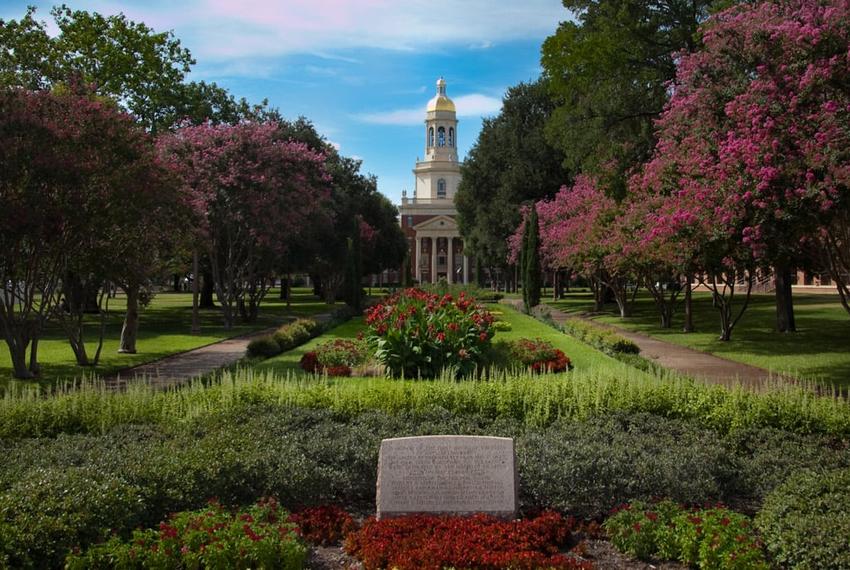 *Correction appended
After a Baylor University football player was convicted last week of raping a fellow student, public outrage honed in on what the school might have done to prevent the attack.
But in coming months, the private Baptist school may be more vulnerable to questions from lawyers and federal regulators about how it acted after the assault. Experts say Baylor could face legal challenges concerning how it investigated the case, and how it treated the football player and his victim afterward.
The federal government has shown a growing interest in holding schools accountable for how they respond to cases of sexual violence, with the U.S. Department of Education threatening colleges' federal funding and ordering them to compensate victims. Meanwhile, victims who believe their cases were botched are filing lawsuits against institutions more frequently.
Baylor's lawyers were in the courtroom for most of Sam Ukwuachu's trial, Waco media reported. It's possible that won't be the last time the case brings them to court.
"I don't think there's any question that there is a potential for a lawsuit," said Michael Guajardo, a Dallas attorney who sued Southern Methodist University last year for its handling of a sexual assault case.
Ukwuachu was sentenced to 180 days in jail and 10 years probation Friday after a jury convicted him. During his trial, his victim testified that she screamed "no" as Ukwuachu raped her in his apartment after a homecoming party in November 2013, according to reports.
Before the trial even ended, public focus turned to why Ukwuachu was at Baylor at all. Texas Monthly reported that the highly touted transfer from Boise State had been kicked off his old team soon after he drunkenly punched through a window at a house he shared with his girlfriend.
Baylor football coach Art Briles later denied knowing about the freshman all-American's past violence. Soon after, Ukwuachu's coach at Boise State, Chris Petersen, seemed to contradict that claim in a statement, saying he fully apprised Briles of the player's background before the transfer.
That back-and-forth didn't address the rest of Baylor's handling of the case. The school has stayed silent about how it responded, which could be a bigger source of liability. In response to questions Monday, Baylor provided a four-page list of its own questions and answers about how it handles sexual assault cases generally. That list didn't include any details about the Ukwuachu case.
Title IX
In addition to state and local criminal statutes, schools are responsible for responding to rape cases under Title IX, the federal law requiring schools receiving federal funds to give men and women students equal educational opportunities. In recent years, the Department of Education's Office for Civil Rights has interpreted the law to mean that schools should react swiftly and strongly to claims of rape or harassment. Schools must thoroughly investigate abuse claims — regardless of whether criminal authorities are also looking into them.

If the school believes a claim is credible, it must act. Perpetrators can be expelled, suspended or ordered to stay away from their victims. And victims must be handled with care. If she or he needs counseling, time off or relocation to a new dorm room to feel safe, the school should make that happen, regulators have said.
"Schools have to treat these kinds of reports very seriously," said Lara Kaufmann, senior counsel for the National Women's Law Center.
The stakes are high for universities. If the civil rights office decides a school violated the law, the department can cut off federal funding, costing schools millions in research dollars and making students ineligible for federal student loans.
That would be unusual – experts couldn't identify any cases where it has happened. But the threat of drastic measures is often used to convince schools to agree to changes. Under pressure from the feds, schools often agree to require training for employees, hire new enforcement staff and pay cash to victims. They often must sign public promises to do so — an acknowledgement of failure that can damage a school's reputations and hurt recruiting.
Victims can also sue the university under the law. Those cases are difficult to win — and the statute of limitations is two years, meaning time is running short in the Baylor case – but recent payouts have been in the millions.
Troubling details?
Last week's trial revealed some details indicating that the school could be legally vulnerable.
The most glaring is Ukwuachu's conviction. The burden of proof in university investigations is supposed to be much lower than in Title IX cases. A criminal conviction requires evidence showing guilt beyond a reasonable doubt. For university officials to take action, they only need to believe that a rape is more likely to have occurred than not. Baylor may have to explain why it let the football player off, while a jury didn't.
According to the Waco Tribune-Herald, Baylor Associate Dean Bethany McCraw testified last week that Baylor's inquiry included interviewing Ukwuachu, his roommate, the victim and one of her friends. She also said the school reviewed text messages between Ukwuachu and the victim, and gave Ukwuachu a polygraph test. In the end, she said she decided that the investigation "should not move forward," the Tribune-Herald reported.
In its statement Monday, Baylor said that it doesn't have subpoena power and can't access confidential medical records. It also said that the civil rights office generally expects schools to finish investigations within 60 days. If no one appeals its decision, the case is closed, the school said.
But experts said nothing should prevent schools from re-opening investigations as new information emerges. It's unclear whether Baylor did that after criminal charges were filed against Ukwuachu. But he clearly wasn't kicked off campus after he was charged with rape. He eventually earned his degree from Baylor, and as Texas Monthly reported, an assistant football coach publicly stated as recently as June that he expected Ukwuachu to play football again for the Bears. (Athletes taking graduate-level courses are still eligible to play football.)
The trial also raised questions about whether the school adequately responded to the victim's needs. The victim, a member of the women's soccer team, testified that she felt traumatized when she encountered Ukwuachu on campus after the attack. And her father testified that the effects of the assault made it difficult for her to recover from a knee injury. The father said in court that she eventually lost her scholarship, according to the Tribune-Herald. She now attends another Texas school.
That kind of struggle is exactly what Title IX is designed to prevent, experts said.
"If the reason she can no longer play athletics is related or exacerbated by the assault and the ensuing aftermath, I...I don't even know what to say about that," said Kaufmann, the lawyer for the National Women's Law Center. "I just think it is unfortunate."
New system in place
In a letter to the Baylor community after Ukwuachu's conviction, university president Kenneth Starr said the school works "tirelessly" to keep students safe. He also told students that he had called for a "comprehensive internal inquiry" into the case.
"Many of you have expressed your disappointment and anger over this tragic episode," he said. "My colleagues and I fully share your outrage."
The statement said the school had "joined university efforts nationally to prevent campus violence against women and sexual assault, to actively support survivors of sexual assault with compassion and care, and to take action against perpetrators." That includes maintaining a "fully staffed" Title IX office with a full-time coordinator and two investigators, the statement said.
But those efforts weren't fully in place when Ukwuachu's case began. Baylor's Title IX coordinator, Patty Crawford, didn't start her job until more than a year after the rape. The 2014 post advertising her job opening acknowledged that Baylor didn't have an office focused solely on Title IX at the time.
"Title IX responsibilities have been managed by a variety of individuals in several university offices, with Human Resources having primary coordinating responsibilities," the post said.
Chris Kaiser, staff attorney for the Texas Association Against Sexual Assault, called that "a really bad approach."
The job post described strong institutional support and "many allies on campus" for Title IX goals. But it also noted that the job wouldn't always be easy at Baylor, a Christian school.
"[Stakeholders] noted that sexual misconduct is much too common on campus," the post said, "yet the public dialog is limited due to perceptions that 'this doesn't happen at Baylor."
Correction: A previous version of this story said that a jury sentenced Ukwuachu to 180 days in jail and 10 years probation. The jury recommended probation; a judge added the jail time to his sentence.
Texans need truth. Help us report it.
Independent Texas reporting needs your support. The Texas Tribune delivers fact-based journalism for Texans, by Texans — and our community of members, the readers who donate, make our work possible. Help us bring you and millions of others in-depth news and information. Will you support our nonprofit newsroom with a donation of any amount?
Yes, I'll donate today
---
Information about the authors
Explore related story topics