The Brief: July 16, 2015
Both U.S. Sen. Ted Cruz and former Gov. Rick Perry burned through about half of the money they raised from April to June, putting them somewhere in the middle of the GOP field on that measure.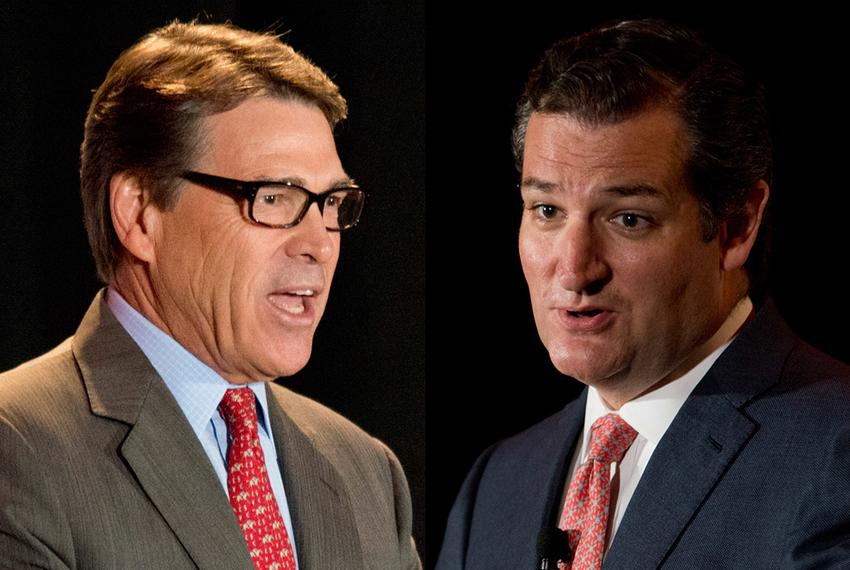 The Big Conversation
Both U.S. Sen. Ted Cruz and former Gov. Rick Perry burned through about half of the money they raised from April to June, as their just-released second quarter campaign finance reports show.
That percentage, known as the burn rate, is a key measure of how efficient campaigns are early on, and Cruz's and Perry's rates were 54 percent and 52 percent, respectively. That puts them somewhere in the middle of the GOP field, with Jeb Bush's rate standing at 27 percent and Ben Carson's at 64 percent, the Washington Post reported.
On fundraising numbers alone, Cruz is likely to rank second — behind Bush — with the roughly $52 million his campaign and the super PACs backing him have raised so far.
It's a different story for Perry, whose overall network has brought in about $18 million. But his campaign only accounted for $1.14 million of that total, as the Tribune's Patrick Svitek reports:
The $1.14 million haul revealed Wednesday puts Perry in the back of the pack among campaigns in the GOP money race. It is also a far cry from his first fundraising quarter as a 2012 presidential candidate, when he reeled in $17 million in the six weeks after he announced his bid.

Perry nonetheless still has some deep-pocketed backers on his side. His notable contributors — many of whom gave $2,700, the maximum amount — included several of Texas' most prolific GOP moneymen, such as Houston restaurateur Tilman Fertitta, San Antonio car dealer Red McCombs and San Antonio developer Gene Powell. At least 60 percent of his donations came from Texas. ...

So far, three wealthy backers are fueling most of the super PACs' fundraising.
On the Democratic side, Bloomberg has a look at Hillary Clinton's campaign, which burned through about 40 percent of its funds, while her top rival Bernie Sanders, the Vermont senator, had a burn rate of 20 percent.
Disclosure: Red McCombs is a major donor to The Texas Tribune. A complete list of Tribune donors and sponsors can be viewed here
Trib Must-Reads
Ghost of Export-Import Bank Haunts Highway Bill, by Abby Livingston — Two weeks after is was supposedly killed, the federal Export-Import Bank may soon be resuscitated by tagging its future to a massive highway funding bill. The Congressional gamesmanship has conservatives vowing to kill the bank for good.
In Bastrop, Jade Helm Begins With a Whimper, by Morgan Smith — The predictions included martial law, mass citizen roundups and widespread gun seizures. So what really happened as Jade Helm 15 started Wednesday in Bastrop County was pretty damn boring.
Rookie Prison Guard is Killed Escorting Violent Inmate, by Terri Langford — A rookie Texas Department of Criminal Justice guard was beaten to death Wednesday at a northeast Texas prison as he was escorting an inmate, one with an extensive history of attempted escapes and previous beatings of prison personnel, from a day room to a cell.
State Education Board to Seek GED Alternatives, by Sophia Bollag — Texas residents seeking to earn high school equivalency certificates may soon have less expensive, more flexible testing options.
State Leaders Order Investigations Into Fetal Organ Preservation, by Edgar Walters — Texas Attorney General Ken Paxton and Lt. Gov. Dan Patrick have joined Gov. Greg Abbott in calling for an investigation into Planned Parenthood after an anti-abortion group's release of an undercover video.
Citing Ex-Im Bank Concerns, Cruz Doesn't Rule Out Filibuster, by Abby Livingston — U.S. Sen. Ted Cruz indicated Wednesday that he was prepared to filibuster one of Congress' largest pieces of legislation if his colleagues attached a reauthorization for the Export-Import Bank to it.
The Day Ahead
• Gov. Greg Abbott speaks at the 87th Annual Texas Future Farmers of America Convention in Corpus Christi at 9:45 a.m.
Elsewhere
Ted Cruz challenges Fox debate standards, Politico
Rick Perry Is Nowhere Near Where He Was in 2011, National Journal
Trump said to quiz Cruz at N.Y. meeting, San Antonio Express-News
Straus, Patrick report big warchests, San Antonio Express-News
Garcia, Costello, Turner lead mayoral field with flush coffers, Houston Chronicle
Rematch for State Senator between Jose Menendez, Trey Martinez Fischer, KSAT-TV
George HW Bush, 91, falls at Maine home, breaks bone in neck, The Associated Press
Traveler accosts Abbott on gay marriage, gets bumped from flight, Austin American-Statesman
Civilians begin shadowing 'Jade Helm' war exercise in Texas, The Associated Press
Texas inmate who's scheduled to die Thursday seeks delay, The Associated Press
With escape of 'El Chapo,' battle over drug pipelines may intensify, Houston Chronicle
UT's history center a possible future home of Confederate statues, Austin American-Statesman
Bastrop Judge Paul Pape had some initial concerns about Jade Helm, Austin American-Statesman
Quote to Note
"I am willing to use any and all procedural tools to stop this corporate welfare, this corruption from being propagated."
— U.S. Sen. Ted Cruz says he could filibuster a highway funding bill if a reauthorization of the U.S. Import-Export Bank is attached to it. The bank's charter expired last month.
News From Home
• On this week's TribCast, Emily Ramshaw talks with Ross Ramsey, Patrick Svitek and Jay Root — complete with a tin foil hat — about Jade Helm, Rick Perry's reported income and Gov. Greg Abbott's decision to veto a bill opposed by a Scientology group.
Trib Events for the Calendar
• The Texas Tribune Festival on Oct. 16-18 at the University of Texas at Austin
Support public-service journalism that gets the context right
Your donations make our reporting possible and keep it free for all to access. Support our nonprofit newsroom by May 11, and your gift will help us unlock $25,000 in matching funds from our partners at Tito's Handmade Vodka, the Bernard & Audre Rapoport Foundation and the Suzanne Deal Booth Charitable Trust.
Yes, I'll donate today