The Brief: June 12, 2015
Texas Ethics Commission members expressed concerns over the lack of significant ethics reforms in the 2015 legislative session — and legislation that made its way to Gov. Greg Abbott's desk.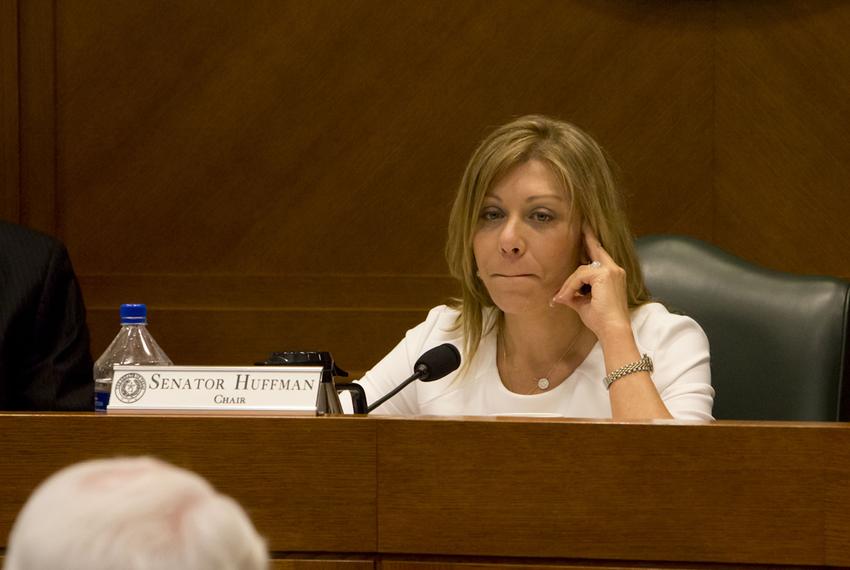 The Big Conversation
One message clearly stood out from Thursday's Texas Ethics Commission meeting: Some of its members are not happy.
By the close of the legislative session, many reformers were disappointed at what they believed to be a failure by lawmakers to enact significant ethics reforms — which Gov. Greg Abbott had called for. And, as the Tribune's Jim Malewitz points out, some ethics commissioners say lawmakers actually went backward on ethics this session:
"There are some bills on the governor's desk that just scare me to death," Commissioner Jim Clancy, the body's former chairman, said at the meeting.

The bipartisan commissioners largely focused on Thursday on measures awaiting Abbott's signature that would open up a "spousal loophole" allowing politicians to shield information about their spouses' financial holdings.

The proposals would essentially repeal an agency rule, drafted last year in the wake of ethics violations by a former House member, that spells out what must be included in personal financial statements filed by the governor, members of the Legislature and other high-ranking state officials – including certain information about their spouses' property and financial activity.

"There needs to be the designation of potential conflicts of interest," Clancy said in an interview. "It doesn't make a difference as far as the public is concerned whether a business takes the spouse of a government official to the Super Bowl and lets the government official come along, or whether they take the government official to the Super Bowl."
Acting in their personal, not official, capacity, Clancy and three other commissioners asked the governor in a letter to veto the two bills. The lawmaker who pushed the changes, Sen. Joan Huffman, said the agency's rule was unclear, which Clancy disputed. A Katy resident has also filed a complaint against Huffman, alleging that she violated the rule.
Also at Thursday's meeting, commissioners unanimously decided they want subpoenas enforced against Michael Quinn Sullivan, the president of conservative advocacy group Empower Texans, and they're asking a court for help.
The San Antonio Express-News' David Saleh Rauf explains the commission's request to the Travis County district court.
It marks the first time the state's campaign finance regulator has initiated action to seek a court to compel response to a subpoena, commission officials said.

Sullivan, an anti-tax and limited government activist, has fought for more than a year to have the subpoenas quashed — first in federal court, where a judge called them absurd but refused to nullify the document demand and later in a Travis County district court, which has not ruled on the issue.

The commission is seeking a lengthy list of documents, including Sullivan's communication with donors and lawmakers. After several rounds of negotiations, the scope of the subpoenas were altered, but Sullivan's lawyers have argued they were still overly broad.
Sullivan's lawyer, Joe Nixon, said the commissioner's claims that Sullivan has hidden information from commissioners "couldn't be further from the truth."
Trib Must-Reads
End Near in Bruising San Antonio Mayoral Race, by Patrick Svitek — A photo finish is expected Saturday in the San Antonio mayoral runoff, which features interim Mayor Ivy Taylor and former state Sen. Leticia Van de Putte vying for the city's top job.
State Budget Includes $500,000 to Subsidize Texas Almanac, by Aman Batheja — Tucked in the $209 billion budget lawmakers passed last month is a budget rider allocating $500,000 for a nonprofit to publish the Texas Almanac, a reference guide that had gotten by for over a century as a for-profit publication.
Bush Plans Texas Trip After 2016 Announcement, by Patrick Svitek — Former Florida Gov. Jeb Bush, on the verge of announcing a presidential campaign, has booked a trip to Texas later this month.
Perry to Embark on Texas Fundraising Blitz, by Patrick Svitek — Four days, seven cities and nine events: Former Gov. Rick Perry sweeps through Texas next week on a fundraising tour fresh from officially announcing his second presidential bid.
Press Secretary Leaving Abbott's Office, by Patrick Svitek — A top spokesperson for Gov. Greg Abbott is leaving for Washington, D.C. Amelia Chasse has served as Abbott's press secretary since he took office in January.
Church Offers Haven to Lesbian Facing Deportation, by Julián Aguilar — An Austin church has offered sanctuary to an undocumented Guatemalan immigrant who said returning to her homeland means violence, abuse or even death. As a lesbian, Sulma Franco said she is fighting for herself and others at risk because of their sexual orientation.
Abbott Signs "Pastor Protection Act" Into Law, by Liz Crampton — Gov. Greg Abbott, who signed a bill Thursday that allows clergy members to refuse to conduct marriages that violate their beliefs, said that "pastors now have the freedom to exercise their First Amendment rights.
The Day Ahead
• On Saturday, incumbent Ivy Taylor and former state Sen. Leticia Van de Putte square off in the San Antonio mayoral runoff election.
Elsewhere
Fast-growing Texas school districts lament double whammy, Austin American-Statesman
Texas GOP tries to pluck the liberal thorn from its side, The Associated Press
Former McKinney police officer hires criminal defense attorney as 'precautionary' measure after pool party incident, The Dallas Morning News
Cornyn: Dems 'just flat irresponsible' on cyber vote, The Hill
Pastor fights for stability after video sparks national attention on McKinney, The Dallas Morning News
State agency unintentionally releases private medical data of 6,600 Texans, Austin American-Statesman
Lamar Smith bashes 'discredited' EPA at climate change skeptic conference, The Dallas Morning News
Concerns arise after railcar plunges from Houston overpass to street below, Houston Chronicle
Culberson County Site Is The Newest Proposal for High-Level Nuclear Waste, Hudspeth County Herald
Ted Cruz fights GOP approach on Obamacare subsidies, Politico
Blue Bell says Brenham plant may reopen last as CDC ends probe of Listeria illnesses, The Dallas Morning News
Quote to Note
"It might not end on Saturday. It might be that close."
Manuel Medina, who chairs the Bexar County Democratic Party, on Saturday's close election for San Antonio mayor — a race that's seen an unusual amount of back-and-forth attacks between both candidates.
News From Home
• The latest episode of The Ticket, a co-production of the Tribune and KUT is out. We asked Republican voters in Iowa and South Carolina what they want to hear when they come to a stump speech. And we interviewed Harry Enten of FiveThirtyEight.com on how early polling affects who makes the GOP debates.
• The Texas oil boom slowed during the 84th legislative session, creating implications for the state's budget. See how lawmakers responded to volatile oil prices, local drilling ordinances and other energy issues this session in the Texas Legislative Guide.
Trib Events for the Calendar
• A Conversation About Texas Monthly's Best and Worst Legislators 2015 on June 18 at The Austin Club
• A Conversation About Health Care and the 84th Legislature on June 24 at UT Health Science Center San Antonio
• A Conversation About Houston and the 84th Legislature on June 29 at George R. Brown Convention Center in Houston
• The Texas Tribune Festival on Oct. 16-18 at the University of Texas at Austin
Quality journalism doesn't come free
Perhaps it goes without saying — but producing quality journalism isn't cheap. At a time when newsroom resources and revenue across the country are declining, The Texas Tribune remains committed to sustaining our mission: creating a more engaged and informed Texas with every story we cover, every event we convene and every newsletter we send. As a nonprofit newsroom, we rely on members to help keep our stories free and our events open to the public. Do you value our journalism? Show us with your support.
Yes, I'll donate today
---
Information about the authors