Texas House Approves Partial Consolidation of Agencies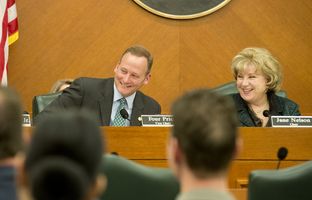 The Texas House has tentatively approved a measure to partially consolidate the state's massive health and human services system.
The House gave the initial go-ahead to Senate Bill 200 by state Sen. Jane Nelson, R-Flower Mound, which would combine three of the state's five health and human services agencies — the Health and Human Services Commission, the Department of Aging and Disability Services, and the Department of Assistive and Rehabilitative Services — into one "mega-agency."
A recommendation to also consolidate the two other agencies — the Department of State Health Services and the Department of Family and Protective Services — would be left to lawmakers to consider next session.
The proposal takes a more "graduated approach" to restructuring the agencies, said state Rep. Four Price, R-Amarillo, who added that the current agency structure was inefficient. The bill picked up some noncontroversial amendments, including one that would direct the agency to study chronic respiratory diseases in Texas. But amendments affecting abortion access and end-of-life care that some conservative lawmakers had filed early never came up for debate.
The Senate passed the bill earlier in the session. Upon final approval in the House, it will head back to the Senate to hammer out the differences.
Some concerns about the new agency structure remain. Advocacy groups for children and the poor have criticized the consolidation plan, saying services for the state's needy could fall through the cracks in the restructuring process.
The bill has gone through several rounds of changes since it was filed this year — a chain of events that began last year when the Sunset Advisory Commission, which periodically reviews state agencies, recommended that all five agencies be consolidated in the hopes of making them more efficient.
But as scandal developed at the health commission over how the agency had awarded a $20 million contract to a private vendor, lawmakers slowed down their approach to the ambitious recommendations.
Price said lawmakers decided to tap the brakes on agency consolidation after two reports published this year — one commissioned by Gov. Greg Abbott, and the other by the state auditor's office — found that the Health and Human Services Commission's management had made serious missteps in its handling of a private contract for fraud detection software.
"It is now more clear than ever that the Texas Health and Human Services Commission has been riddled with operational, managerial, structural and procedural problems that go far beyond any individual or contract," Abbott said in a statement at the time. "That is unacceptable."
The five agencies within the HHSC system have about 54,000 employees and an annual budget of about $34.5 billion, according to the Sunset Advisory Commission.
This story was produced in partnership with Kaiser Health News, an editorially independent program of the Henry J. Kaiser Family Foundation, a nonprofit, nonpartisan health policy research and communication organization not affiliated with Kaiser Permanente.