Cruz, Perry Deliver Fiery Appeals to Jewish Donors
The two White House hopefuls from Texas made fiery appeals Saturday to a well-heeled crowd at the Republican Jewish Coalition's annual meeting in Las Vegas.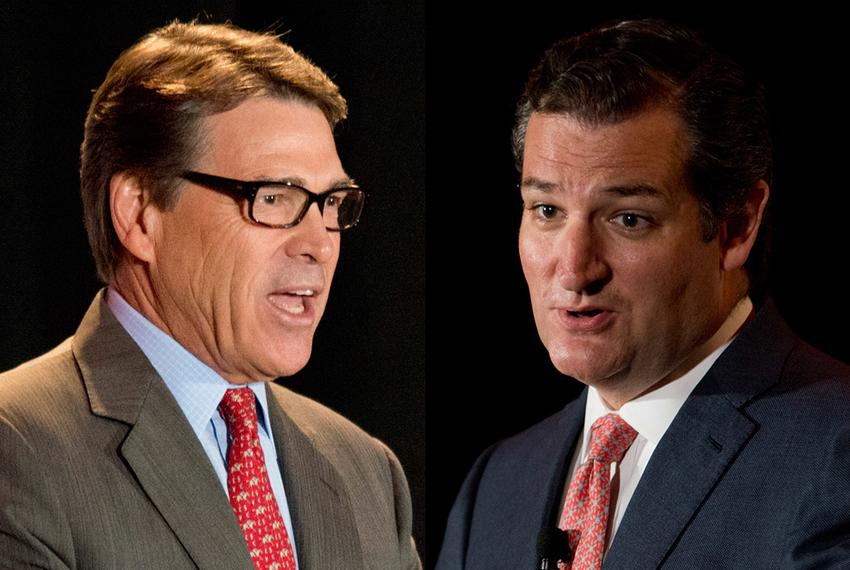 LAS VEGAS, Nev. — U.S. Sen. Ted Cruz and former Gov. Rick Perry, looking to shore up support among some of the country's most well-connected Jewish Republicans, lit up a ballroom here Saturday with fiery denouncements of President Obama's foreign policy toward Israel and their own promises to put America back on sound footing with its ally.
Speaking at the Republican Jewish Coalition's annual meeting here, the two White House hopefuls from Texas vied for the hearts — and wallets — of an audience anxious for a president who could reverse what it sees as a bottoming out of the U.S.-Israel relationship. Big applause lines and standing ovations came easy to both Texans, though Cruz seemed to walk away with the most enthusiastic response in one of the more direct recent opportunities to compare the two presidential pitches.
Cruz appeared to connect with the crowd when he sought to personalize his commitment to a strong Israel-U.S. relationship, bringing up his immigrant father, who fled imprisonment and torture in Cuba.
"One of the tremendous things about the Jewish people — in America and Israel we share that experience of a nation that was formed in the aftermath of the Holocaust to have a place ... for the Jewish people, that there would always be a homeland, that 'never again' would mean never again," Cruz said, drawing a long, loud standing ovation. "This is real and this is personal."
Cruz also ran through several examples of his support for Israel in Congress, stressing the bipartisan cooperation they took and unanimous or near-unanimous votes to which they led. He specifically mentioned his legislation to bar Iran's ambassador to the United States from entering America and his call for Secretary of State John Kerry to resign following his use of the term "apartheid state" while discussing Israeli-Palestinian relations.
Perry, meanwhile, discussed what he would do as president to rescue what he described as the United States' flagging relationship with Israel, often putting his proposals in the context of a worldwide fight against anti-Semitism. He advocated moving the American embassy from Tel Aviv to west Jerusalem and pushed for more construction of Israeli settlements in the West Bank. And he said the next president should send defense systems to Poland, one of Israel's top allies in Europe, along with a combat brigade.
In his most animated moment, Perry took aim at student groups that have been pushing colleges to divest from corporations that deal with Israel, attacking by name Students for Justice in Palestine.
"They're masquerading as proponents of social justice when they exist — I will suggest to you, solely — to foment hostility toward Israel and to shut down free debate," Perry said, leaping out from behind the podium as the rest of his remarks on the topic were drowned out by applause.
Both Texans tore into Obama's emerging deal with Iran to curb its nuclear ambitions. Cruz brought the audience to its feet for vowing to do "everything humanly possibly to stop a bad Iran deal," while Perry riled the crowd with a declaration of distrust in Tehran.
"How in the hell are we supposed to trust Iran on a nuclear deal when they're sending weapons to the Houthis?" Perry nearly shouted, referring to the rebels in Yemen.
Cruz had his own question, posing it as one that will be central to the 2016 presidential election.
"Which candidate as commander-in-chief would be willing to act decisively to ensure that under no circumstances — ever — does Iran acquire nuclear weapons?" Cruz asked.
Just as much as it gave them a forum to expand their views on issues dear to Jewish Republicans, the conference provided Cruz and Perry each a platform to make the case that he is a worthwhile investment in 2016 for the well-heeled RJC crowd. The audience included a number of GOP mega-donors including Sheldon Adelson, the billionaire casino magnate who along with his wife plowed nearly $100 million into the 2012 presidential race.
Cruz seized the opportunity, boasting of the fundraising prowess he has demonstrated since becoming the first major candidate to declare a 2016 presidential run. He noted his campaign raised over $4 million in its first week — "more money in the opening week than any Republican candidate for president has raised in modern times." And he shouted out the network of super PACs supporting him, which claim to have raised more than $31 million in their first week — "more money than any super PAC, Democrat or Republican, has raised in the opening week in the history of politics."
Perry, who is still considering a 2016 campaign and plans to make an announcement in late May or early June, is no stranger to the RJC, having visited Israel on trips organized by the group.
Cruz and Perry spoke Saturday morning during the only part of the three-day conference open to reporters. Indiana Gov. Mike Pence and U.S. Sen. Rob Portman, R-Ohio, also delivered speeches during the segment. U.S. House Speaker John Boehner and former President George W. Bush were set to privately address the group later Saturday.
Speaking back to back, Cruz and Perry gave the RJC crowd a prime opportunity to see how they stack up in a setting that demanded more than a standard stump speech.
"Both have done their homework and both are very sincere, very real, in how they were connecting with voters," said Bill Kleinman, a Dallas attorney at the conference.
Speaking with reporters before the speeches, Norm Coleman — a former Minnesota senator who sits on the RJC board — said Jewish Republicans have a history of zeroing in on the most electable presidential candidate. Cruz, who's faced questions about how he can build a winning coalition given his uncompromising style, is definitely in contention, Coleman said.
"This is not a make or break for Ted Cruz. He's already got a lot of friends here," Coleman said. "I'm not a Cruz guy, but this is a very good crowd for Ted Cruz, and I think he's going to do real well."
Your New Year's resolution list isn't complete without …
… supporting the Tribune. This new year, resolve to do your part to sustain trusted journalism in Texas. Join thousands of readers who power The Texas Tribune's nonprofit newsroom.
Donate now