The Brief: April 24, 2015
The House and Senate made some gestures of goodwill on Thursday designed to lower the tensions that had developed between the chambers this week.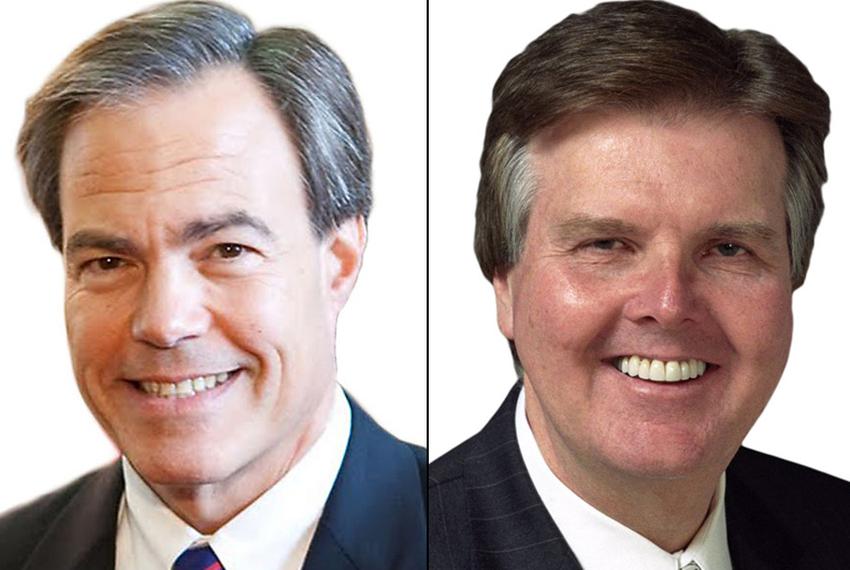 The Big Conversation
The House and Senate made some gestures of goodwill on Thursday designed to lower the tensions that had developed between the chambers this week.
The Austin American-Statesman's Chuck Lindell wrote, "Lt. Gov. Dan Patrick made the first gesture, shortly before the Senate adjourned for the weekend, when he referred almost 40 House-passed bills to Senate committees, more than double the number of referred bills to date. House Speaker Joe Straus, delayed by a heftier agenda, later sent 14 Senate-passed bills to committees, the first step in the process toward a floor vote."
Lindell noted that one of the bills referred to committee in the Senate was HB 4, the pre-K bill that became a bone of contention when a grassroots advisory panel created by Patrick used incendiary language about pre-K instruction in opposing the legislation.
Patrick, meanwhile, told the Houston Chronicle's Mike Ward that efforts to warm the relations between the chambers have reduced the odds of a special session because of an impasse to "20 percent or less."
He added, "I think we are close to agreement on most of the important issues. I'm confident we're going to pass a lot of their bills and they're going to pass a lot of ours."
Trib Must-Reads
Heated Debate Surrounds Push for Deep Fryers in Schools, by Eva Hershaw — Agriculture Commissioner Sid Miller is looking to buck a decade-old statewide ban on deep fat fryers in public schools, putting decision-making about food in schools back in the hands of Texas school districts.
Analysis: Tax Cuts an Easy Way to Grade Lawmakers' Work, by Ross Ramsey — The Texas Legislature has fewer than six weeks left in this session and thousands of bills to consider. But you can get a pretty good feel for how things are going by watching their efforts to cut taxes.
State Health Tests Prodded Blue Bell Recall, by Terri Langford — Shortly after lab tests on two Blue Bell ice cream flavors — Mint Chocolate Chip and Chocolate Chip Cookie Dough — came back "presumptive positive" for listeria, Kathy Perkins, an assistant commissioner at the state health agency, reached for the phone to call Brenham.
Health Agency Bill Pulled Amid Heated Abortion Debate, by Edgar Walters and Alexa Ura — Debate on legislation to re-evaluate a state health agency morphed into a fight over abortion in the Texas House on Thursday, and the bill was pulled down after a pair of anti-abortion amendments were added to the bill over the author's objections.
Grassroots Panel Creates Political Drama for Patrick, by Patrick Svitek — The panel of conservative activists that is advising Lt. Gov. Dan Patrick is putting him in a tricky spot as he navigates leadership politics under the dome.
Senate Approves Body Camera Legislation, by Eva Hershaw — Local law enforcement agencies could apply for grants to equip their officers with body cameras and could also come up with guidelines for the equipment under legislation that the Senate approved Thursday.
House Approves Protections for Breast-Feeding Moms, by Alexa Ura — The Texas House on Thursday gave preliminary approval to a measure that would require public employers to provide accommodations for mothers who need to pump breast milk while at work.
Senate Announces Budget Negotiation Team, by Eva Hershaw — Lt. Gov. Dan Patrick has named the Senate lineup of budget negotiators who will meet with House counterparts and hash out a final version of the two-year state budget.
Republicans Set Sights on Minors Seeking Abortions, by Alexa Ura — Two years after imposing stringent abortion restrictions, Republican lawmakers have set their sights on changing a legal process that allows some minors to obtain abortions without their parents' permission.
The Day Ahead
• Tribune CEO and Editor-in-Chief Evan Smith will moderate a panel discussion on energy policy in Texas over the next five years. Panelists are Bruce Bullock, director of the SMU Maguire Energy Institute; state Rep. Drew Darby, R-San Angelo, chairman of the House Energy Resources Committee; Amb. Tony Garza, counsel to the Mexico City office of White & Case and former chairman of the Texas Railroad Commission; and state Rep. Morgan Meyer, R-Dallas, member of the House Energy Resources Committee. The noon event will take place at SMU in Dallas and it will be livestreamed for those unable to attend in person.
Elsewhere
Texas policymakers unconvinced as scientists link quakes to drilling, Austin American-Statesman
Study: 40% of tax cut benefit would go to highest-paid fifth of Texans, The Dallas Morning News
Bill to reform troubled sex offender program passes Senate, Houston Chronicle
Firefighters vote no mayoral endorsement, San Antonio Express-News
'Low and slow' good for BBQ and politics, Austin American-Statesman
Secret Service faulted for security at Bush home in Houston, Houston Chronicle
Cruz blasts GOP senators for caving on Lynch nomination, skips vote, The Dallas Morning News
At New York Reception, Ted Cruz Is Said to Strike Different Tone Toward Gays, The New York Times
Quote to Note
"I don't think there is any way he could have studied the issue or he never would have done this. I am actually baffled and sorry that Commissioner Miller did what was not good for kids. If you give children bad choices, they will make them."
— Former Agriculture Commissioner Susan Combs on the decision of the current holder of that office, Sid Miller, to move toward overturning bans that she implemented on deep fat fryers and soda machines in schools
Today in TribTalk
The historical case for changing a Confederate holiday, by Richard Parker — He may be only 13 years old, but Jacob Hale — who is leading the charge to change the name of Confederate Heroes Day in Texas to Civil War Remembrance Day — is right. History tells us why.
Trib Events for the Calendar
• A Conversation With Rep. Sylvester Turner on April 30 at The Austin Club
• A Conversation With HUD Secretary Julián Castro on May 1 at The Austin Club
• A One-Day Symposium on Health Care on May 4 at Huston-Tillotson University in Austin
• A Conversation With John Sharp on May 7 at The Austin Club
• A Conversation About Texas Monthly's Best and Worst Legislators 2015 on June 18 at The Austin Club
Texans need truth. Help us report it.
Independent Texas reporting needs your support. The Texas Tribune delivers fact-based journalism for Texans, by Texans — and our community of members, the readers who donate, make our work possible. Help us bring you and millions of others in-depth news and information. Will you support our nonprofit newsroom with a donation of any amount?
Yes, I'll donate today
---
Information about the authors
Explore related story topics