The Brief: April 23, 2015
The word of the day on Wednesday was tension, which infected the traditional weekly breakfast work meeting held by the state's top three leaders and later manifested itself on the House floor as members selected their budget negotiators.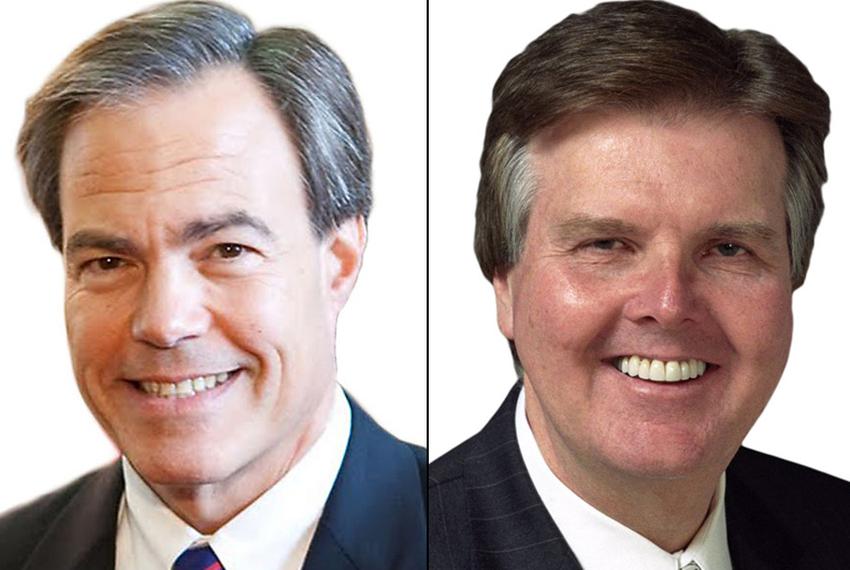 The Big Conversation
The word of the day on Wednesday was tension, which infected the traditional weekly breakfast meeting held by the state's top three leaders and later manifested itself on the House floor as members selected their budget negotiators.
First to the spoiled breakfast. There's plenty of rising resentment between the House and Senate, with the members of each chamber growing increasingly dissatisfied with how their bills are being treated by their counterparts on the other side of the building.
But, as the Tribune's Patrick Svitek and Ross Ramsey wrote, a prime catalyst to the airing of grievances Wednesday was criticism by an advisory group named by Lt. Gov. Dan Patrick of funding for "high quality" pre-K instruction pushed by House Speaker Joe Straus and Gov. Greg Abbott.
Abbott was "piqued" by the criticism. One source familiar with what happened at the breakfast meeting told Svitek and Ramsey, "I will say this for anyone who's been wondering where Abbott has been. He arrived today."
Several hours later, the House adopted nonbinding instructions for its budget negotiators taking discussion of tax cuts off the table. The reason given by House leaders was that discussion of tax cut packages will happen soon but separately from the budget.
But the move was also seen as a sharp elbow thrown in the direction of the Senate, which is tying its tax cut proposal directly into the budget. The Dallas Morning News' Bob Garrett wrote, "Top Straus lieutenants suggested the Senate jumped the gun in passing tax cuts first. They noted that under the state constitution, tax bills must originate in the House."
That in turn drew the ire of Tea Party-aligned House members who said they favored the Senate's property tax-oriented approach to tax relief. Heated exchanges followed, but in the end, only four members opposed the House's instructions to leave tax cuts alone during budget negotiations.
Trib Must-Reads
To What Degree Should Regents Get Involved?, by Matthew Watkins — Texas law isn't specific about how public university system regents should do their jobs. So regents are largely left to interpret their roles themselves. With some taking a more hands-on approach, debate has grown about the role of regents.
Austin Nonprofit Crowdfunding Power to the People, by Jim Malewitz — Trying to create a "new direction in the energy sector," a computer scientist in Austin is using crowdfunding to help low-income Texans pay their electricity bills.
Two Powerful Incumbents Already Have 2016 Foes, by Patrick Svitek — Reps. Charlie Geren and Jim Keffer, once among the vanguard as Republicans took control of the House, already have challengers who will try to outflank them to the right in 2016.
Straus Taps House Team for Budget Negotiations, by Ryan McCrimmon — Texas House Speaker Joe Straus Wednesday named his five-member team to craft a final budget for the next two years, and House members urged the team not to focus on tax cuts — a contentious issue between the House and Senate.
Committee Approves Bill Targeting Same-Sex Marriage, by Bobby Blanchard — The House State Affairs Committee has passed a measure that forbids the use of state or local funds for issuing same-sex marriage licenses.
Bush Speech Marks First 100 Days in Office, by Patrick Svitek — Land Commissioner George P. Bush used a speech Wednesday to mark his first 100 days in office.
Senate Committee Backs Hazlewood Program Changes, by Matthew Watkins — Amid concerns raised about the rising costs of a college tuition program for military veterans, a Texas Senate panel on Wednesday backed a plan that would tighten eligibility rules.
Collin County DA's Replacements Picked in Paxton Probe, by Patrick Svitek and Terri Langford — Two Houston attorneys have been appointed to replace Collin District Attorney Greg Willis as the Texas Rangers look into his friend and business partner Attorney General Ken Paxton.
The Day Ahead
• The House convenes at 10 a.m.; the Senate convenes at 11 a.m.
Elsewhere
Uber bill tweaked to allow cities to fingerprint drivers, San Antonio Express-News
Bid to boost Texas transportation funding gains momentum in House, The Dallas Morning News
Senate votes to bar Texas cities from using red-light cameras, The Dallas Morning News
New waiver to provide opportunity to expand health coverage, 2 lawmakers say, Houston Chronicle
Appraisal-reform advocates: something is better than nothing, Austin American-Statesman
Cornyn Redefines His Role as Senate GOP Whip, Roll Call
Opponents of Gay Marriage Ponder Strategy as Issue Reaches Supreme Court, The New York Times
Rodney Reed Case: Murder in the Lost Pines, KXAN-TV
Quote to Note
"If he got his feelings hurt, then maybe his skin's a little too thin."
— House Administration Chairman Charlie Geren, R-Fort Worth, to the Tribune on Lt. Gov. Dan Patrick taking umbrage at a run-in between the two men before a rocky Wednesday breakfast meeting of the state's top three leaders
Today in TribTalk
Honor our veterans by fixing tuition program, by William McRaven and John Sharp — As chancellors of the two largest higher education systems in Texas, we're strongly committed to maintaining tuition benefits for veterans. But the current system is unsustainable.
Trib Events for the Calendar
• Energy: The Next Five Years on April 24 at SMU in Dallas
• A Conversation With Rep. Sylvester Turner on April 30 at The Austin Club
• A Conversation With HUD Secretary Julián Castro on May 1 at The Austin Club
• A One-Day Symposium on Health Care on May 4 at Huston-Tillotson University in Austin
• A Conversation With John Sharp on May 7 at The Austin Club
• A Conversation About Texas Monthly's Best and Worst Legislators 2015 on June 18 at The Austin Club
Texans need truth. Help us report it.
Independent Texas reporting needs your support. The Texas Tribune delivers fact-based journalism for Texans, by Texans — and our community of members, the readers who donate, make our work possible. Help us bring you and millions of others in-depth news and information. Will you support our nonprofit newsroom with a donation of any amount?
Yes, I'll donate today
---
Information about the authors
Explore related story topics