The Brief: March 31, 2015
A busy day is on tap as the state's two-year budget comes up for debate on the floor of the Texas House and a special election takes place to fill the last vacancy in that chamber.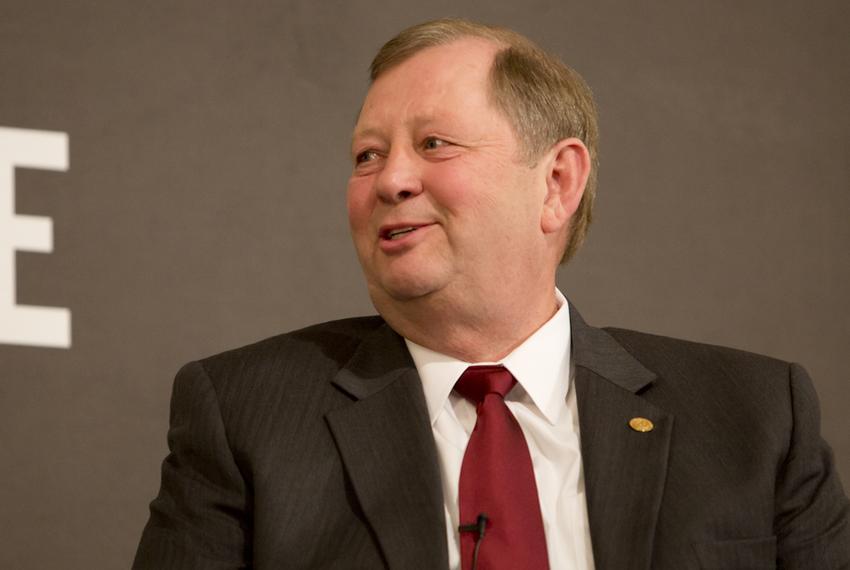 The Big Conversation
A busy day is on tap as the state's two-year budget comes up for debate on the floor of the Texas House and a special election takes place to fill the last vacancy in that chamber in the Bexar County-based House District 124.
The Tribune's Aman Batheja writes, "House members filed 354 amendments to House Bill 1 ahead of the debate, which traditionally makes for one of the legislative session's longest days for the House. Although state law prevents legislators from making law in the budget, changing the funding for state programs can effectively shift state policy on a host of issues. Such moves can also allow lawmakers to spotlight an issue."
One of the House's Tea Party champions, state Rep. Jonathan Stickland, told The Dallas Morning News' Bob Garrett that he and others would push amendments that would show frustration at not having their legislation advance. "It'll be a bloody day on the House floor," he said.
And in San Antonio, the attention is on who will emerge from a four-Democrat field to either win the open House District 124 seat or advance to a runoff.
The Tribune's Patrick Svitek writes, "A single front-runner has not emerged in the abbreviated race, which Gov. Greg Abbott scheduled a few weeks ago. The low-key contest is expected to go to a runoff between the two highest vote-getters."
Trib Must-Reads
Legislation Aims to Boost Electricity Conservation, by Jim Malewitz — Some state lawmakers are trying to cut Texas' energy use by encouraging demand response – programs under which utilities reward customers for powering down electricity guzzlers when demand peaks.
Lawmaker Questions What DPS is Achieving on Border, by Julián Aguilar — Before it commits millions of dollars more to keep state troopers on the border, lawmakers need to know what DPS has accomplished during the border surge, a border legislator said Monday.
Senate Passes A-F Grading System for Schools, by Bobby Blanchard — Public schools in Texas would begin receiving grades on an A-through-F scale to reflect their performance under a bill that won preliminary approval in the state Senate on Monday. The grading would begin in the 2017-18 school year.
House Committee Passes Compromise on Drilling Rules, by Jim Malewitz — A House committee on Monday approved legislation that would limit local control over oil and gas activities — a committee substitute for a bill that initially stirred anger in city halls across Texas.
Lobbyist-Politicians Targeted in Ethics Bill, by Jay Root — Elected officials who lobby the Texas Legislature would have to give up one of their gigs under an ethics reform bill considered during a public hearing Monday.
Powdered Alcohol Ban Sent to Full House, by Ryan McCrimmon — Texas has joined a growing number of states moving quickly to outlaw powdered alcohol, a new product that health officials say could make it easier for minors to conceal and consume alcohol.
House Democrats Target Alternatives to Abortion Program, by Alexa Ura and Edgar Walters — As the Texas House prepares for a floor fight Tuesday over its budget, a flurry of amendments filed by Democrats seeks to defund the state's Alternatives to Abortion program.
Lawmaker Wants Eye on Discrimination at Universities, by Bobby Blanchard — A budget amendment from San Antonio state Rep. Trey Martinez Fischer will seek better accounting of discrimination complaints at universities, specifically cases involving fraternities and sororities.
Texas House Set to Make Anti-Voucher Play, by Morgan Smith — Lawmakers in the Texas House will have a chance to draw a line in the sand over private school vouchers during the upcoming battle over the budget Tuesday.
Health Commission Should Not Consolidate, Report Says, by Terri Langford — Leadership problems at the Texas Health and Human Services Commission in the wake of a contracting scandal leave the agency too vulnerable to consolidate at this time, according to a report released Monday by Gov. Greg Abbott's "strike force" team.
The Day Ahead
• The House convenes at 10 a.m.; the Senate convenes at 11 a.m. The House is scheduled to take up HB 1, aka the budget, at noon. We will carry the livestream of the floor action, which is expected to last most of the day, night and possibly into the morning.
• Senate Business & Commerce meets at 8 a.m. Among the bills up for consideration are two — SB 302 by Juan "Chuy" Hinojosa, D-McAllen, and SB 900 by Larry Taylor, R-Friendswood — dealing with the Texas Windstorm Insurance Association, the state's windstorm insurer of last resort (E1.016).
• Senate Criminal Justice meets at 1:30 p.m. One of the bills up for consideration is Chairman John Whitmire's SB 106, which attempts to address issues that cause schoolchildren to miss school and also to make it less likely that truancy would cause schoolchildren to end up in the criminal justice system (E1.016).
• Today is the special election to fill the vacant Bexar County-based House District 124. Four Democrats are in the running with the top two advancing to a runoff if no one gets a majority of the vote in the first round.
Elsewhere
After scathing report, will Kyle Janek keep his job?, Austin American-Statesman
Public Integrity Unit bill stalls in Senate, Austin American-Statesman
Group to re-file complaint against Paxton in home county, Houston Chronicle
Texas manufacturing takes a hit from low oil prices, The Dallas Morning News
Texas looks to further invest in Rainy Day Fund, Abilene Reporter News
BP says spill fine could bust its U.S. oil business, Houston Chronicle
Pharmacists' group discourages providing execution drugs, The Associated Press
Republicans' Stealth Plan to Delete Gay Marriage from the Party's 2016 Platform, National Journal
The Best Plan Yet to Save Houston's Astrodome, The Atlantic
Quote to Note
"I happen to count loyalty as one of the great traits that all too often in this business, you don't see."
— Former Gov. Rick Perry, defending in a Sunday conference call hosted by the Tea Party Patriots his decision to back then Lt. Gov. David Dewhurst in the 2012 Senate race ultimately won by Ted Cruz
Today in TribTalk
Let more community colleges offer four-year degrees, by Rodney Ellis and Sarah Davis — Texas' colleges and universities will continue to produce the majority of baccalaureate degree recipients in our state. But we still have real workforce needs that are not being met — needs that will require us to find all alternative pathways to build and maintain a skilled, educated workforce.
News From Home
With the full Texas House set to discuss its proposed budget plan on Tuesday, use our Texas Legislative Guide to catch up on our coverage of issues related to the budget and taxes.
Trib Events for the Calendar
• A Conversation With Sen. Robert Nichols and Rep. Joe Pickett on April 7 at The Austin Club
• Transportation: The Next Five Years on April 10 at Austin College in Sherman
• A Conversation With Sen. Kel Seliger and Rep. John Zerwas on April 16 at The Austin Club
---
Information about the authors
Quality journalism doesn't come free
Perhaps it goes without saying — but producing quality journalism isn't cheap. At a time when newsroom resources and revenue across the country are declining, The Texas Tribune remains committed to sustaining our mission: creating a more engaged and informed Texas with every story we cover, every event we convene and every newsletter we send. As a nonprofit newsroom, we rely on members to help keep our stories free and our events open to the public. Do you value our journalism? Show us with your support.
Yes, I'll donate today