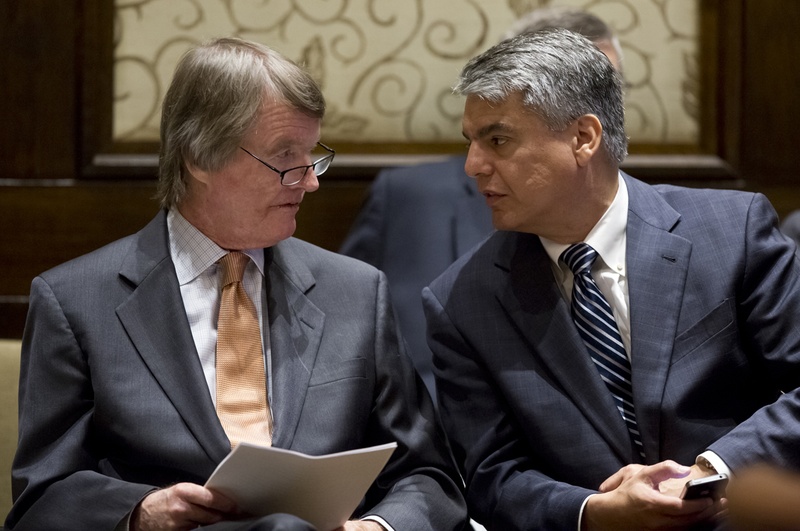 *Editor's note: This story has been updated throughout.
The University of Texas System Board of Regents on Friday named University of Texas at Austin provost Gregory Fenves the sole finalist for the flagship's presidency.
After meeting in executive session Friday morning, the regents reconvened in open session and voted 5-3 to name Fenves the finalist. Regents Wallace Hall, Alex Cranberg and Brenda Pejovich voted against Fenves. There is a 21-day waiting period before Fenves can be officially hired.
In a statement released after the vote, Fenves said he was humbled and excited.
The Texas Tribune thanks its sponsors. Become one.
"UT Austin is unmatched in its potential to educate and inspire leaders," Fenves said. "I would be honored to lead this university and work with the Chancellor, Board of Regents and all Longhorns and partners across Texas and the nation."
Fenves wouldn't comment further until the system officially appointed him the next president, a UT-Austin spokesman said.
UT System Chancellor Bill McRaven said Fenves was the right choice for the university.
"We had an extremely impressive slate of candidates to consider, and I believe we've made the right choice for UT Austin, its students, faculty and staff," McRaven said in a statement. "Greg brings a formidable intellect and charismatic and strategic leadership to the position."
Fenves, 58, will replace outgoing UT-Austin President Bill Powers, who is widely respected on campus and among UT alumni but has been a thorn in the side for system leadership and certain regents. Until last week, Fenves wasn't the front-runner for the job; Oxford Vice Chancellor Andrew Hamilton was, but he accepted the New York University presidency instead.
Powers praised the decision in a statement Friday, saying that Fenves had been "an exemplary provost."
The Texas Tribune thanks its sponsors. Become one.
Because of Fenves' close ties with Powers and Powers' rocky relationship with the board, a few regents opposed his candidacy. But the nine-member board only needed a simple majority to name Fenves the sole finalist.
Outside of Fenves, UT-Dallas President David Daniel was the only other candidate left on the regents' initial short list. Before Hamilton took the NYU job, Joseph Steinmetz, executive vice president and provost at Ohio State University, also withdrew from consideration.
Before becoming UT-Austin's executive vice president and provost in 2013, Fenves was the school's dean of engineering, where he raised millions of dollars for the university. Fenves also served as the chairman of the department of civil and environmental engineering at the University of California, Berkeley.
Disclosure: The University of Texas at Austin is a corporate sponsor of The Texas Tribune. A complete list of Tribune donors and sponsors can be viewed here.