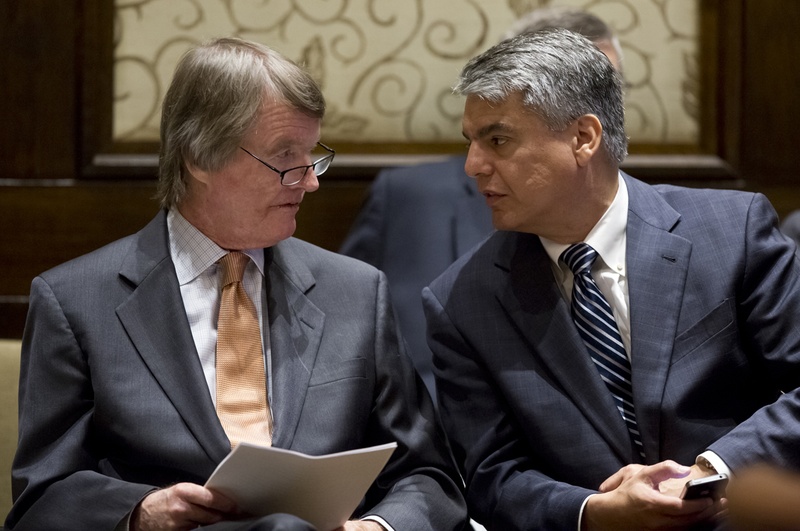 Barring any unexpected developments, Gregory Fenves will be named the next president of the University of Texas at Austin when the UT System Board of Regents meets on Friday.
The regents are scheduled to meet at 8:30 a.m. behind closed doors to discuss the search. Two sources close to the search confirmed to The Texas Tribune that the regents will likely name Fenves, currently the provost at UT-Austin, as the sole finalist to replace Bill Powers.

Several regents are known to oppose Fenves because as provost he has worked closely with Powers, whose relationship with some regents has been rocky at times. The nine-member board needs a simple majority — or just five votes — to name Fenves the sole finalist.
Two weeks ago, the Texas Senate confirmed two new regents and reappointed an old regent to the board — tipping the scale more strongly in Fenves' favor.
The Texas Tribune thanks its sponsors. Become one.
Only two candidates remain in the running. The other is UT-Dallas President David Daniel, but sources close to the search have said he is no longer being seriously considered.
Two other top candidates dropped out, which left Fenves as the leading candidate. Oxford Vice Chancellor Andrew Hamilton was the front-runner for the position until last week, when he accepted the presidency at New York University. Before that, Joseph Steinmetz, executive vice president and provost at Ohio State University, withdrew his candidacy after his name appeared publicly on a short list leaked to the news media.
Before he became executive vice president and provost in 2013, Fenves was UT-Austin's dean of engineering, a position he had held since 2008. As dean, Fenves helped raise millions of dollars for the university. Fenves also served as chairman of the department of civil and environmental engineering at the University of California, Berkeley.
Disclosure: The University of Texas at Austin is a corporate sponsor of The Texas Tribune. A complete list of Tribune donors and sponsors can be viewed here.