The Brief: March 10, 2015
Legislation intended to stop some government officials from collecting retirement benefits before leaving office appears to have a better prognosis the second time around.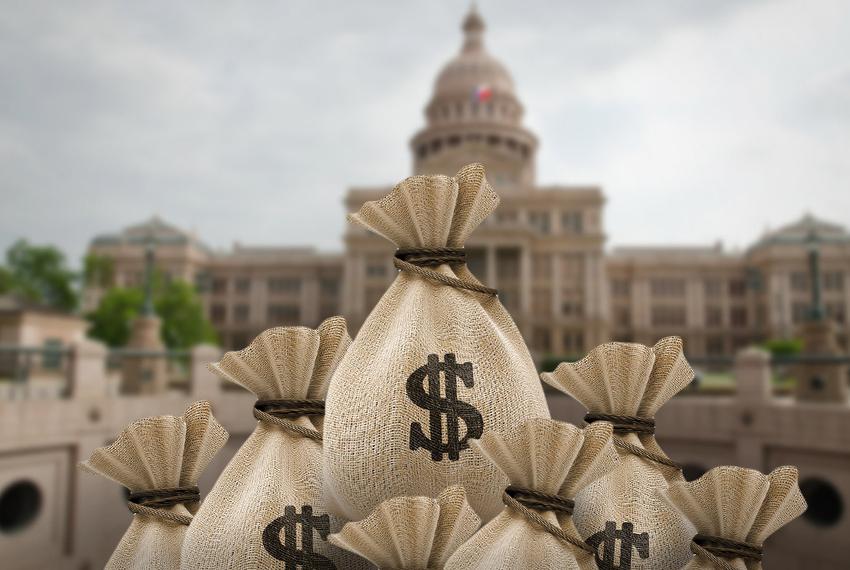 The Big Conversation
Legislation intended to stop some government officials from collecting retirement benefits before leaving office appears to have a better prognosis the second time around.
The Tribune's Jay Root reported that the legislation intended to prevent so-called "double dipping" was laid out in committee on Monday:
Rep. Chris Turner, D-Grand Prairie, laid out his bill to ban the controversial practice — called double-dipping — in the House Pensions Committee on Monday. That gives House Bill 408 plenty of time to reach the floor and potentially make it into state law. Two years ago the bill died in committee late in the legislative session.

...

The Texas Conservative Coalition, a group of conservative Texas lawmakers, backed the bill Monday, and (Rick) Perry's successor, Gov. Greg Abbott, has already said he supports doing away with the unusual benefit. Members from both parties have signed on to Turner's bill, among them Rep. John Otto, R-Dayton, chairman of the powerful House Appropriations Committee.
Root wrote that the number of elected officials affected by the bill would be small because only those who have been in office for many years could take advantage of the double-dip provision. The most recent high-profile example of someone who did that was Perry.
"Voters only learned about Perry's pension arrangement after he was required to list the payments on his federal disclosure forms while he was running for president in 2011," Root wrote. "At the time, Perry was making a $150,000 annual salary as governor and $92,000 a year in pension benefits."
The Day Ahead
• The House convenes at 10 a.m.; the Senate convenes at 11 a.m.
• House budget subcommittees on Article II (JHR 131) and Article III (E1.030) meet at 8 a.m.
• House Public Education meets at 2 p.m. or on final adjournment to take up a half-dozen bills related to pre-K education, including HB 4 by Dan Huberty, R-Houston (E2.036).
• Senate Business & Commerce meets at 9 a.m. One of the bills up for consideration is SB 267 by Charles Perry, R-Lubbock, aimed at an Austin ordinance that would prevent landlords from refusing federal housing vouchers as payment (E1.016).
• Candidates wishing to run in the HD-124 special election have until 5 p.m. to file.
• Beginning at 8:30 a.m., the Tribune will host several panel discussions on Texas water issues. Topics of discussion will include life after Proposition 6, the battle over groundwater, strategies for conservation and the poor quality of water along the Texas-Mexico border. The event will take place at Texas State University in San Marcos and will be livestreamed for those unable to attend in person.
Trib Must-Reads
A Colonia Built on Broken Promises of Clean Water, by Alexa Ura and Neena Satija
House Public Ed Committee to Consider Pre-K Bills, by Ryan McCrimmon
Endangered Species Expert Heads to Comptroller's Office, by Neena Satija
A&M Hopes to Add Department of Forensic Nursing, by Bobby Blanchard
Texas Takes Aim at Crude Oil Export Ban, by Jim Malewitz
UT Regents Have Hurdles to Jump to Hire Hamilton, by Bobby Blanchard
George P. Bush To Help Raise Cash for Dad's Super PAC, by Patrick Svitek
Sanctuary Cities Bill Hits Bump in Texas Senate, by Julián Aguilar
Elsewhere
As contracts morass widens, Texas lawmakers eye more oversight, Austin American-Statesman
Texas Racing Commissioners won't appeal historical racing ruling, Fort Worth Star-Telegram
Texas comptroller urges lawmakers to shore up depleted college fund, Houston Chronicle
Texas House lawmakers file 'budget transparency' bills, Austin American-Statesman
Texas Sen. Ted Cruz says 1982 ruling on immigrant education wrong, The Dallas Morning News
San Antonio archbishop speaks out against two abortion centers, San Antonio Express-News
Judge orders hearing on allegations in immigration lawsuit, The Associated Press
Dwindling supplies may force Texas to switch execution drugs again, Houston Chronicle
Secede? 'Republic' Claims Texas Never Joined U.S., The New York Times
Fatal shooting by Grapevine police officer leaves Mexican immigrant's widow wondering why, The Dallas Morning News
Quote to Note
"Somebody who let his cow get out in the road has not committed medical malpractice."
— State Rep. Chris Turner, D-Grand Prairie, on his legislation introduced to address a case where wandering cows causing a car crash has turned into a dispute over whether it should be considered a medical malpractice case
Today in TribTalk
What Texans really think about falling oil prices, by Mike Baselice, Jon Hockenyos and Elyse Yates
News From Home
Use our Texas Legislative Guide to stay updated on the issues that lawmakers are debating this legislative session. This week, our featured section is Environment.
Trib Events for the Calendar
• Meet the Mayors: Dallas Mayor Mike Rawlings and Fort Worth Mayor Betsy Price on March 12 at The Austin Club
• A Conversation With UT-Austin Dell Medical School Dean Clay Johnston on March 26 at The Austin Club
Texans need truth. Help us report it.
Our Fall Member Drive is underway, and we need your support. The Texas Tribune is a critical source of truth and information for Texans across the state and beyond — and our community of members, the readers who donate, make our work possible. Will you join as a member with a tax-deductible donation of any amount?
Yes, I'll donate today
---
Information about the authors
Explore related story topics