Perry, Cruz to Face Questions in Iowa Over Fuel Standard Opposition
When they attend the Iowa Ag Summit on Saturday, U.S. Sen. Ted Cruz and former Gov. Rick Perry will almost certainly be asked about their criticism of the Renewable Fuel Standard, an issue that packs a political punch in the Hawkeye State.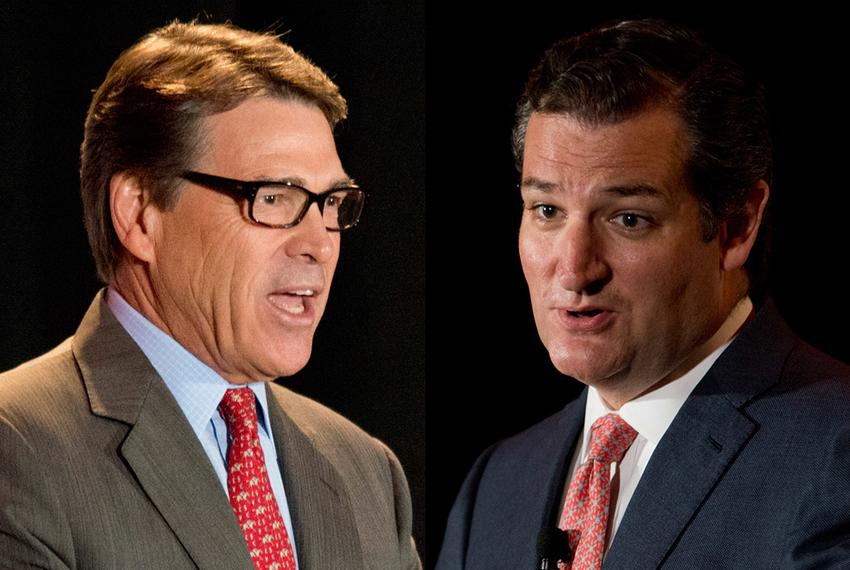 Editor's note: This story has been updated with a comment from a spokeswoman for U.S. Sen. Ted Cruz.
DES MOINES, Iowa — Nearly a dozen potential 2016 presidential candidates are streaming here this weekend for a high-profile forum on the issues near and dear to the Hawkeye State's farm economy. At least two of them — U.S. Sen. Ted Cruz and former Gov. Rick Perry — might have some explaining to do.
That's because the pair of Republicans from oil-rich Texas are heading into Saturday's Iowa Ag Summit as on-the-record critics of the Renewable Fuel Standard, which sets the minimum amount of ethanol and other biofuels that must be included in the gasoline supply. It's an issue that hardly registers nowadays in Texas but packs a political punch in Iowa, where corn is king and voters are eager to leverage their outsized role in the presidential nominating process.
The Renewable Fuel Standard is all but guaranteed to come up Saturday when Cruz and Perry submit themselves to 20-minute Q-and-As with the host of the summit: Bruce Rastetter, a prominent Republican donor, Iowa political kingmaker and RFS cheerleader.
The event comes amid a multimillion-dollar push by RFS advocates to nail down potential presidential candidates on the issue and politely remind them that the two top finishers in the 2012 caucuses — Mitt Romney and Rick Santorum — were both supportive of the RFS.
"For those that have already voiced their opposition ... it's going to be an uphill climb for any candidate not seeing the importance of the RFS to Iowa," said Eric Branstad, a Republican strategist at the helm of one of the main sponsors of the summit, a pro-RFS group called America's Renewable Future.
"They just will not be looked at as viable if they're not in support of the RFS when they come to Iowa. They should be at least saying they're ready to listen and to learn."
Branstad's father is Iowa Gov. Terry Branstad, who in January told reporters that any candidate who opposes the standard would be at a "disadvantage" in the Iowa caucuses, which kick off the 2016 presidential primary season. The Ag Summit, he said, will be an "opportunity for candidates to respond to their views" on the standard.
For Cruz and Perry, those views are well known, especially in a field featuring some Republicans who might be spelling out their RFS stance at length for the first time Saturday. Some likely White House hopefuls who oppose the standard, such as Louisiana Gov. Bobby Jindal, are skipping the summit altogether.
A few years ago, amid a drought that depressed corn production in Texas, Perry unsuccessfully sought a waiver from the federal government to partially excuse the state from the standard. Throughout his 2012 bid for the White House, Perry portrayed the standard as an "onerous regulation" that stifled a level economic playing field.
Cruz is a co-sponsor of legislation that would repeal the standard and has argued the mandate amounts to the government "picking winners and losers." In recent months, he has touted the stance as proof he will stick to his guns if he runs for president and not tailor his positions to appease early-state voters.
Cruz spokeswoman Catherine Frazier said Friday the senator stands by his position on the RFS and specifically supports phasing it out over five years. A Perry spokesman did not respond to a request for comment this week on the standard, though the former governor indicated to an Iowa radio host Friday his stance has not changed.
RFS supporters say Cruz's and Perry's arguments against the RFS ring hollow. The issue is about market access, not government intervention, according to RFS backers, who point out that even some of Iowa's most regulation-averse Republicans have embraced the standard.
"I'll be honest. There's going to be a lot of conservatives here that view that as a fairly hypocritical position," said Monte Shaw, executive director of the Iowa Renewable Fuels Association. "The government has picked a winner," Shaw added, and it is petroleum.
More neutral observers counter that RFS advocates are overstating the present-day political significance of the issue. They point out that ethanol is just one piece of Iowa's energy economy nowadays and no longer the kind of third rail of Republican politics that some believe led John McCain to bypass Iowa during the 2000 presidential primary season.
"Times have changed," said Tim Hagle, a political science professor at the University of Iowa. "It's not the thing that's going to automatically sink a person's campaign."
Still, Iowa Republicans acknowledge the issue has some political charge left in it, if not simply because its supporters are well organized and their cause remains widely popular. Last year, a poll commissioned by the Iowa Biodiesel Board found 77 percent of registered voters in the Hawkeye State supported expanding the standard.
David Johnson, an Iowa state senator who plans to back Perry if he run for president, admitted the former governor could have a tough time navigating the issue at the summit. However, Johnson said Perry enters the summit as arguably the most farm-friendly Republican, a former agriculture commissioner who understands every state has unique economic needs.
"Governor Perry has the dirt underneath his fingernails," Johnson said. "He's a straight shooter, and we'll just see how this comes out, but he has the credentials. He has the agriculture credentials."
Johnson and other caucus watchers said Iowans have no problem if Cruz or Perry shift on the issue — however unlikely it is — as long as they are forthcoming with their views.
Jon Soltz is among the RFS advocates who are hopeful they can change some minds. He chairs VoteVets, a veterans group that is concerned with the United States' dependence on foreign oil. The organization ran a full-page ad in the Des Moines Register last year calling Cruz out for his RFS opposition.
"It's almost like it's a chance for them to reset their position," Soltz said of the summit, "and we're going to be watching."
---
Information about the authors
Quality journalism doesn't come free
Perhaps it goes without saying — but producing quality journalism isn't cheap. At a time when newsroom resources and revenue across the country are declining, The Texas Tribune remains committed to sustaining our mission: creating a more engaged and informed Texas with every story we cover, every event we convene and every newsletter we send. As a nonprofit newsroom, we rely on members to help keep our stories free and our events open to the public. Do you value our journalism? Show us with your support.
Yes, I'll donate today