Perry Lawyers Ask Appeals Court to Dismiss Case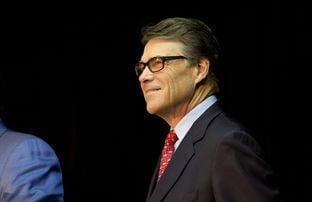 Rick Perry's lawyers have asked a state appeals court to dismiss the indictment against the former governor, saying he lawfully used his power to veto funds to the Travis County district attorney's office and his right to do so is protected by free speech.
"On its face, without the need for any evidence, the indictment must be dismissed because it runs afoul of these constitutional guarantees," the defense team argued in a filing made late Wednesday with the 3rd Court of Appeals in Austin.
The filing, the second part of a two-pronged approached to get the indictment dismissed, is an appeal of a Jan. 27 decision by Judge Bert Richardson that allowed the case to proceed.
On Aug. 15, Perry was indicted on one count of abusing official capacity and one count of illegally coercing a public servant, after the Republican threatened a year earlier to veto funds to the Travis County district attorney's office following District Attorney Rosemary Lehmberg's drunken driving arrest.
The other prong of Perry's lawyers' approach came on Monday, when the defense team filed a request to Richardson to quash prosecutors' amended indictment, which added specificity to the coercion charge.
Defense lawyers Tony Buzbee and David Botsford wrote on Monday that this new "woefully deficient" indictment should be dismissed because it fails to allege a crime was committed when Perry, as governor, vetoed state funds that were to go to the Travis County district attorney's office nearly two years ago.
In their brief before the appeals court, Perry lawyers again zeroed in on the coercion charge and whether Perry's veto threat was allowed under free speech protections guaranteed by the state and U.S. constitutions.
Defense lawyers offer that while some threats that imply physical harm are not protected by the U.S. Constitution, most threats enjoy "broad protection" under the First Amendment.
The defense team warned that if the case is not dismissed, it will have a "a chilling effect" on any governor who may want to veto items in the state's budget, Perry's appeal states.
"At stake is not just the freedom of one man," Perry's attorneys argued.
Perry and his defense team have referred to the indictment as a "criminalization of politics," an attack on the former governor's right to free speech. If faced with the same decision today, Perry has said, he would do nothing different.
"I know my actions were right when faced with a public official's illegal, unethical and embarrassing public behavior," Perry said on Jan. 28, referring to the 2013 drunken driving arrest of Lehmberg, a Democrat.

Disclosure: Tony Buzbee was a major donor to The Texas Tribune in 2012. A complete list of Tribune donors and sponsors can be viewed here.