The Brief: Feb. 6, 2015
Rick Perry had some choice words in an interview Thursday with the Tribune and the Washington Post on what separates him from Ted Cruz.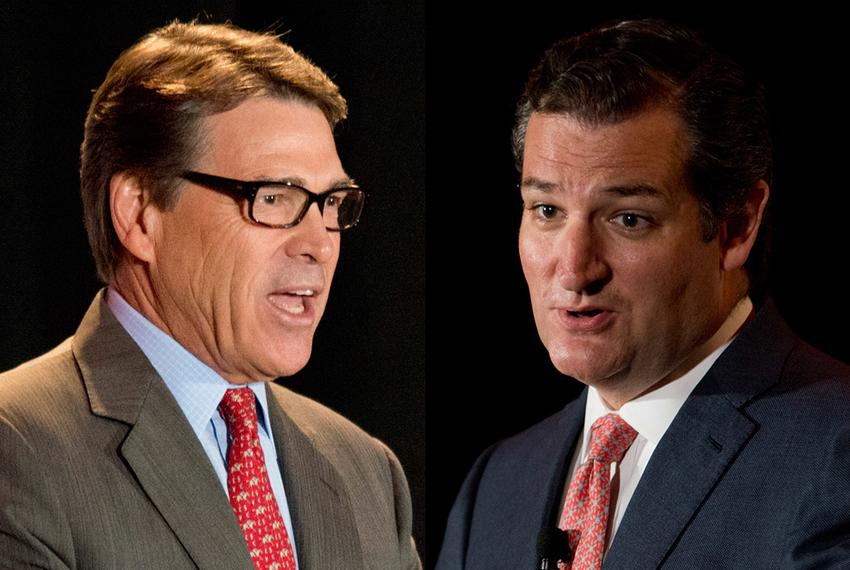 The Big Conversation
Rick Perry had some choice words in an interview Thursday with the Tribune and the Washington Post on what separates him from Ted Cruz. Both men are mulling 2016 presidential bids. The Tribune's Abby Livingston writes:
For any Texans torn between Rick Perry and U.S. Sen. Ted Cruz as likely presidential candidates, the state's former governor argued Thursday that executive experience matters.

...

Asked about what separates him from Cruz, Perry never mentioned his potential rival by name. Instead, he downplayed Senate experience and alluded to the fact that Cruz's tenure in office is the same as then-Sen. Barack Obama's when he ran for president in 2008.

"It's one of the selling points, if you will, to the American people as they decide who's going to follow Barack Obama," he said. "I think they're going to make a rather radical shift, away from a young, untested United States senator whose policies have really failed."
Perry had a few more choice quotes in the interview:
• On whether his ongoing legal problems have hurt him politically: "I can't think of maybe one or two donors in this whole process that's even asked about it. Most people see it for what it is — it's a political prosecution."
• On the current drive to allow the open carry of handguns in Texas: "We license people to drive on our highways. We give them that privilege. The same is true with our concealed handguns ... I don't want the bad guys to know if I'm carrying. I don't want to be the first person shot if something's going down.
• On criticism of economic incentive funds like the Emerging Technology Fund with which Perry has been closely identified: "There's never been a program that has been put in place from my perspective, whether it's my program or whether it was another governor's program, that ought to be in place forever. They'll either stand or fall on their own, and I hope there's a good thoughtful conversation, and if the governor decides he doesn't want to have that tool in his toolbox, that's his call."
Trib Must-Reads
For State's Seismologist, Quakes Will Be the Easy Part, by Jim Malewitz
U.S. Rep. Flores Doesn't See New Post as a Springboard, by Abby Livingston
Analysis: Raising Money for Politics the Indirect Way, by Ross Ramsey
Rick Perry Lands Corporate Board Spot, by Jay Root
In Austin, Huckabee Blasts Perry Indictment, by Jay Root
See Vaccine Exemptions in Texas by School District, by Morgan Smith
Abbott: Open Carry Will Probably Pass, by Ryan McCrimmon
Abbott, Hegar Propose Overhauling Events Fund Subsidies, by Aman Batheja
McRaven: Keep In-State Tuition for Undocumented Students, by Ryan McCrimmon
Elsewhere
No-bid 'emergency' contract could cost $965 million, Houston Chronicle
Texas Senate budget writers are split on employee pension urgency, Austin American-Statesman
Legislators aghast at expanding cost of tuition benefit for vets, Houston Chronicle
A new, more moderate Rick Perry, Politico
RadioShack files for Chapter 11 bankruptcy protection, Fort Worth Star-Telegram
Tale of Disney theme park for North Texas duped investors out of millions, prosecutors allege, The Dallas Morning News
Hackers access records for millions of Anthem customers, The Associated Press
The Secret World of a Well-Paid 'Donor Adviser' in Politics, The New York Times
Quote to Note
"We must articulate what we are for. And in that respect, as we look to 2016, we must remember we are not electing a critic-in-chief, we are electing a commander-in-chief."
— Rick Perry, in a speech Thursday night to the socially conservative group American Principles Project in Washington, D.C.

Today in TribTalk
A budget that works for all Texans, by Eva DeLuna Castro
News From Home
As we follow bills on public ed during the 84th legislative session, we'll keep you updated on legislation addressing educator quality. Stay caught up with our 84th Lege page and subscribe to our Trib+Edu newsletter for more education news.
Trib Events for the Calendar
• Houston & the Legislature: Previewing the 84th Session on Feb. 12 at the Wortham Center in Houston
• A Conversation With State Rep. John Otto, Chairman of the House Appropriations Committee, on Feb. 12 at the Austin Club
• A Conversation With U.S. Rep. Joaquin Castro on Feb. 19 at The Austin Club
• Immigration: The Next Five Years on Feb. 27 at at the University of Texas at Brownsville
• A Conversation With State Sen. Kel Seliger and State Rep. John Zerwas on March 5 at the Austin Club
• Meet the Mayors: Dallas Mayor Mike Rawlings and Fort Worth Mayor Betsy Price on March 12 at The Austin Club
Support public-service journalism that gets the context right
Your donations make our reporting possible and keep it free for all to access. Support our nonprofit newsroom by May 11, and your gift will help us unlock $25,000 in matching funds from our partners at Tito's Handmade Vodka, the Bernard & Audre Rapoport Foundation and the Suzanne Deal Booth Charitable Trust.
Yes, I'll donate today