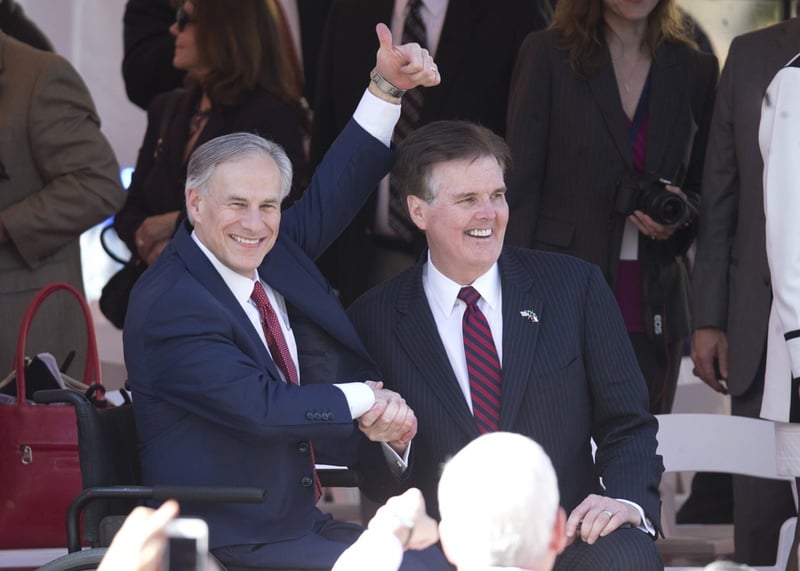 A week after Lt. Gov. Dan Patrick said there weren't enough votes in the Texas Senate to pass legislation allowing the open carrying of handguns, Gov. Greg Abbott said he thinks such legislation will pass.
"I think the votes probably are there for open carry," Abbott said Thursday in a radio interview with KFYO's Chad Hasty. "I certainly think that's the way the probability's leaning right now."
The comment contradicts remarks Patrick made at a Texas Tribune event last week.
"Second Amendment rights are very important, but open carry does not reach to the level of prioritizing at this point," Patrick said at the time. "I don't think the votes are there."
The Texas Tribune thanks its sponsors. Become one.
Gun rights activists quickly denounced Patrick's comments, and he released a statement the next day to reaffirm his support for open carry.
The debate over openly carrying handguns in public has been heated in recent weeks. In January, gun rights advocates confronted state Rep. Poncho Nevárez, D-Eagle Pass, in his Capitol office, and on Wednesday a video posted on the Facebook page of activist Kory Watkins called opposition to open carry "treason" and "punishable by death." The video has been removed.
On the radio Thursday, Abbott urged open carry advocates to "civilly engage in debate."
"We can make strong arguments that are winning arguments in ways that don't threaten others, that will turn out to be better for everyone," he said.