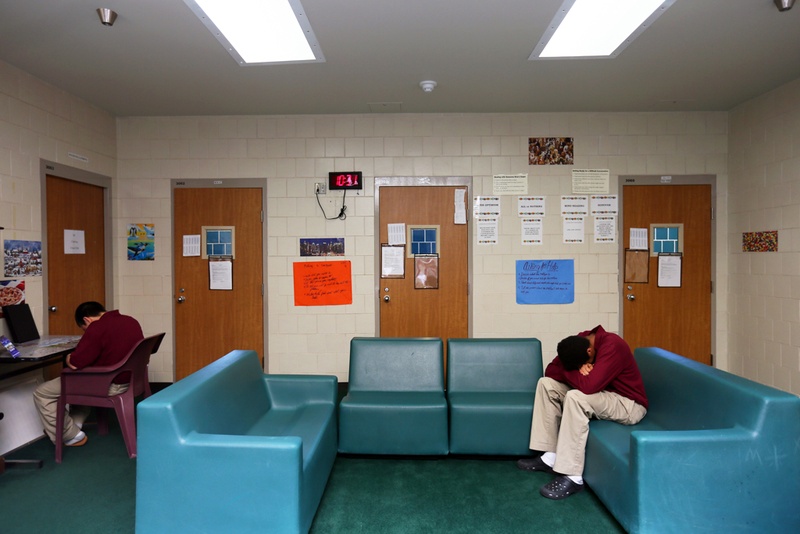 Juveniles in Texas who break the law are less likely to reoffend if they're placed in community supervision programs instead of state facilities, according to a report released Thursday by criminal justice researchers.
The study from the nonprofit Council of State Governments Justice Center found that Texas youths released from state custody were 21 percent more likely to be rearrested than youths with similar histories of offenses who were released from county-run supervision programs. Juveniles who spent time in state facilities were also three times more likely to commit a felony than those who came out of community programs and were rearrested.
The report examined case records for nearly half a million Texas youths dating back to 2005. In 2012, the latest year covered in the report, there were 24,674 juveniles in local probation programs and 1,481 incarcerated in state facilities.

"They're in a facility [with] staff who maybe don't resemble them at all and can't relate to their experiences," said Michael Thompson, director of the Justice Center. "Versus being closer to home, having the positive influences of family members, siblings and school."
The Texas Tribune thanks its sponsors. Become one.
Thompson spoke about the report Thursday during a news conference at the Texas Supreme Court building, where he was joined by state Sen. John Whitmire, D-Houston, and Texas Supreme Court Chief Justice Nathan Hecht.
Whitmire, the chairman of the Senate Criminal Justice Committee, said juvenile offenders were less likely to commit another crime if they were supervised in their own community. He said offenders could be sent to facilities hundreds of miles away and "never sees anybody that looks like him."
"I'm not trying to make [juvenile offenders] comfortable," Whitmire said. "I'm trying to turn their lives around."
After abuse of youth inmates at state facilities was revealed in 2007, Texas lawmakers closed eight state-run youth prisons over the next five years, consolidated juvenile justice agencies and changed the law so that only felony offenders could be placed in state-run youth facilities. The Justice Center's report says the reforms successfully shifted the focus from state incarceration to local supervision — often probation or therapy programs — and lowered the number of youth in state custody by 66 percent between 2007 and 2012.
The drop in state incarceration aligned with a statewide decline in juvenile crime — 33 percent over the same period.
Thompson said community supervision is also a lot cheaper, costing the taxpayers less than $10,000 per person each year versus an annual $130,000 per juvenile in a state-run facility.
"These issues are a priority for us as the third branch of government," Hecht said. "The ultimate goal of the justice system is the best life for all of our youth who find themselves in it."