Cruz, Perry Make a Splash at Iowa GOP Summit
The 2016 Republican presidential nomination chase unofficially began Saturday, and U.S. Sen. Ted Cruz and former Gov. Rick Perry made it clear that they're in the hunt.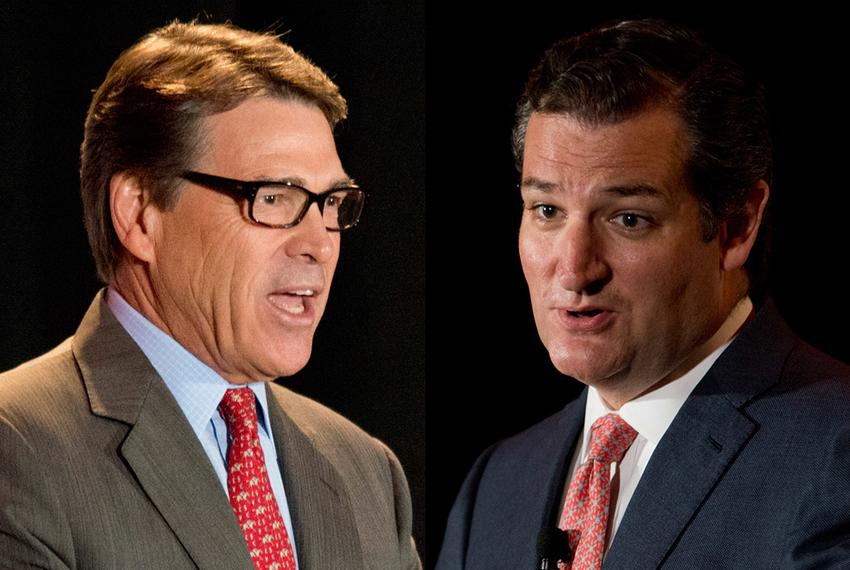 DES MOINES, Iowa — The 2016 Republican presidential nomination chase unofficially began Saturday, and U.S. Sen. Ted Cruz and former Gov. Rick Perry made it clear that they're in the hunt.
Neither Texan has announced that he is running, but both touted their conservatism and made oblique references to their likely candidacies at the Iowa Freedom Summit, a major gathering of Republican presidential contenders hosted by U.S. Rep. Steve King, R-Iowa.

"In a Republican primary, every candidate's going to come in front of you and say, 'I'm the most conservative guy that ever lived,'" Cruz told the crowd. "Well, you know what? Talk is cheap."
Perry, who spoke later, said: "It might surprise a few of you here today, but I've been thinking a little about 2016. After six years of the most divisive president in our modern history, I believe Americans are looking for leaders who will bring the country back together to heal this nation."
The Iowa caucuses, the first presidential primary nominating contest in the nation, aren't for another year. But the national political apparatus — network television satellite trucks, adversarial protesters, and out-of-state politicians, operatives and commentators — descended on Des Moines on Saturday to hear from the high-profile lineup and gauge reaction.
Perry's speech provided much of the day's drama.
"We need to send a message to Congress," Perry said. "Secure the border now, override this president's lawless executive order, restore law and order to our border with Mexico, stand up to the face of evil and protect our citizens."
At that point, several people in the audience spontaneously erupted, shouting and holding up printed signs that read "Deportables?" — a reference to a recent tweet from King that called an undocumented immigrant a "deportable."
Perry buckled down amid the shouts and continued his remarks. Police escorted the protesters out of the venue.
Cruz, speaking before Perry and decked in a camel-colored sports coat, drew a thunderous reception from the crowd. The audience laughed loudly at his jokes and booed his mentions of Democrats.
"I thought Ted Cruz and Rick Perry gave an excellent speech, I really did," said Darrell Mahlberg, who attended the event.
"I really wasn't expecting that out of [Perry], but I thought he gave an excellent speech because he had backbone. Both of them did, where the other [speakers] I don't really think showed their backbone," he added.
At the end of his speech, Cruz asked audience members to text the word "constitution" to a five-digit number.
Later, in a news conference, Cruz declined to say directly what he planned to do with the phone numbers he gathers. Barack Obama's presidential campaign has been credited with pioneering the tactic in the 2008 campaign to collect the numbers of battleground state volunteers for get-out-the-vote efforts.

Cruz also sidestepped a question over whether former Florida Gov. Jeb Bush — who has said he's exploring a run for president but did not attend the event — is a "constitutional conservative."
"That's a determination for voters to make," he said. "Every candidate will describe how conservative they are. Far more relevant is: When have you stood up? When have you bled? And what have you accomplished for conservatives?"
Aside from Perry and Cruz, the event featured a parade of other potential 2016 GOP candidates, including former United Nations Ambassador John Bolton, retired neurosurgeon Ben Carson of Maryland, New Jersey Gov. Chris Christie, former Hewlett-Packard CEO Carly Fiorina, former Arkansas Gov. Mike Huckabee, former Alaska Gov. Sarah Palin, former Pennsylvania Sen. Rick Santorum and Wisconsin Gov. Scott Walker.
But not all of the potential 2016 GOP field was at the event. In addition to Bush, Louisiana Gov. Bobby Jindal, Kentucky Sen. Rand Paul and Florida Sen. Marco Rubio did not attend.
Cruz and Perry have busy weekends ahead of them. Cruz is heading to Palm Springs to a closed event hosted by a conservative group affiliated with the industrialist brothers Charles and David Koch. Perry, still in his first week as a private citizen in 30 years, will continue to attend a series of meetings and events in Iowa scheduled for Sunday and Monday.
Texans need truth. Help us report it.
Our Fall Member Drive is underway, and we need your support. The Texas Tribune is a critical source of truth and information for Texans across the state and beyond — and our community of members, the readers who donate, make our work possible. Will you join as a member with a tax-deductible donation of any amount?
Yes, I'll donate today
---
Information about the authors
Explore related story topics