At Abbott's Side, Hodge Readies for a New Role
Little known outside the halls of Texas government, Daniel Hodge has become one of its more powerful behind-the-scenes figures. That's only becoming more true: He's expected to serve a key role in the new governor's administration.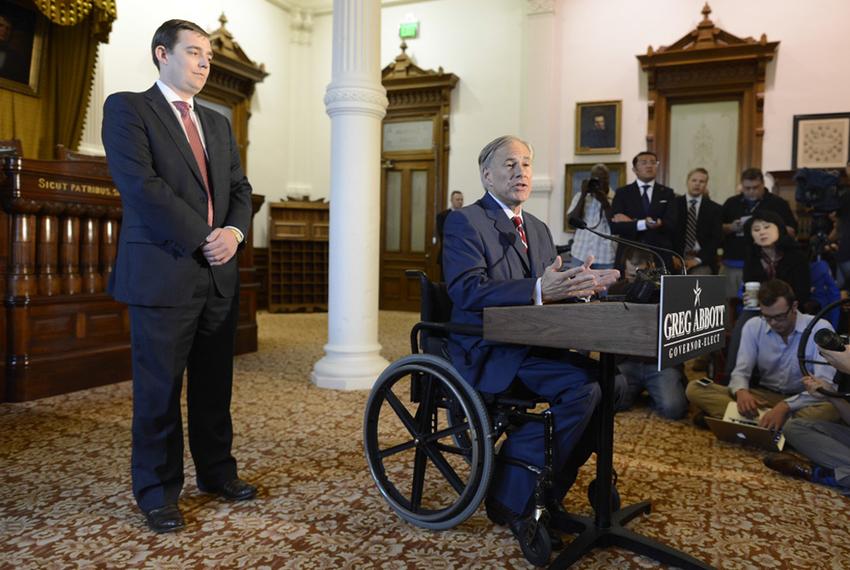 After
his decisive election
as the next governor of Texas earlier this month, one of
Greg Abbott's
first orders of business was naming Daniel Hodge to lead his transition team.
Any other choice would have shocked Capitol observers. Hodge has spent his entire career at Abbott's side, rising rapidly through the ranks at the attorney general's office that Abbott is vacating.
Little known outside the halls of Texas government, Hodge, 36, has become one of its more powerful behind-the-scenes figures. And his star is expected to continue ascending. He is widely expected to serve a central role in the new administration.
"Everybody I know expects him to be chief of staff," said Judith Zaffirini, a long-serving Democratic state senator. "I think that would be very wise."
"He reflects so well on Abbott," Zaffirini said. "It's like when you meet somebody's spouse, and that spouse impacts your opinion of the other person. I think it's the same thing with them."
Hodge declined to comment for this article.
Born in Fort Worth in 1978, Hodge quickly developed a penchant for politics. A youthful enthusiasm for the Dukakis-Bentsen presidential ticket in 1988, fueled by family connections, appears to be his only dalliance with the Democratic side of the aisle.
Since connecting with Abbott, Hodge has earned a reputation as a tireless and loyal right-hand man. But his initial attempts to join the future governor's cadre nearly failed.
In 2001, Abbott was a former Texas Supreme Court justice seeking a new political office. He first campaigned for lieutenant governor before switching to the race for attorney general. Hodge was fresh out of Davidson College in North Carolina, preparing to enter law school at the University of Texas at Austin, and eager to join the campaign.
"He kept calling and calling, and I didn't want to meet with him," said Mona Taylor, Abbott's campaign manager at the time. "I didn't need any more entry level people. I was already hired up."
But Hodge's landlord happened to be a lobbyist who was willing to intercede on the young man's behalf. Taylor relented, and Hodge was brought on board to sort mail.
"Quickly, quickly, quickly, he became indispensable," Taylor said.
Soon, Hodge was simultaneously serving as the campaign's coalition director, one of its fundraisers and Abbott's travel aide.
Traveling together, candidate and aide forged a bond that proved strong enough to withstand pressure. Even after Hodge's grip on a glass failed him, and Abbott had to give a speech with his lap soaked by ice water, Hodge managed to keep his job.
"I've come across few people who have the work ethic that Daniel does," Abbott said this month. "He's usually the first to arrive at the office and the one turning off the lights at the end of the day."
But the roots of their relationship likely extend deeper than a similar approach to work.
Abbott and Hodge have endured unexpected losses. Each was a teenager when his father died suddenly. When Hodge was in elementary school, an older sister was killed in a car accident. When Abbott was 26, a falling tree crushed his spine, and he has used a wheelchair since.
"Like Gov.-elect Abbott," Texas Supreme Court Justice Don Willett wrote in an email, "Daniel has endured tragedy in life, events that I think have steeled and bonded these two men and given them both a deep reservoir of grit and resolve."
While in law school, Hodge continued working for Abbott, first on the campaign and then as a part-time administrative assistant in the attorney general's office.
He impressed the older attorneys at the office. Eight years his senior, Ted Cruz, now a United States senator, was then the state's solicitor general. In an interview, he described Hodge as "smart as a whip and absolutely dedicated."
There was one hiccup in their relationship. After Hodge passed the bar exam, Cruz recalled, "I bought him a bottle of single malt scotch to celebrate. I must say, as a Cuban-Irish-Italian, I was horrified to see him dilute the scotch with ice cubes."
Hodge did not intend to remain in government after graduating from law school in 2004. Seeking more lucrative work, he spoke with Kent Hance, a former congressman who was working as an attorney in Austin.
"It's the only time in my life I've offered somebody a job and told them they shouldn't take it," Hance, now the chancellor emeritus of the Texas Tech University System, said. "My gut feeling was that the private sector would come about some other time. He was a young guy, he was loyal, Abbott trusted him, and I felt he ought to hang in there."
In 2004, Hodge was hired as a special assistant in the attorney general's office. He left the following year to manage Abbott's successful re-election campaign. In 2006, Abbott named him chief of staff. Nearly four years later, Hodge was elevated to his current position as first assistant attorney general, in which he manages the day-to-day operations of the state agency and its 4,000 employees.
He has been at the center of some of the state's most rancorous and partisan fights, including redistricting and the exercising of voter ID requirements.
Lawmakers of both parties spoke highly of his contributions.
"He's very direct," said state Sen. Kel Seliger, a Republican. "He has the ability to see how things, legislation or litigation, will have an effect on the state or affected parties over substantial periods of time, which is a real talent."
State Sen. Kirk Watson, a Democrat, has worked closely and been at odds with the attorney general's office.
"We've had some real disagreement," Watson said of Hodge, "but he speaks real plainly. You know where you stand with him, and that's important. And he can seek victory without that being defined only by destroying the other side."
In his few leisure hours, Hodge is likely to be found hunting or seeking out live music.
Hodge's first fingerprints on Abbott's tenure as governor may have been the choice of Pat Green, a Texas singer-songwriter who happens to be a favorite of the first assistant attorney general, as the victory party entertainment.
When Brendon Anthony, a violin player in Green's band, was cutting his teeth in Austin more than a decade ago, he said, Hodge was a frequent presence in the music scene.
"He didn't seem like a fish out of water, because he was so interested," said Anthony, who now counts Hodge among his closest friends. "He's genuinely interested in how music is made and how live performance works. He's fascinated by band politics and what you're actually watching when you're watching a show."
Anthony has retired from touring, but joined Green on stage during the celebration for Abbott.
"If Daniel had scripted it out 15 years ago, and I don't know, maybe he did," Anthony said, "he might have told you that would be the coolest night of his career thus far."
"It all paid off," he said, "but not by luck or happenstance."
Quality journalism doesn't come free
Perhaps it goes without saying — but producing quality journalism isn't cheap. At a time when newsroom resources and revenue across the country are declining, The Texas Tribune remains committed to sustaining our mission: creating a more engaged and informed Texas with every story we cover, every event we convene and every newsletter we send. As a nonprofit newsroom, we rely on members to help keep our stories free and our events open to the public. Do you value our journalism? Show us with your support.
Yes, I'll donate today
---
Information about the authors