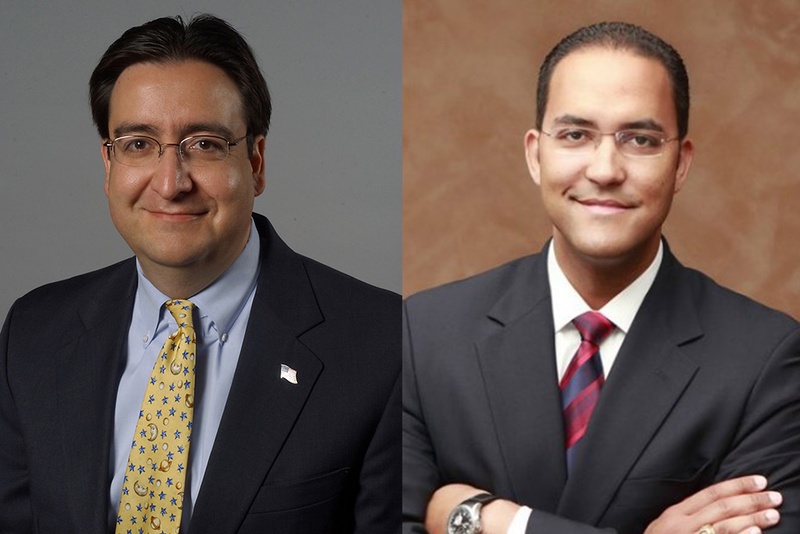 For the third time in as many elections, CD-23 is changing hands, this time going back to the GOP after challenger Will Hurd ousted incumbent Democrat Pete Gallego of Alpine.
The district stretching from east El Paso to Bexar County, includes about 800 miles of Texas-Mexico border and all or part of 29 counties. It was considered the only toss-up in this year's congressional elections.
Hurd, a former CIA agent who ran on his experience dealing with international threats and border issues, took the lead in early voting and held on throughout the night. With 98 percent of the votes counted, he held a 2-point margin over Gallego, 52, a former 11-term member of the Texas House.
"I want to congratulate Will Hurd on winning this hard-fought race," Gallego said. "While the airwaves were flooded with millions of dollars in attack ads, Will and I managed to keep things relatively positive, and I hope he continues that positivity as he heads to Congress."
Hurd billed himself as an outsider who could sift through Washington's gridlock and get things done. Gallego touted his Hispanic roots and reminded voters he was a moderate Democrat who supported the oil-and-gas industry and fought back against the Obama administration when it wanted to exempt members of Congress from the Affordable Care Act.
Meanwhile, U.S. Sen. John Cornyn cruised to an easy victory over Democrat David Alameel. With Republicans poised to take control of the upper chamber next year, Cornyn is in line to be the Senate's No. 2 Republican. He has often said that if Republicans want to retake the White House in 2016, they must prove they can get things done and lead the country.
For the rest of Texas' congressional delegation, the song remained the same as Republicans and Democrats in predictable outcomes cruised to easy victories. Below is a wrap from Tuesday's results.
CD-1: U.S. Rep. Louie Gohmert, R-Tyler, defeated Democrat Shirley McKellar
CD-2: U.S. Rep. Ted Poe, R-Humble, defeated Democrat Niko Letsos
CD-3: U.S. Rep. Sam Johnson, R-Richardson, defeated Green Party candidate Paul Blair and independent candidates Aaron William Swykert and Greg Whaley
CD-4: Republican John Ratcliffe defeated independent candidate Kenneth Lee Kammer. (Ratcliffe defeated U.S. Rep. Ralph Hall, R-Rockwall, in the primary election.)
CD-5: U.S. Rep. Jeb Hensarling, R-Dallas, defeated Libertarian Ken Ashby
CD-6: U.S. Rep. Joe Barton, R-Ennis, defeated Democrat David Cozad
CD-7: U.S. Rep. John Culberson, R-Houston, defeated Democrat James Cargas
CD-8: Kevin Brady, R-The Woodlands, defeated Libertarian Ken Petty and independent candidate Theodore DeMatteo
CD-9: Al Green, D-Houston, defeated Libertarian Johnny Johnson.
CD-10: U.S. Rep. Michael McCaul, R-Austin, defeated Democrat Tawana W. Cadien
CD-11: U.S. Rep. Mike Conaway, R-Midland, defeated Libertarian Ryan Lange
CD-12: U.S. Rep. Kay Granger, R-Fort Worth, defeated Democrat Mark Greene
CD-13: U.S. Rep. Mac Thornberry, R-Clarendon, defeated Democrat Mark Minter
CD-14: U.S. Rep. Randy Weber, R-Pearland, defeated Democrat Donald Brown
CD-15: U.S. Rep. Rubén Hinojosa, D-Mercedes, defeated Republican Eddie Zamora
CD-16: U.S. Rep. Robert "Beto" O'Rourke, D-El Paso, defeated Republican Cory Dean
CD-17: U.S. Rep. Bill Flores, R-Bryan, defeated Democrat Nick Haynes
CD-18: U.S. Rep. Sheila Jackson-Lee, D-Houston, defeated Republican Sean Seibert
CD-19: U.S. Rep. Randy Neugebauer, R-Lubbock, defeated Democrat Neal Marchbanks
CD-20: U.S. Rep. Joaquin Castro, D-San Antonio, defeated Libertarian Jeffrey Blunt and independent candidate Ken Orgain
CD-21: U.S. Rep. Lamar Smith, R-San Antonio, defeated Green Party candidate Antonio Diaz and Libertarian Ryan Shields
CD-22: U.S. Rep. Pete Olson, R-Sugar Land, defeated Democrat Frank Chip Briscoe
CD-24: U.S. Rep. Kenny Marchant, R-Coppell, defeated Democrat Patrick McGehearty
CD-25: U.S. Rep. Roger Williams, R-Austin, defeated Democrat Marco Montoya
CD-26: U.S. Rep. U.S. Rep. Michael Burgess, R- Lewisville, defeated Libertarian Mark Boler
CD-27: U.S. Rep. Blake Farenthold, R-Corpus Christi, defeated Democrat Wesley Craig Reed
CD-28: U.S. Rep. Henry Cuellar, D-Laredo, defeated Libertarian Will Aikens, Green Party candidate Michael Cary and independent William Hayward
CD-29: U.S. Rep. Gene Green, D-Houston, defeated Libertarian James Stanczak
CD-30: U.S. Rep. Eddie Bernice Johnson, D-Dallas, defeated Libertarian Max Koch III, and independent candidates Dal Willis, Eric LaMonte Williams and Paul Wehrmann
CD-31: U.S. Rep. John Carter, R-Round Rock, defeated Democrat Louie Minor
CD-32: U.S. Rep. Pete Sessions, R-Dallas, defeated Democrat Frank Anthony Perez
CD-33: U.S. Rep. Mark Veasey, D-Fort Worth, defeated Libertarian Jason Reeves and independent Carlos Quintanilla.
CD-34: U.S. Rep. Filemon Vela, D-Brownsville, defeated Republican Larry D. Smith
CD-35: U.S. Rep. Lloyd Dogget, D-Austin, defeated Republican Susan Narvaiz
CD-36: In this open seat, Republican Brian Babin defeated Democrat Michael Cole