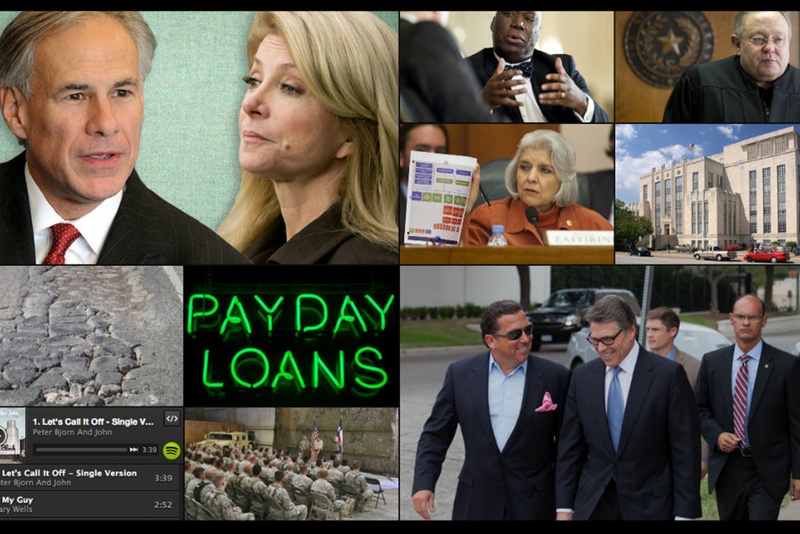 On Friday, Republican gubernatorial candidate Greg Abbott unexpectedly canceled a planned debate appearance, so we start our weekly playlist inspired by Texas political news with "Let's Call It Off" by Peter Bjorn and John.
The easiest way to enjoy the playlist is to download Spotify, which is a free program. But even without it, you can still follow along. Here are the other selections for the week:
Following his indictment, Gov. Rick Perry has assembled a massive legal team led by trial lawyer Tony Buzbee, a relationship we mark on the playlist with Mary Wells' "My Guy." Speaking of the Perry case, new details have emerged, including that Mindy Montford, a former Democratic candidate for Travis County DA, confirmed that the governor called her to see if she was interested in replacing District Attorney Rosemary Lehmberg — inspiring the addition of Regina Spektor's "The Call."
In light of judges' rulings that aspects of the state's school finance system are unconstitutional, as are key elements of an abortion bill passed in the last legislative session, we have "A Legal Matter" by The Who and "Breaking The Law" by Judas Priest.
The Texas Tribune thanks its sponsors. Become one.
Pressed to explain why the state had delayed a transition away from lower passing standards on state exams, Texas Education Commissioner Michael Williams told state lawmakers, "The system needs time to catch up." So, we added "Catch Me Up" by Gomez.
A Texas House subcommittee on seismic activity met to hear what state regulators are doing about a major uptick in earthquakes in Texas over the last several years that has been linked to the state's oil and gas boom, prompting us to put "Earthquake" by Little Boots on the list.
The Trib's Corrie MacLaggan wrote about how thousands are losing their cars amid calls for restrictions on the payday and auto-title lending industry, so we added Gary Numan's "Cars." Next up is Keb Mo with "As Soon As I Get Paid," since reports of National Guard troops on the border not getting their wages has some riled.
And finally, because state Sen. Judith Zaffirini, D-Laredo, was named co-chair of the Joint Oversight Committee on Higher Education Governance, Excellence and Transparency — a post she held previously until being replaced in 2013 — we close with Westlife's "She's Back."
Enjoy!