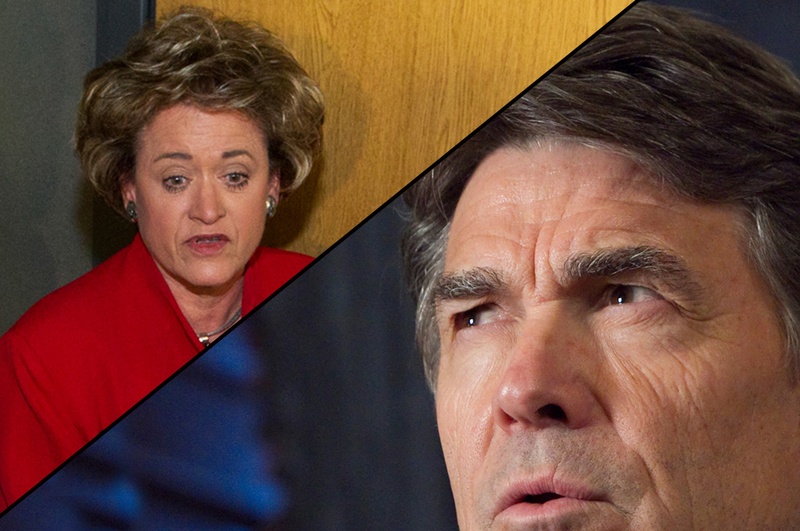 The Big Conversation
The Houston Chronicle is reporting that in the days before Gov. Rick Perry's indictment over his veto of funding for the public integrity unit, the Travis County district attorney's office had requested the next Legislature to restore most of the unit's funding.
The indictment, though, has made moving the unit out of the DA's office a cause among some Republicans. The Chronicle's Mike Ward quotes new Senate Finance Chairwoman Jane Nelson as in favor of such a move.
"I have never thought this unit should be placed as an attachment to the Travis County District Attorney's Office," Nelson said. "I am certain we will have extensive discussions during the next legislative session regarding where they should be placed, but we need to move them somewhere less partisan."
Ward reported that DA Rosemary Lehmberg requested $6.7 million for the unit for the next fiscal biennium. That's less than the $7.5 million in funding vetoed by Perry. With the developments of this week, though, even the unit's defenders are skeptical that the funding would be restored.
State Sen. John Whitmire, D-Houston, told Ward that "if I were working over there, I'd probably be looking for a job."
And ahead of today's arraignment, Perry's lawyers on Thursday said that an investigation into the Cancer Prevention and Research Institute of Texas had nothing to do with Perry's veto of funding for the Public Integrity Unit. The Tribune's Terri Langford wrote that Perry's lawyers said an affidavit produced by a former investigator in the Travis County DA's office supported their position.
Progress Texas PAC Director Glenn Smith told Langford that CPRIT was just one of many reasons that Perry had for vetoing the funding, which he described as an attempt to "illegally grab control" of the Travis County district attorney's office.
Trib Must-Reads
A Week After Perry's Indictment, Legal Case Begins, by Terri Langford
Analysis: For Perry, It's All in the Timing, by Ross Ramsey
Efforts to Raise Teacher Certification Standards Falter, by Morgan Smith
Attorneys Struggling to Help Migrants Navigate Legal System, by Julián Aguilar
Elsewhere
Defiant Perry sounds alarm on Iraq, San Antonio Express-News
Texas Car Lender Is Accused of Distortion in Subprime Inquiry, The New York Times
New UT chancellor McRaven wants to mend relationship with lawmakers, Austin American-Statesman
Ethics Commission takes aim at Texas dark money, San Antonio Express-News
Ryan: Hensarling 'high on the list' for Speaker, The Hill
Billionaires silent on immigration after big push, Politico
GOP reps pick Lubbock attorney Burrows as House 83 candidate, Lubbock Avalanche-Journal
Quote to Note
"What's happening right now, they are being fed a steady diet of border wars and Fox News referring to the area as experiencing an illegal immigrant invasion."
— Greater Mission Chamber of Commerce CEO George Myers on the need for a three-year public relations campaign to reassure Winter Texans that the area remains safe
Today in TribTalk
Cruz's big lie about the border, by José Rodríguez
Trib Events for the Calendar
• A Conversation With UT System Regent Wallace Hall, on Sept. 4 at The Austin Club
• A Conversation With Texas Democratic Party Chairman Gilberto Hinojosa and Republican Party of Texas Chairman Steve Munisteri, on Sept. 10 at The Austin Club
• The full program has been announced for the 2014 Texas Tribune Festival, which runs from Sept. 19-21 at the University of Texas at Austin. Featuring 10 tracks, 44 sessions and over 200 speakers, this weekend is not to be missed!
• A Conversation With U.S. Rep. Henry Cuellar, on Sept. 24 at the UTSA Downtown Campus in San Antonio.